Partner
Center
Destination Missoula would like to introduce our new Partner Center. In the Partner Center you can edit your listing on destinationmissoula.org by updating your profile information, manage your images and post vacation deals. If you have not yet received login information, email us at office@destinationmissoula.org or call 406-532-3250 to request a username and password.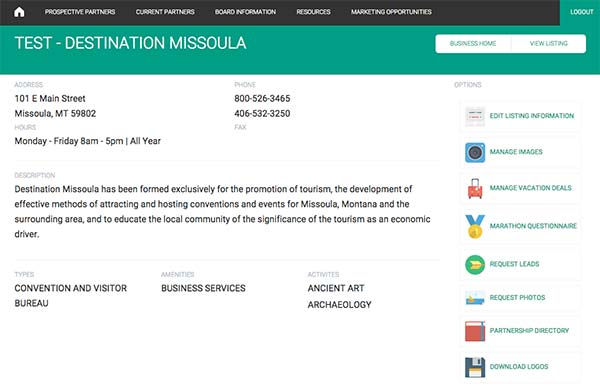 Login Now
Travel Guide Advertising
Sales for the Official 2016 Missoula Area Visitor Guide have begun. With over 115,000 copies distributed each year, the Visitor Guide is the premier source of information for Missoula travelers. Order online in the Partner Center or by calling 406-829-8200.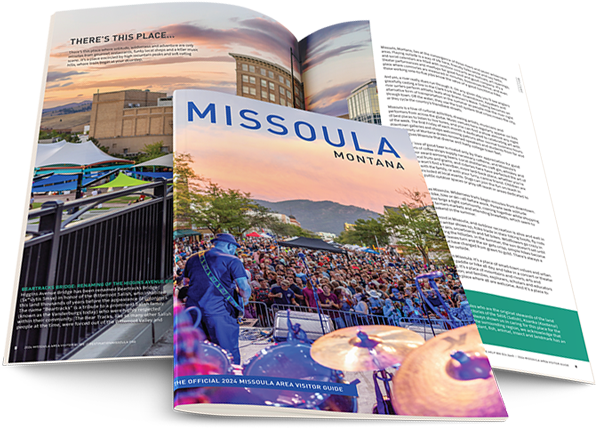 Order Now
Tour of Montana
July 16 - 19 2015

Destination Missoula is proud to be the founding sponsor for Tour of Montana bringing this great event to Montana and to the beautiful host city of Missoula. The First Annual Tour of Montana is 4 days of professional, amateur, junior, citizen races, a Cycling Experience Expo at Caras Park, 100 Days of Cycling, arts and culture. Visit their website for a full list of events.
Visit the website
Dream Plan Go
Destination Missoula and Dream Plan Go teamed up to produce a great feature article for Dream Plan Go's Road Trip Week. "6 Ways To See Montana's Very Best on Your Summer Road Trip" features Destination Missoula photography paired with highlights for outdoor recreation, dining, art, culture and more. The article has been promoted heavily through Dream Plan Go's network and social media channels driving traffic to Destination Missoula's website.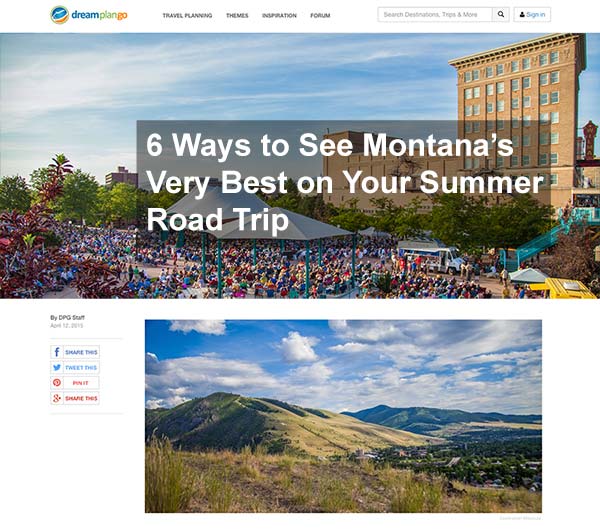 Read the Article
Trip Advisor
In April, Destination Missoula became the official sponsor of the Missoula, Montana page on Trip Advisor. This sponsorship will help support Missoula as a travel destination and highlight our partner businesses, events and activities. The destination page features sponsor driven content including a photo gallery, events calendar, banner advertising, social media integration and links to Destination Missoula travel information. This page also incorporates Trip Advisor content for Missoula area lodging, dining, things to do and flight information.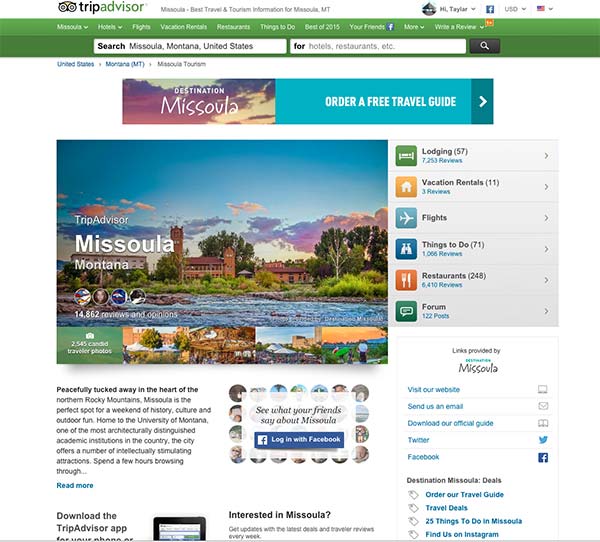 See the page