The 16th annual Montana Book Festival is a celebration of literature in Missoula, Montana. The festival takes place September 10-13th, and includes events for every book lover.  From Tiny Tales for the youngest members of the family, to workshops for teens, as well as graphic artist lectures and documentary film screenings the events all come together to create a wonderful literary experience.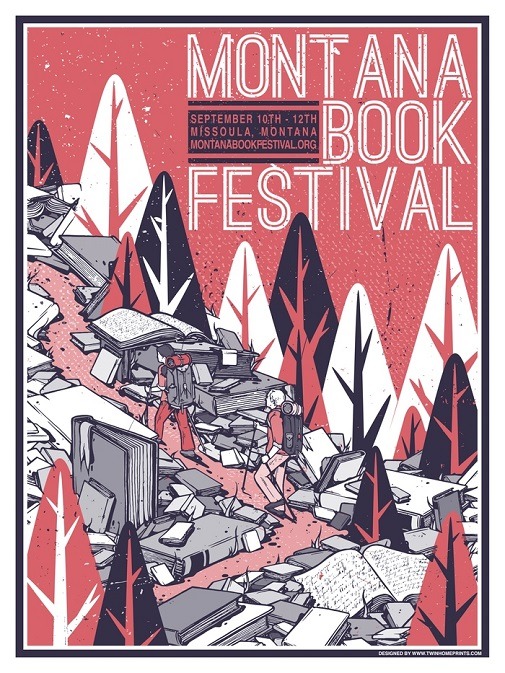 The 2015 Montana Book Festival includes over 50 different speakers, as well as artist's and poets from around Montana and the Pacific Northwest.  Special lectures and events will include the always popular Pie & Whiskey Reading, and an Authors Reception, as well as the Farewell Beer Social on Sunday, September 13th.

Schedule of Events
Thursday, September 10th
Tiny Tales
Draw Yourself a Story
Literary Citizenship: Connecting in the Community
Poetry Reading: Marc Beaudin and Gary Whited
Words with Wings: Children's Poetry Reading
FanFiction: Drew and Crew
Create your own Universe: Workshop for Teens
Open Country Reading Series
Pie & Whiskey
Friday, September 11th
History Press Panel: Military Montana
MWC Poets in Residence
Poetry Reading
Story Time
Tiny Tales
History Press Panel: Reading & Baseball
History Press Panel: Montana Nature Narratives
Humble Pie: The Opposite of Eating your Words
University of Montana Literary Magazine Reading
A Closer Look at Montana
Repast with D.A. Powell
Book Clubs: Print & Digital
Writers of Place: A Fiction Reading
Queer Women Writing the West
Raising the Pulse: Writing Violence
Revising the Western Narrative
Montana's Ponderosa Forests
Jack Nisbet: People and Landscape
Lunch box Podcast: J. Robert Lennon & Ed Skoog
Many Hats: Striking A Balanace
The Writing, the Mirror and the Map
Writing our National Parks
Stoneydale Press Reading
Hick Poetics: Songs from the Woodline
Creating Stories with Sneed
Literary Trivia
A Tribute to Ivan Doig
Many ways to Tell a Story
Tin Types: A Photo-Poetic Collaboration
Lets Get Graphic
Author Reception: A Writers and Readers Party
With A Whiz and A Pop!
Storyteller Celebration: Tell Us Something and Stephen Graham Jones
A Conversation with Kate Bolick and Sarah Hepola
Poetry Slam
Saturday, September 12th
Book'n it for the Library Race
History Press Panel: Historic Infrastructure
Women Writing Montana: A Reading
Divergent Paths to Self-Publishing
People before the Park
The Poetics of Hustle
Freelance Writing: Markets, Marketing, Freedom, and Funding
Phoenix Block Reading Series
Three Knockout First Novels
Reading with Bryce Andrews
The Morning Stretch:  Writing and Yoga
Around the world in 50 Minutes
Storytime on the Range
Animal Weapons: Doug Emlen and Illustrator David J. Tuss
The Essay: Creative Research and Compilation
The Literary Fantastic: At Play with Genre in Literary Fiction
Deja Everything: Surrealism in Contemporary American Poetry
Rick DeMarinins Lifetime Achievement Panel
Missoula Writing Collaborative: Flathead Children's Reading
Author Luncheon with Smith Henderson
Idea Hunting: Stalking the Next Story
Image and Text: Intersections
Memoir: The life of Travel
Tin House Discussion
Where Nature meets Culture
YesYes Books: Small Press Poetry
Reading with Annick Smith and James Lee Burke
Regional FMA Reading
Plateau Art and Poetry
YA Fantasy Panel
Novel Novels
Publishing Perspectives: Who Gets Published, Why and How
Race, Priveldge and Poetry
Poetry Reading: Madelon Sprengnether, Gary Thompson and Brian Laidlaw
Rejection Open Mic
YA Realism Panel
Defying Genre: Writing outside the box
Submission to Montana Publishing Houses
Poetry Reading: Allison Hedge Coke
UM Creative Writing Faculty Reading
YA Dark Contemporary Panel
Poetry Reading: Rick Barot, Joanna Klink, and Ed Skoog
Charles D'Ambrosio: A Reading
Salamanders Music Workshop
Reinventing Radio: An Evening with Ira Glass presented by MTPR
CutBank Afterparty with Live music
Sunday, September 13th
Farewell Beer Social, presented by History Press
Screening of "Hot Hype: 150 Years of the Nation"
For more information on the individual event times and locations visit our Missoula events page.