Everything You Need to Know to Float Missoula Rivers
PRO TIPS FOR FLOATING THE RIVER IN MISSOULA
Floating the river is a Missoula must in the summer. The days are hot and long, so relaxing in a tube on the water is a great way to beat the heat and enjoy the summer sunshine. It can be a bit intimidating to know where to start, but we are here to give you some pro tips for floating the river, from where to go from what you need to know.
1. Activities on the River
There is more than one way to enjoy Missoula's rivers! Whether you're a tube floater, fly fisher, or river surfing fanatic—you'll have a blast playing in these waters. Check out our list of river activities, with tips about guiding and shuttle services, recreation areas, safety advice and more.
2. What to Bring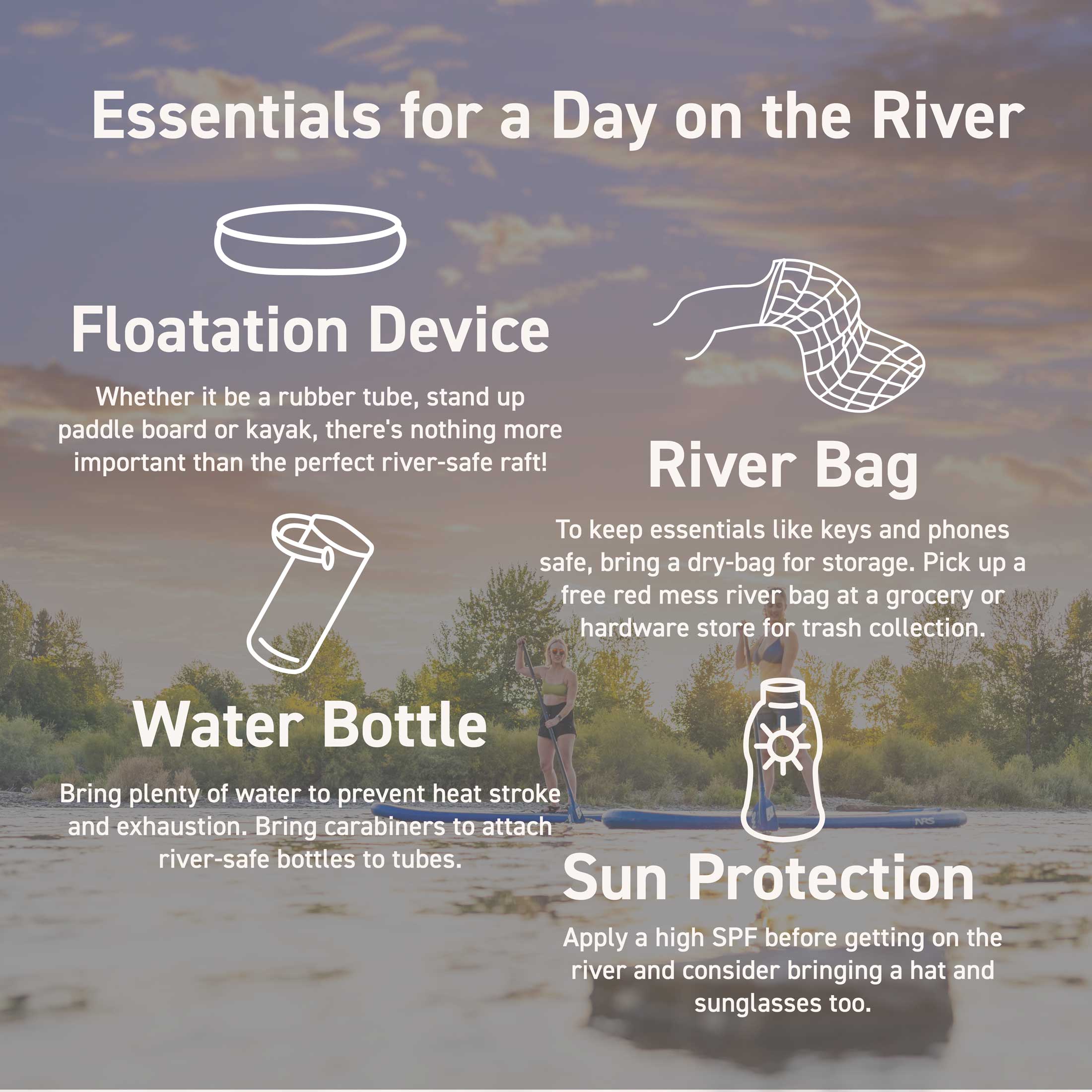 Floating tubes and pumps (can be purchased at hardware and sporting good stores, or rented from guide services and shuttles).
Sunscreen, hat and sunglasses. The chances of flipping are slim, but you might not want to wear your favorite hat or shades in the event that you lose them in the river!
If you'd like to bring your phone, invest in a waterproof phone case.
Dry-bags are pretty crucial for storing extra sunscreen, snacks and your keys.
Water to drink before, during and after your float.
If you want to bring other beverages on the river, make sure you have cans or crowlers.
Free river trash bags are available in shops around Missoula. These awesome mesh bags (found at grocery and hardware stores) are equipped with drawstrings to securely store beverages, and can be used to pick up any trash you spot along your float.
3. Accessing the Rivers
Download Our Missoula River Guide & Map - Clark Fork River Milltown State Park to Downtown Missoula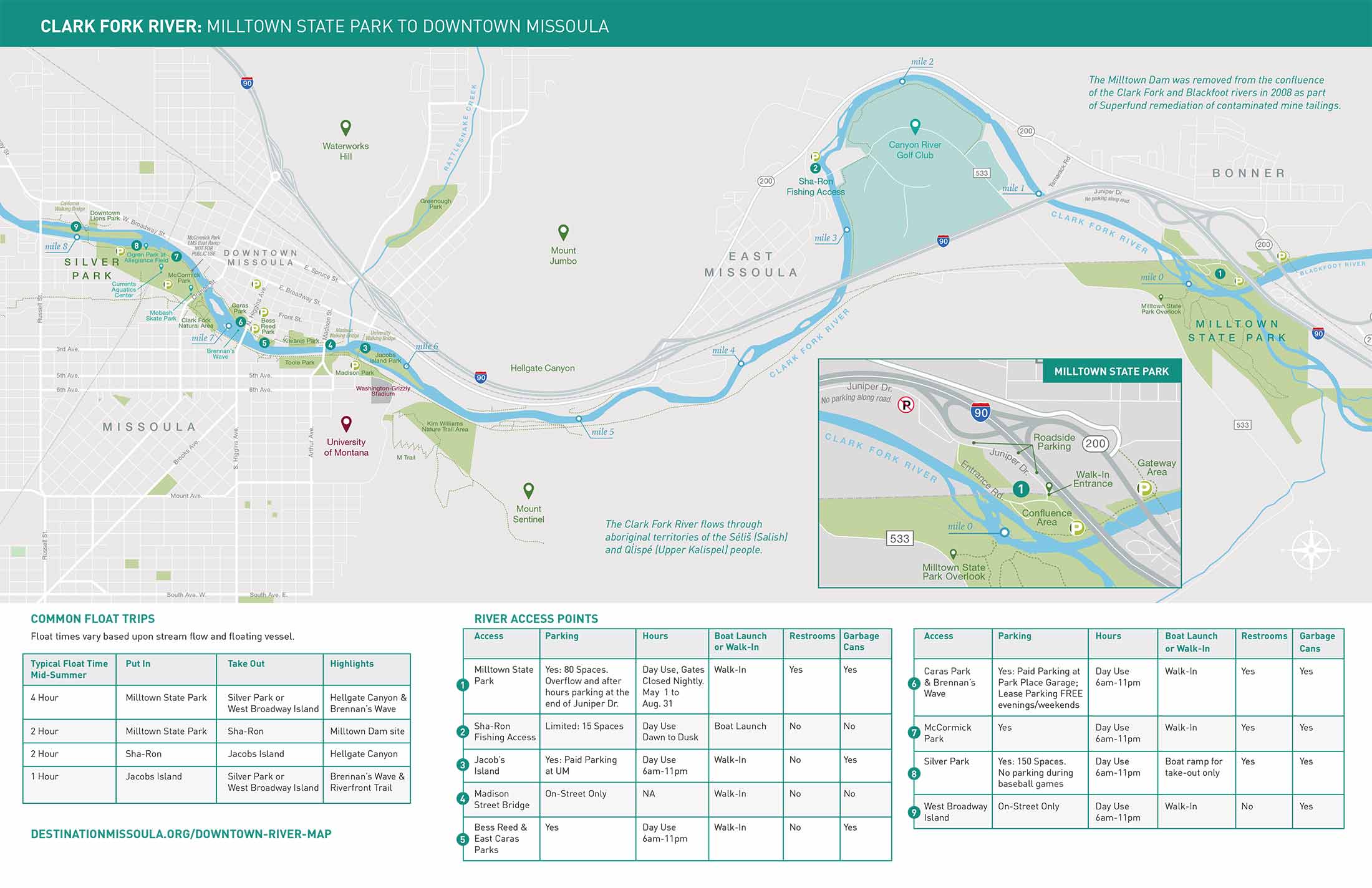 The Confluence Area of Milltown State Park is a great river access point with a variety of destinations to float to. Try out Milltown to Sha-ron Fishing Access, or drift all the way down past the old Milltown Dam and East Missoula to Caras Park, right at the heart of downtown. These floats will allow visitors to experience both the Clark Fork and Blackfoot rivers! You'll get stunning views of wildlife and nature during your time on the water, which could last anywhere from 1 to 5 hours, depending on your destination, floatation vessel and water levels. If water levels on any river are too high, tube floating is not recommended.
The Confluence Area of Milltown State Park offers hand-carry access to the river (for tubes, rafts, kayaks, SUP's, canoes, etc.). Milltown State Park's walk-in hours are sunrise to sunset.
For information on fishing access points, water levels, fish species, regulations and more, check out Montana Fish and Wildlife's FishMT page.
4. Transportation and Parking
There's nothing better than cooling off in the river on a hot summer day. And because so many of us share this sentiment, river access sites have become overcrowded, often leading to public safety concerns, unhealthy environments for our flora and fauna, and difficulties for our residents who may live near these areas. Parking is limited at all river access sites, so consider more sustainable (and easier!) ways to get to the river, such as:
If you choose to drive your own vehicle, be sure to park only in designated areas. Do not park on Tamarack Road/Juniper Drive from the junction of Highway 200 to the entrance of the Confluence Area of Milltown State Park. There is no parking along the interior park road but there is room for 80 vehicles at the parking area. Please be aware that out-of-state vehicles are subject to an $8 nonresident entry fee, or a $4 fee if entering by foot, bike or shuttle bus. The gate is closed and locked nightly and reopened at 9 am. No overnight parking allowed. The gated railroad underpass leads pedestrians to the parking area and river.
Download our river guide and map for a list of additional access points, parking options and float trips.
5. Busiest Float Times and Alternative Water Recreation Options
Locals and visitors alike can't get enough of Missoula's incredible rivers. And because of this, there tends to be congestion at popular access points, which causes stress on the physical environment, on residents in the area, and can take away from the overall enjoyment of experiencing the river. Here are the times and days when Missoula's rivers are busiest:
| | |
| --- | --- |
| Peak days: | Friday, Saturday, & Sunday |
| Peak temperature: | 90 degrees outside, 60 degrees in the water |
| Peak time of day: | Afternoon |
To avoid overcrowding popular floating locations, here are some alternative river recreation options:
6. Recreate Responsibly
Always respect the river, Missoula residents and fellow floaters.
Know Before You Go
Before arriving, it's always smart to check the status of the place you'd like to visit. In Montana, both weather and terrain can change quickly, so make sure to keep an eye on the forecast and bring the right supplies.
Have a backup plan if your destination is closed or crowded, and consider adjusting the time of day you plan to explore if crowds are a concern.
By arriving early, you may experience shorter lines and reduced crowds for a more enjoyable experience!
Keep the River Clean & Healthy
Pack out all trash: grab a free mesh river bag at a grocery or hardware store to collect your trash.
Outside of public access areas, stay below the ordinary high-water mark.
Use designated restrooms and porta-potties.
Observe wildlife from a distance.
Leave glass bottles at home.
Be Friendly
Remember, you're sharing the river with others
Put in and take out at designated locations.
Do not block roads or access to the launch area and be thoughtful of others.
Prepare outside the boat launch area and clear the launch area as soon as possible.
Be prepared to encounter and yield to other river users.
Profanity and obnoxious behavior are inappropriate and offensive.
Respect private property and neighboring landowners. Do not trespass.
Be Safe & Prepared
Rivers are powerful natural systems that should be respected
Life jackets improve safety and are your best friend on the water.
Bring necessary supplies like sunscreen, drinking water and snacks (in a dry-bag).
Boating under the influence of alcohol or drugs is dangerous—be responsible when drinking alcohol on and around the river.
It's up to us all to keep Missoula's rivers clean, healthy and accessible for everyone. You can do your part by staying safe and leaving no trace whenever you recreate on our rivers. That means coming prepared with supplies like life vests and sunscreen, and knowing which sections of the river are appropriate to float, paddle, swim and raft on. When it comes to keeping our rivers clean:
DON'T bring glass of any kind, or dispose of garbage improperly.
DO pick up after yourself (and others if you spot trash floating by!) and report large amounts of trash to the TrashLine Team.
7. River Ambassadors
If you have questions while on the river, look for a River Ambassador! These friendly folks hang around the Clark Fork, Bitterroot, and Blackfoot Rivers in the Missoula area between late June and early September, moving between access points, parking and shuttle areas, and sometimes on the river on SUP boards and kayaks. You can come to them with questions about appropriate put-ins and take-outs, river safety, route suggestions and more. Just look for the friendly folks wearing light blue T-shirts with the colorful River Ambassador logo on the front and the words "RIVER AMBASSADOR" on the back.
Other Resources
To learn more about responsible recreation in Montana, go to visitmt.com/montana-matters or recreateresponsibly.org
Check fire safety information and fire statuses in Montana
Visit BeOutdoorSafe.org for more information on recreating safely outdoors
Learn more about Milltown State Park recreation opportunities
Visit the Clark Fork Coalition's website to learn more about connecting communities and keeping our rivers and wildlife safe
Find fishing access sites, state regulations and interactive waterbody maps at Montana FWP
Check our local regulations for the latest safety measures.