When it comes to art there are plenty of incredible galleries, shops and museums throughout Missoula for the artful observer. But sometimes you don't just want to observe art—you want to roll up your sleeves and experience it. You want to get messy, and creative, and courageous. If that sounds like you, Missoula is the place to be. Our creativity-fueled city is full of interactive and DIY art experiences to keep you intrigued all year long. Here are just a few of our favorites.
CREATE art bar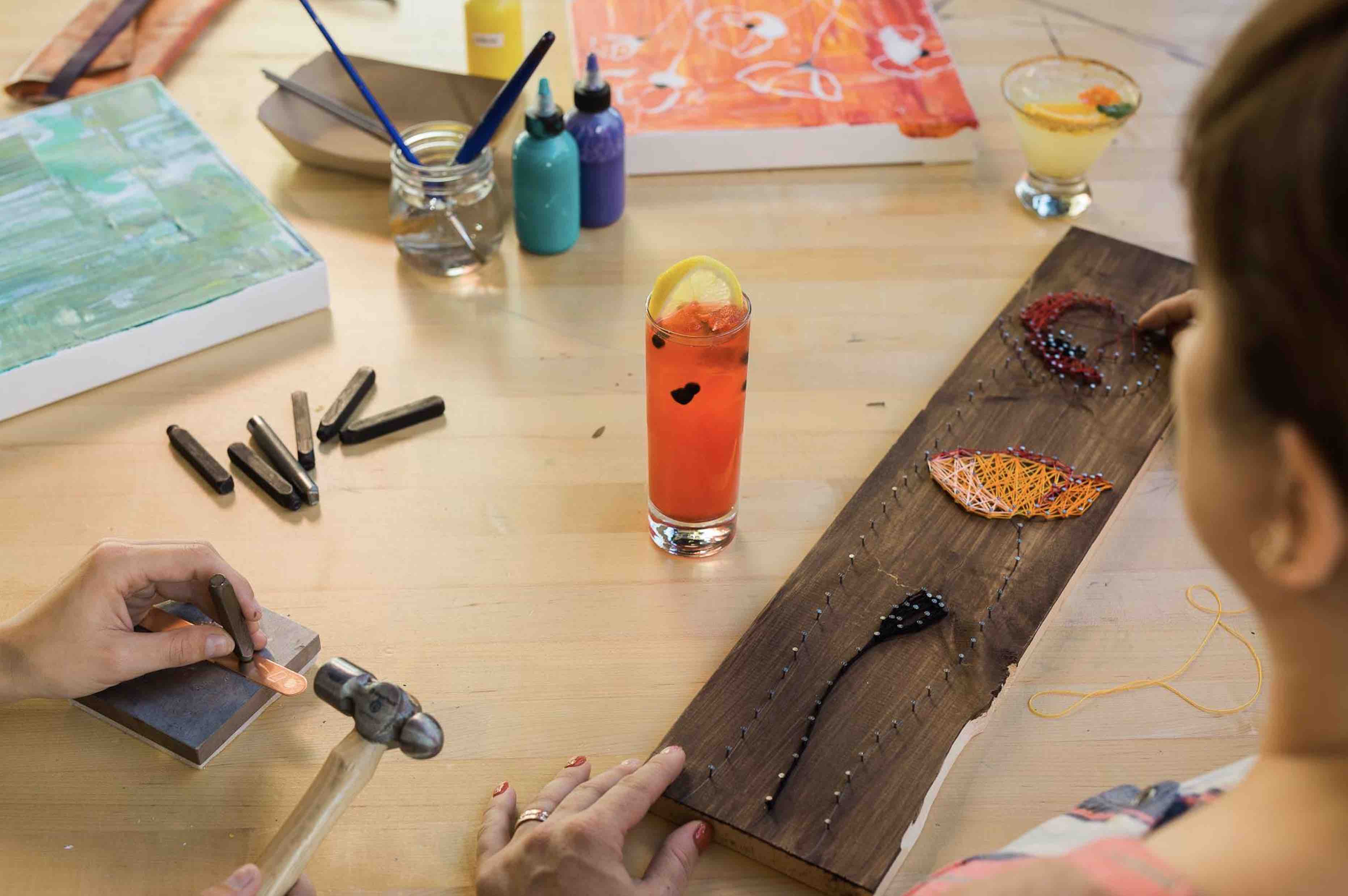 Photo by Meredith Baird.
The choice between a night of crafting or craft cocktails is no more—CREATE art bar is an eclectic new addition to the Mercantile building  in downtown Missoula, offering an array of DIY craft projects alongside an impressive menu of craft cocktails. CREATE makes for a great off-the-beaten-path choice for date nights, group outings, or even just happy hour drinks with a creative twist.
The Giggle Box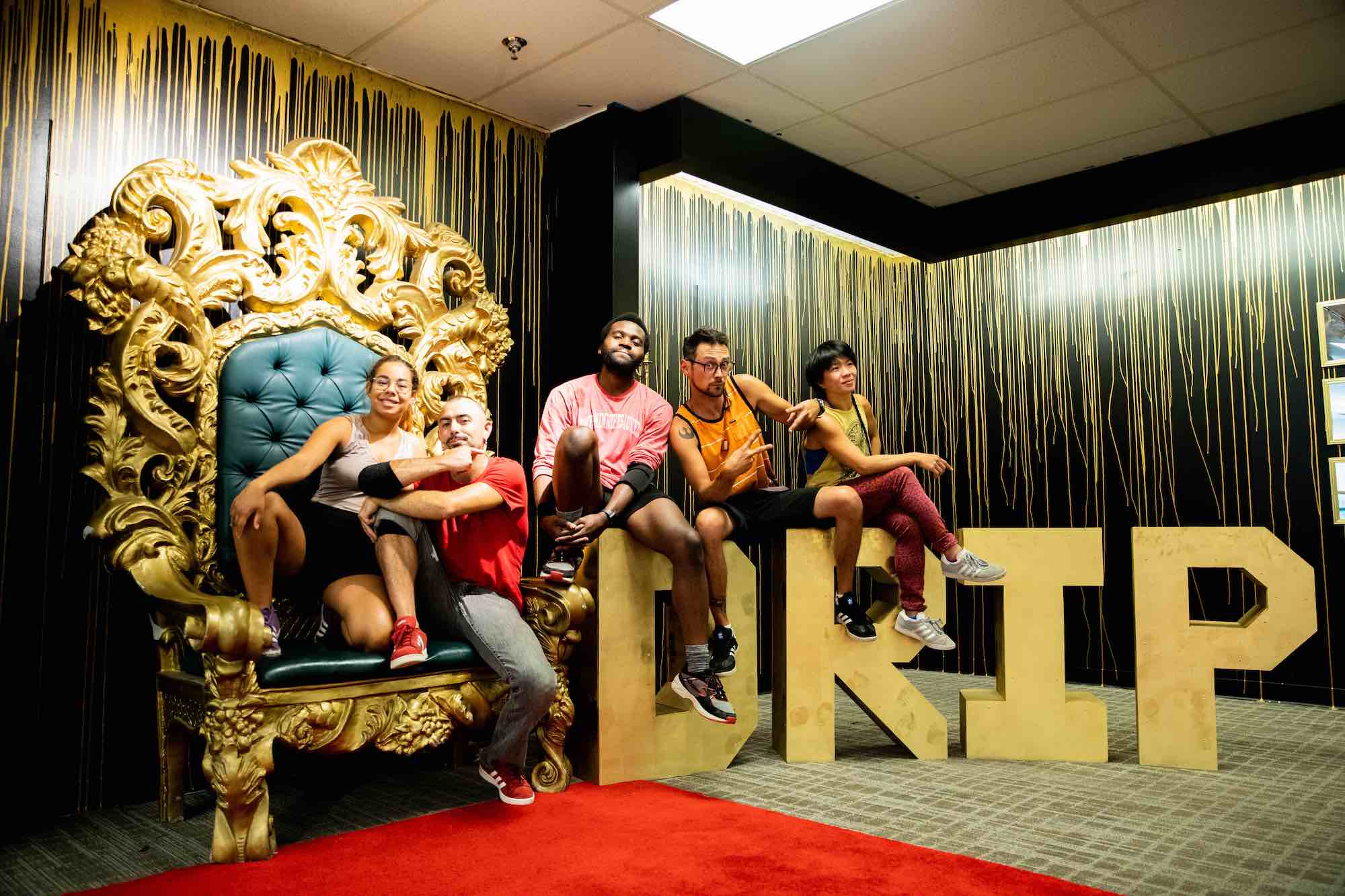 Photo courtesy of The Giggle Box.
This one won't be around forever, so be sure to snag some reservations next time you're in Missoula! The Giggle Box is Montana's first experiential, pop-up art museum, with 25 different themed rooms and installations spanning 18,000 square feet. Your standard museum might ask for quiet voices and no photography, but The Giggle Box is no standard museum. The website explains, "we encourage folks to take their time, explore, be creative, and take pictures and videos of your experience." They also take reservations and allow a limited amount of people inside at once, allowing for both social distancing and a more intimate experience with the art.
To top it all off, The Giggle Box keeps it local. Everything you see and experience is created and orchestrated by local Montanans, making it even more Missoula-esque of an outing.
Painting with a Twist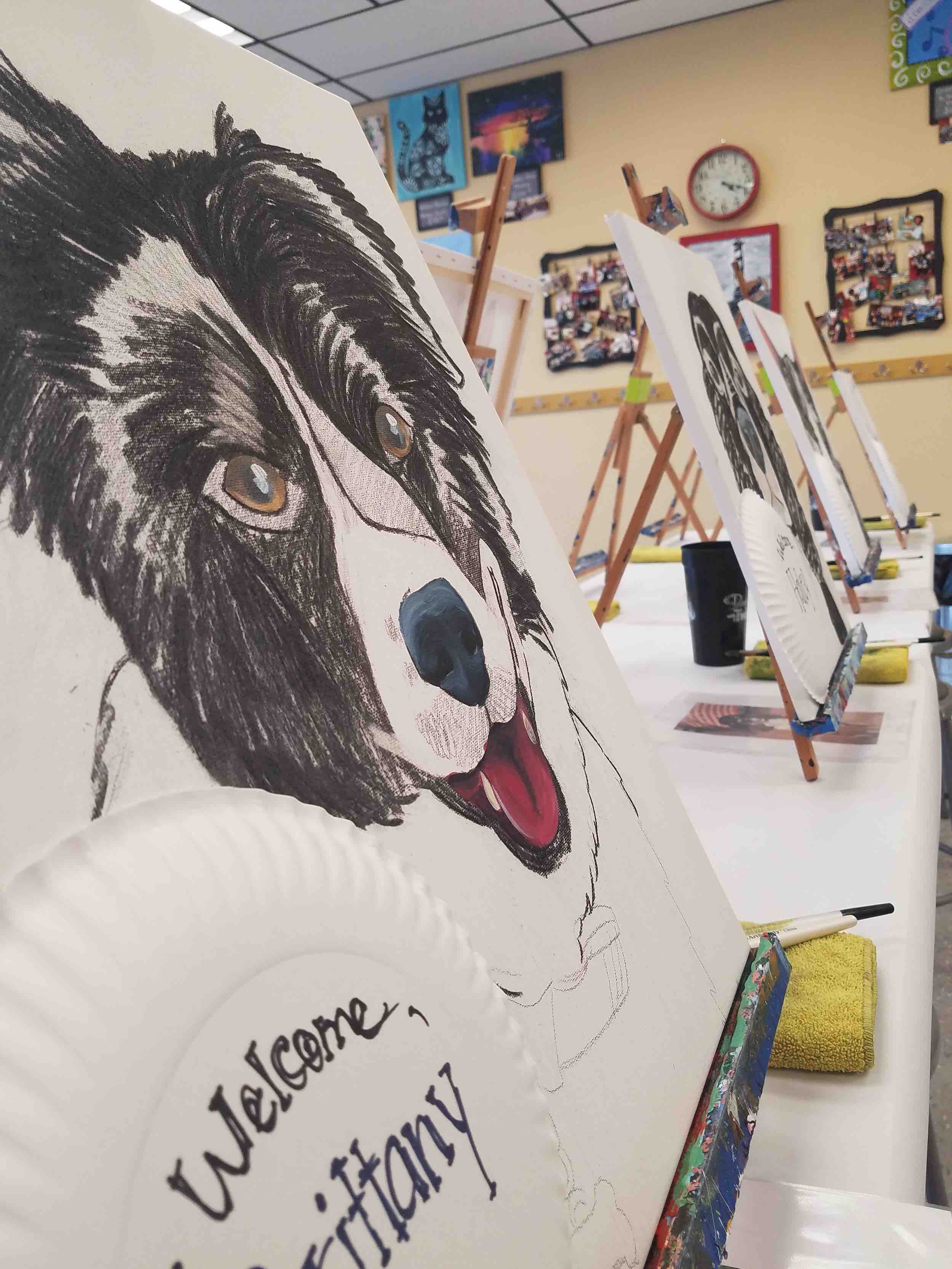 Photo courtesy of Painting with a Twist.
Some of us can paint a masterpiece without thinking twice, and others...not so much. Luckily, Painting with a Twist makes it possible for everyone in your group to enjoy an evening of painting with their guided workshops and themed nights such as "Paint Your Pet." You can join in on a night with a pre-determined theme and meet new people, or reserve Painting with a Twist for private groups. Oh, and did we mention you can sip a glass of wine while you're painting? We've heard it helps with the creative process.
AR Workshop Missoula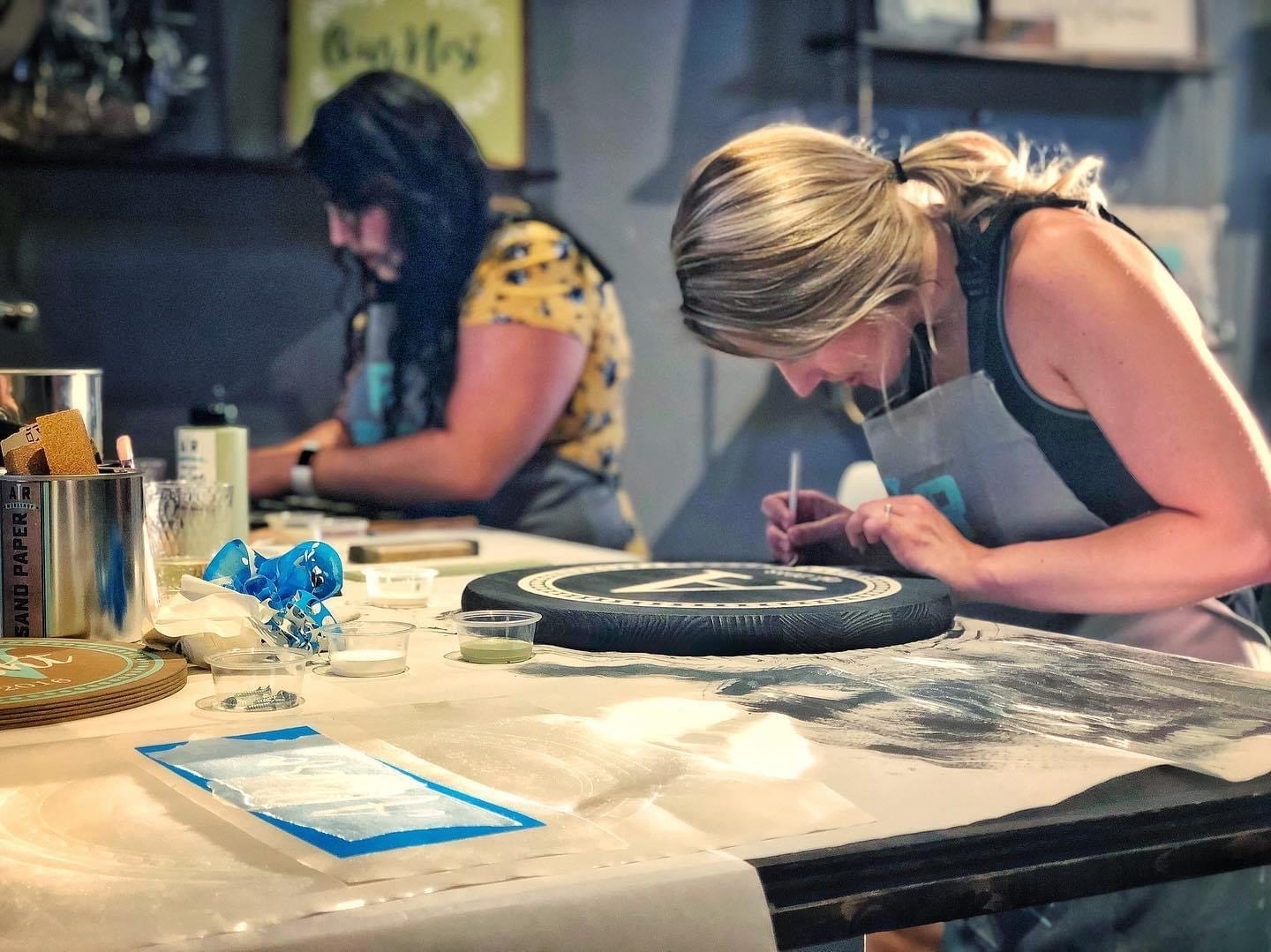 Photo courtesy of AR Workshop Missoula.
Similar to Painting with a Twist, AR Workshop Missoula also allows folks to hangout, paint and sip a glass of wine. But rather than coming home with a painting on canvas, you can create on-trend home decor from raw materials— think wood signs, canvas pillows, bottle openers and more! You can choose between DIY take-home kits, in-person workshops, or reserving AR Workshop Missoula for a unique private event. If you aren't in the painting mood but have the perfect project in mind for your home or a gift, they also offer custom orders minus the DIY part.
Zootown Arts Community Center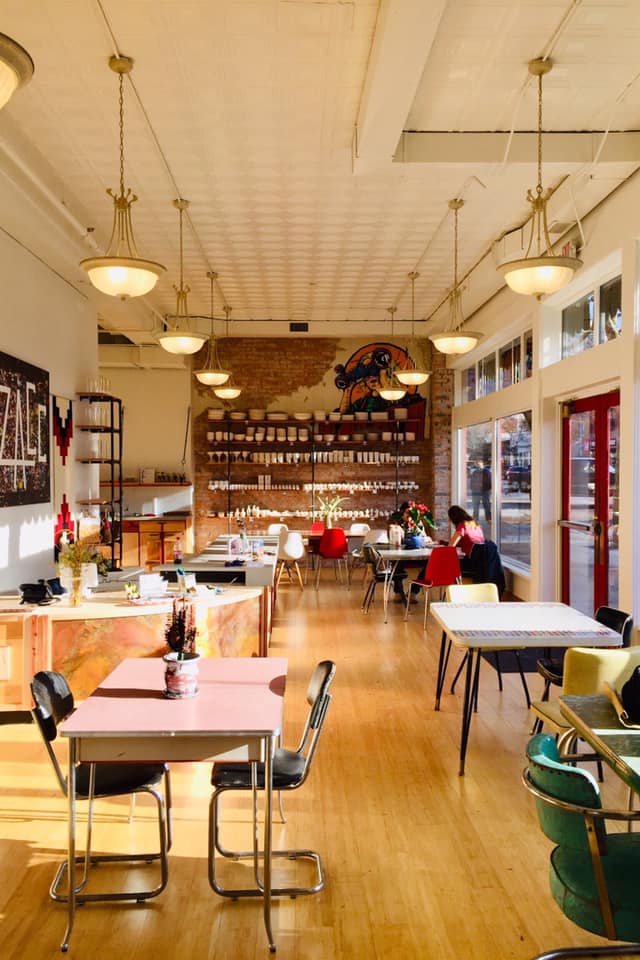 Photo courtesy of ZACC.
Zootown Arts Community Center (ZACC) is all about fostering a creative community and fun, artistic experiences. They do this through tons of different programs, from their print shop to their recording studio. One of our favorite DIY experiences at the ZACC is their Paint Your Own Pottery program, offering people the chance to create and paint their own unique pottery. The program makes for a great way to get out of the house and spend an afternoon tapping into your creative side, or you can take advantage of the curbside Paint Your Own Pottery option and do the painting at home!
Bonus: First Friday!
On the first Friday of every month, right around 5:00pm, Missoula comes alive with a wave of creativity and community. Tons of local businesses throughout downtown Missoula stay open late to display local art, offer up free food and drinks, and even bring in local musicians to perform. First Friday makes for an entertaining night for both visitors and residents to wander in and out of shops, chat with local artists, eat some free food and support local business in Missoula. In response to the COVID-19 pandemic, many businesses and organizations have also shifted to digital platforms to put on "Virtual First Friday" as well.