Missoula is a pretty special place in large part because Western Montana is a pretty special place. Located near Missoula lies a treasure trove of outdoor beauty and adventures, and perhaps none is more easily accessed or available than Flathead Lake. It's hard to miss on a map—it is the largest natural fresh-water lake west of the Mississippi and boasts 185 miles of shoreline to explore. The foot of Flathead Lake is located a scenic and quick 1.25 hour drive from Missoula. Come along with us as we spend a day exploring and playing at Flathead Lake! Head north on MT-93 to get your day started. When we got to Polson, we chose to check out the east side of the lake thanks to the cherry orchards, the day use areas at various state parks, and because we had our hearts and stomachs set on Flathead Lake Brewing Company. The west side is amazing as well. When it comes to Flathead Lake, you cannot go wrong!
A Quick Stop Before You Go
Stop by the Good Food Store for snacks for the day and grab a quick breakfast sandwich, or go to Market on Front for a seriously delicious breakfast burrito to enjoy in the car. Have some napkins handy—that aioli has a mind of its own!
Along the Way: Ewam Garden of One Thousand Buddhas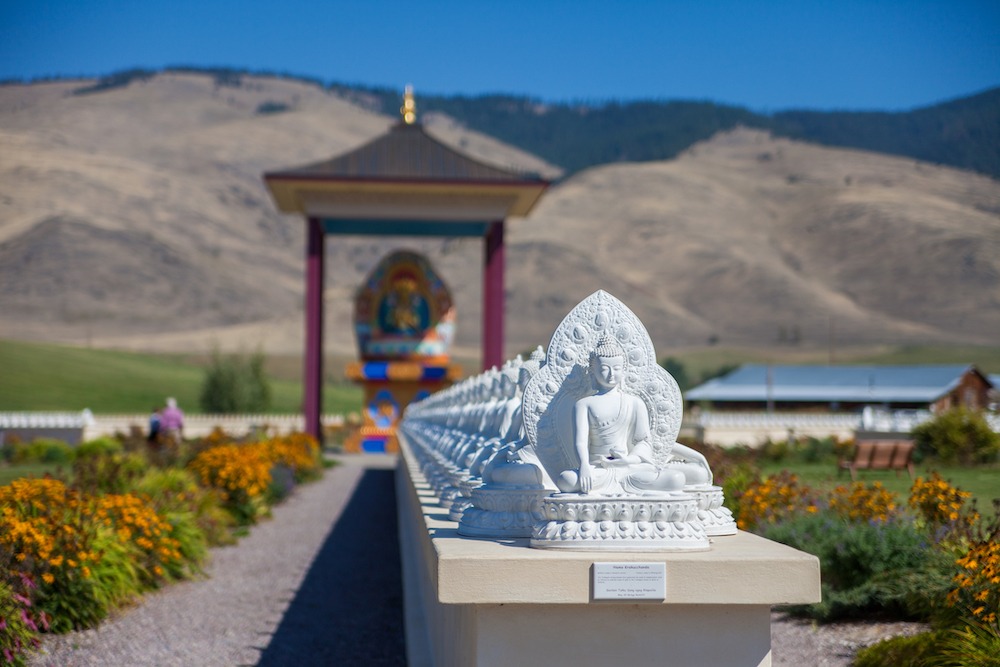 Along the way just shy of the halfway mark, you will drive right past the Ewam Garden of One Thousand Buddhas. It is well worth the pit stop. Step out and stretch your legs as you walk through the gardens, taking in the lovely scenery and inspirational Buddha quotes. Check out the gift shop to take home your own prayer flags or a small souvenir from the gardens.
Windmill Village Bakery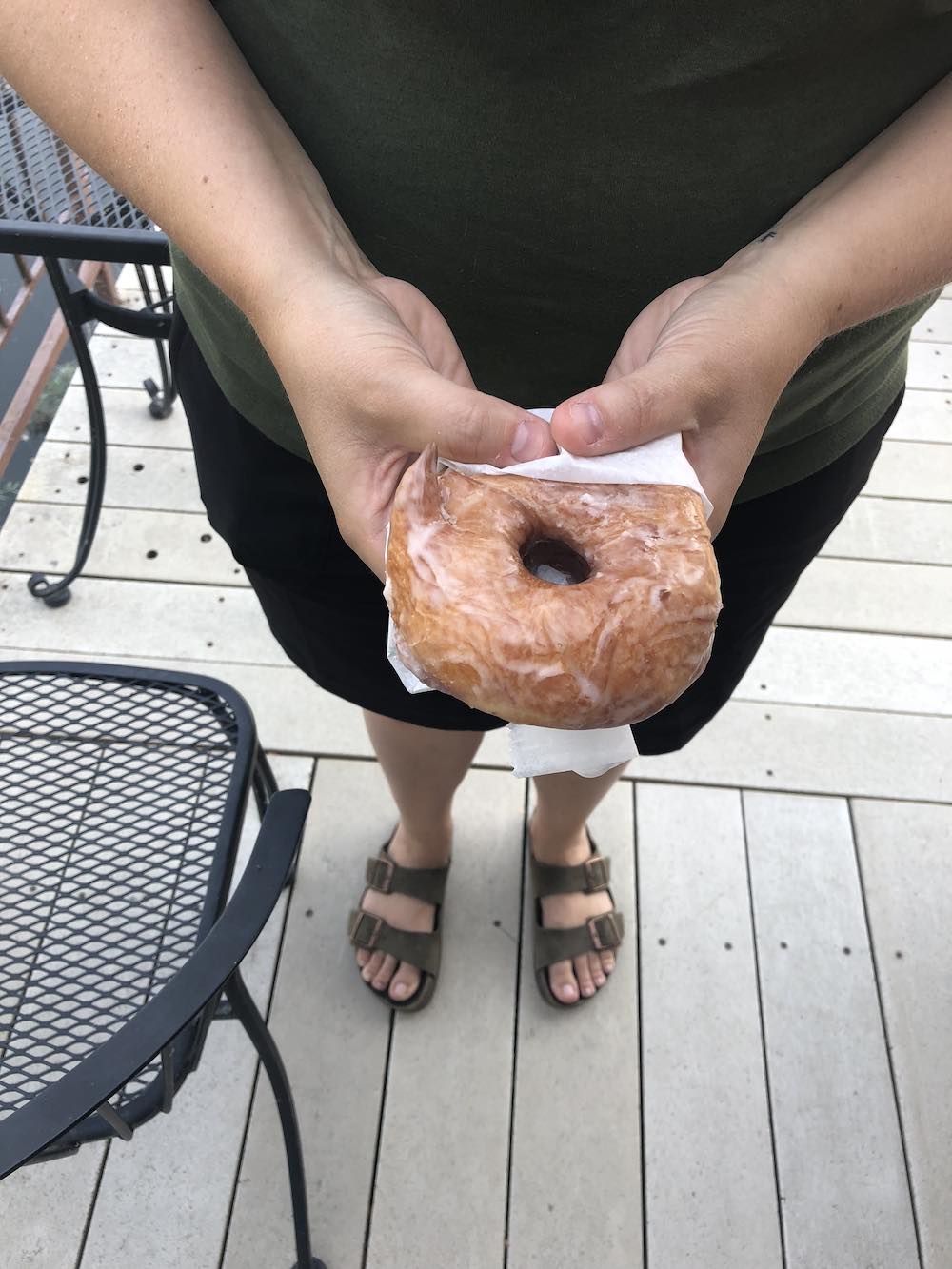 A few miles before the intersection with MT-200 sits a very important place—The Windmill Village Bakery. This place looks unassuming from the outside, but they cook up some seriously delicious and dangerous pastries and doughnuts. Grab a coffee if you want a caffeine jolt and definitely treat yourself to their glazed doughnut, baked fresh daily if not hourly. You are only 30 minutes from the lake now!
Cherry Picking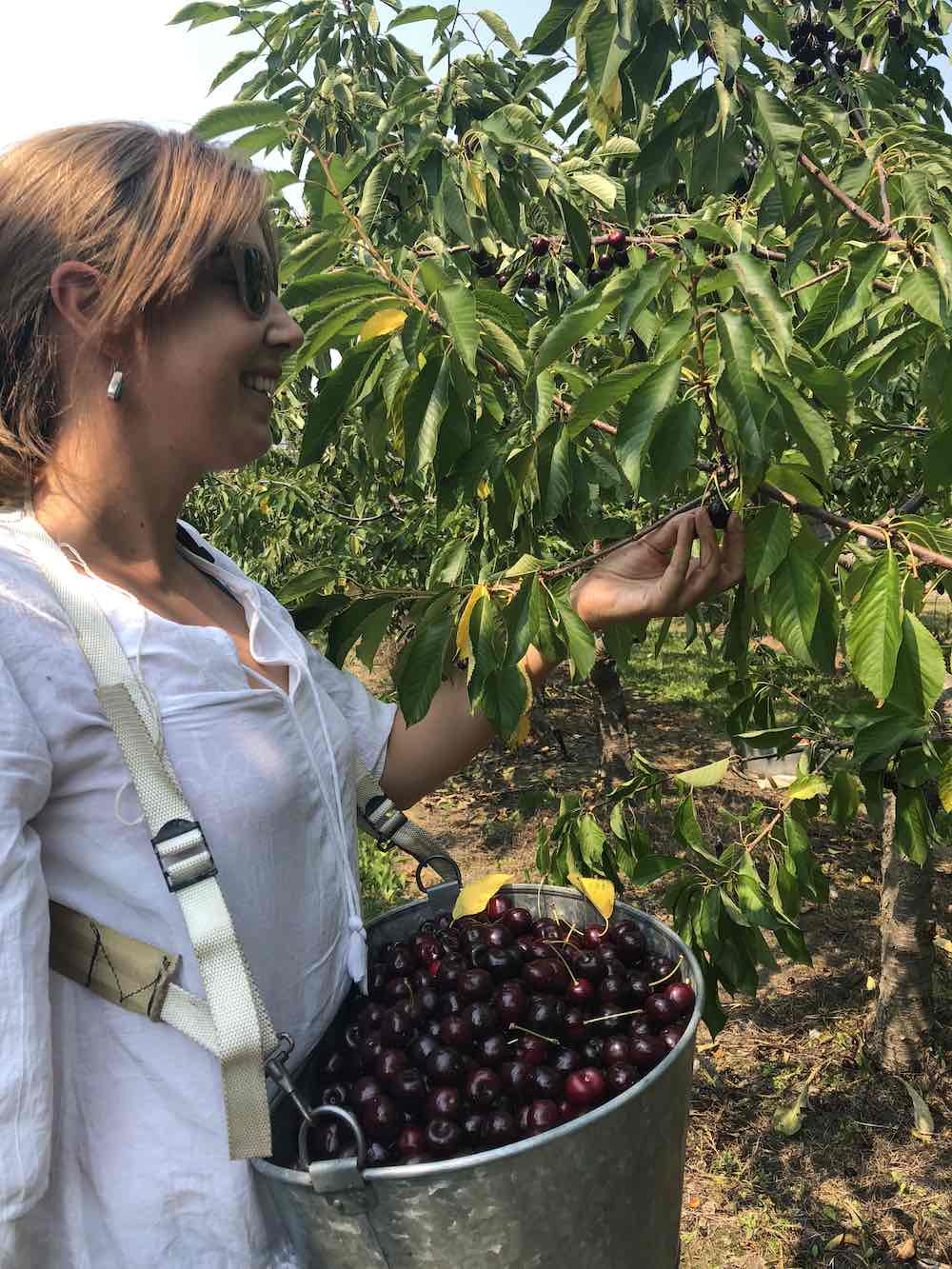 Cherry season is our favorite season at Flathead Lake. Sweet Flathead and Rainier cherries can be purchased along the roadside, or you can u-pick your own for a slamming bargain. Load up while you can! Cherries are a precious commodity in Montana and picking season is limited. If you plan to u-pick, be sure to check with the orchards before you head out. Cherries are usually in season in late July to early August, though they are very weather dependent. There are orchards on both the west and east side of the lake.
Flathead Lake Brewing Co.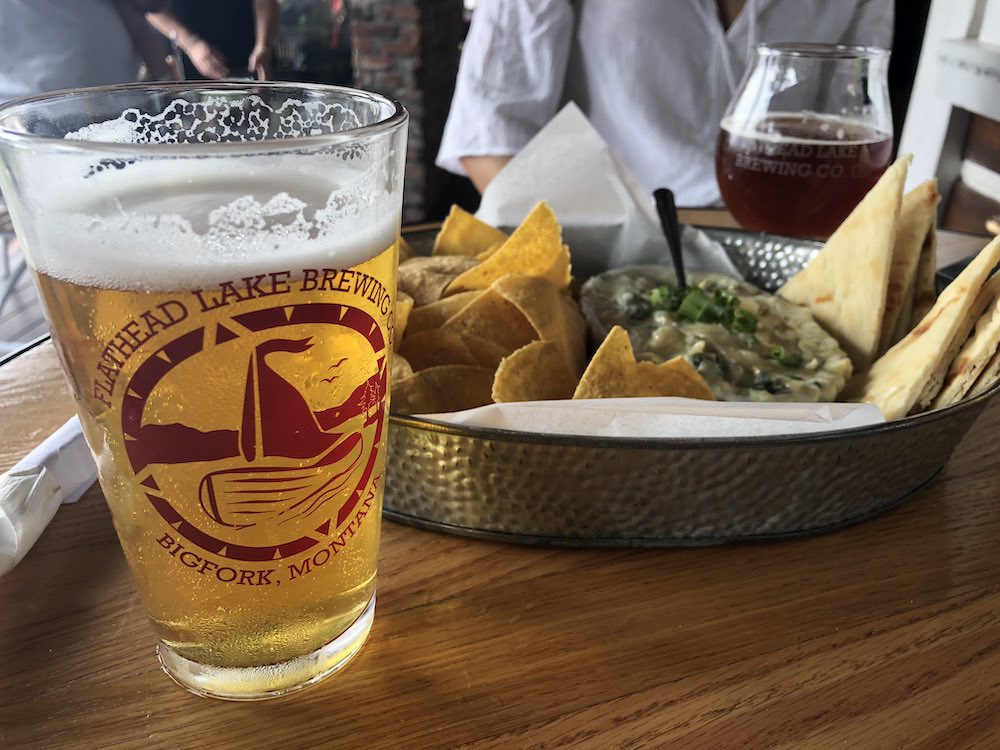 Flathead Lake's beer can be bought all throughout the state, including in Missoula, but while at Flathead Lake, it would be a shame not to check out the brewery. They have a great selection of beers on tap including seasonal releases. Their patio overlooks Flathead Lake and provides great views of the surrounding mountains. Their menu is packed with delicious options. Simply put, it is well worth the journey to Big Fork! Pop into the brewery for lunch and a quick pint before heading to play on the lake. Speaking of, Big Fork is an incredibly charming town with great shops and gear rentals, if that is on your to-do list.
Flathead Lake Recreation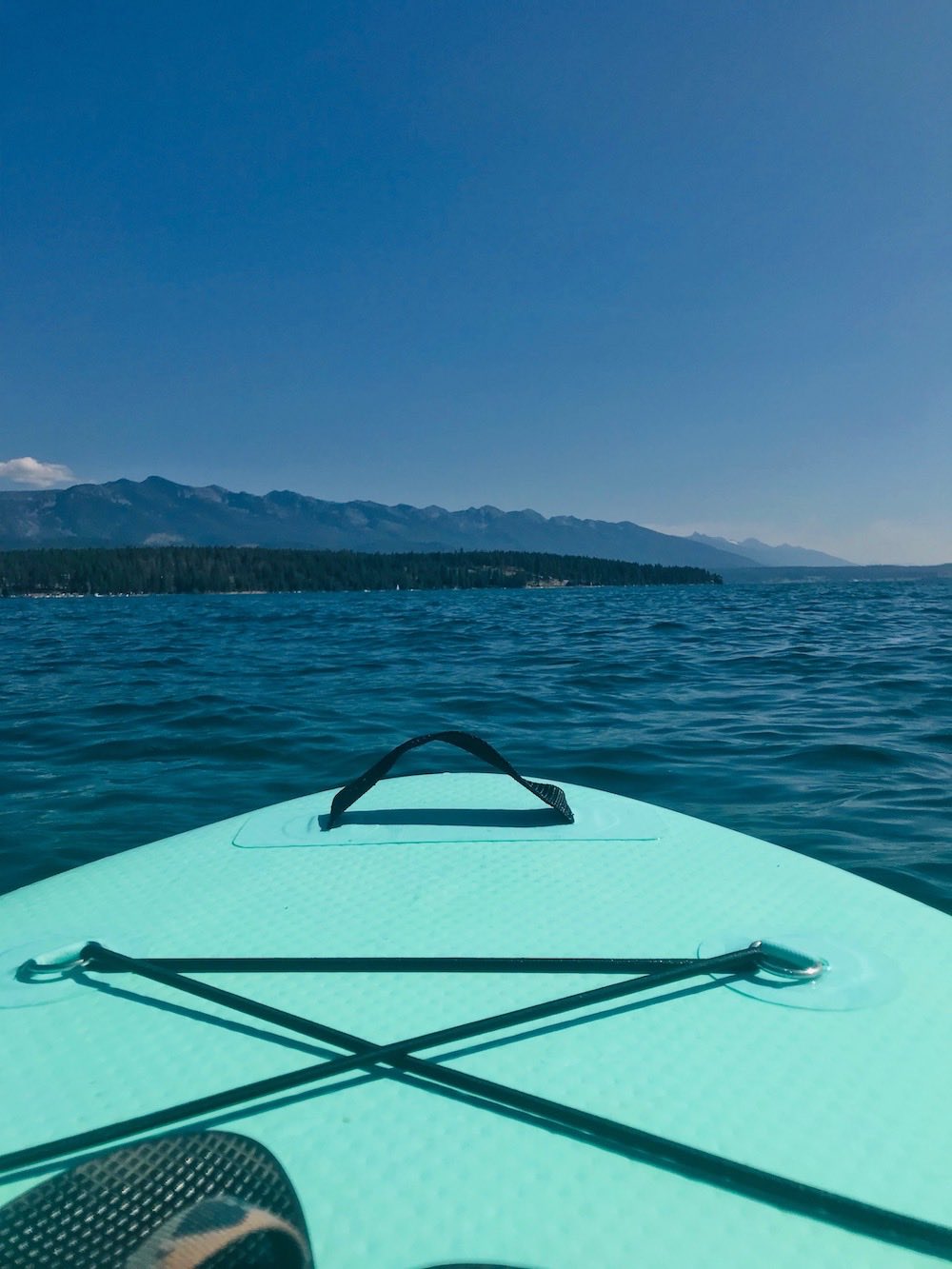 There is so much to do on Flathead Lake that it is almost hard to choose. There are tons of state parks along the lake with day use areas (free for Montana residents and a small fee for visitors). We opted to go to Finely Point State Park's day use area. If camping is your cup of tea, there are some amazing lake shore camping spots located at the state parks as well. For day use, be sure to pack your camp chairs, some food and water (glass is strictly prohibited!), sunscreen, your suit and a towel, and your float, boat or SUP for a low key day on the lake. Or, if you'd prefer a faster speed, motorized boats and jet skis are allowed and there are many put-in ramps to use. Be respectful to those floating on the shore and stick to the middle—there is plenty of lake to go around! All boats (including SUPs) must be inspected before putting in at Flathead, but luckily you will pass an inspection spot along MT-93. It is well marked, so you cannot miss it! Bring your PFD if you plan to wade into the deeper waters. Flathead Lake is cold any time of year, and it is always best to be prepared.
Bonus Stop: National Bison Range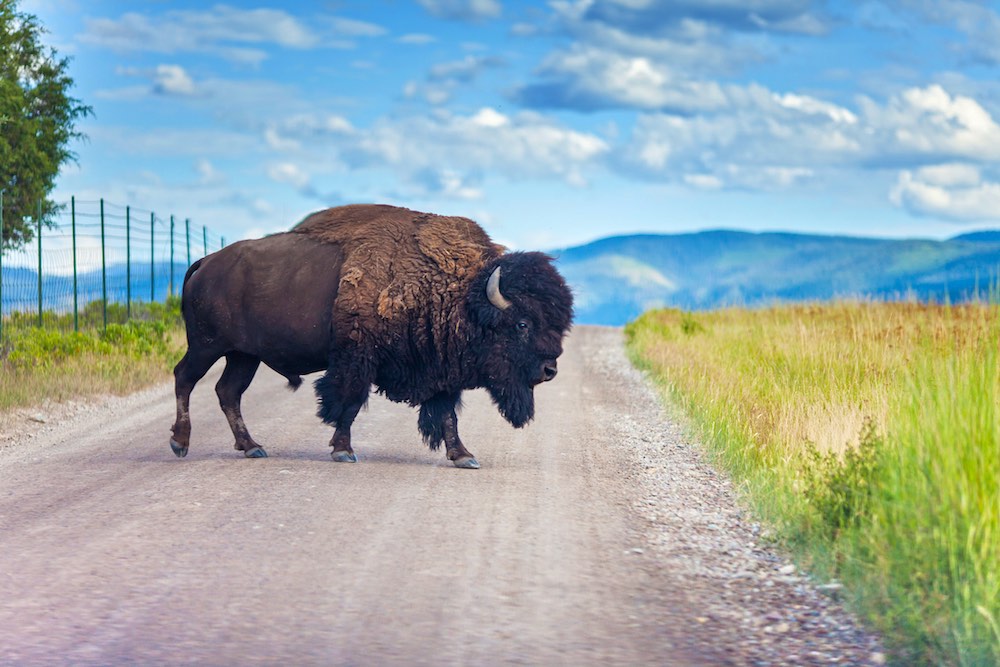 If you are feeling like a victory lap on your way back to Missoula, take the scenic route and visit the National Bison Range. Located on MT-200, the National Bison Range is home to wildlife including bison, deer, bears and more. For a small entrance fee, you can drive the two scenic driving routes (with small overlook hikes along the way) and see America's national mammal!