Written by Lauren Hillestad
If you're visiting Missoula in the warmer months and want to truly live like a local, take to the patio! You can't keep a Missoulian inside for long, and the sheer number of restaurants and breweries with outdoor seating is a testament to that. Whether you're looking for a bite to eat, local brews, a caffeine boost or a sweet treat, Missoula has the patio for you. Here are your options when it comes to eating outside in Missoula:
Grab a Bite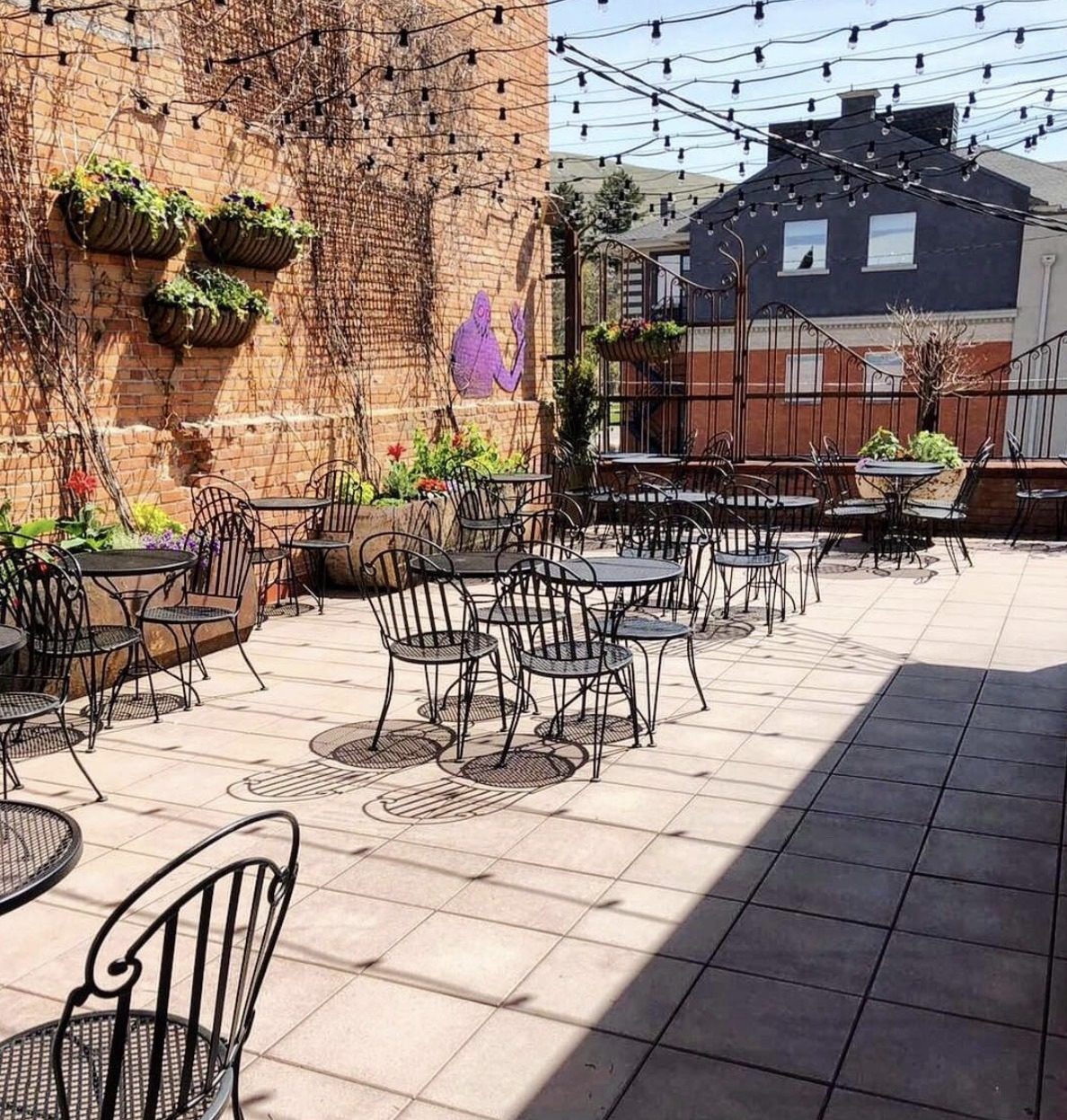 Plonk's rooftop patio is the perfect happy hour hideaway. Photo courtesy of Plonk.
Plonk offers two seating options for fresh-air enthusiasts grabbing a glass of wine or bite to eat: the front-end of the restaurant opens up to allow outdoor seating along the sidewalk, while the secret rooftop patio stays tucked away up top.
If you can't get enough of Missoula's river views, FINN is the perfect spot for a dinner date with a large deck overlooking the Clark Fork River.
Located on the rooftop of the AC Hotel by Marriott, this stunning patio overlooking the city opened in 2022. Grab a craft cocktail and enjoy the 360 degree views on a beautiful Missoula day.
The Good Food Store is a hotspot for locally-grown, Montana-made food. If everyone in your group is in the mood for a different dish, The Good Food Store is the way to go—from wok bowls to pizza to an ever-changing hot bar, they've got something for everyone. And most importantly, you can dine outside.
Iron Horse is your classic bar and grill, conveniently located downtown. Apparently one patio wasn't enough for these guys, because they offer four different outdoor seating sections.
If you love BBQ you have no choice but to visit P.I.G., a local favorite. Their casual atmosphere is perfect for an outdoor lunch.
Taphouse meets coffeehouse meets restaurant at Cambie, one of Missoula's newest addition to the food and beer scene. And yes, they have a beautiful patio.
Top Hat Lounge has been a longtime favorite in Missoula, and they recently expanded in a big way to include a sprawling outdoor patio, complete with twinkle lights and shade cover.
Paradise Falls is described as an easy-going eatery with American comfort food and a killer patio—plus they have a casino if you're feeling lucky!
Locally known as "Mar Bar," this downtown spot transforms the sidewalk out front into a fun outdoor seating area with a lively atmosphere.
If you're in the mood for margaritas and tacos in the sunshine, head to The Camino in the Mercantile building and ask for a table outside!
Market on Front is a must for breakfast burritos (and so, so much more) on the run, but they also offer indoor and outdoor seating for those who want to hang around and savor each bite.
Grab a Brew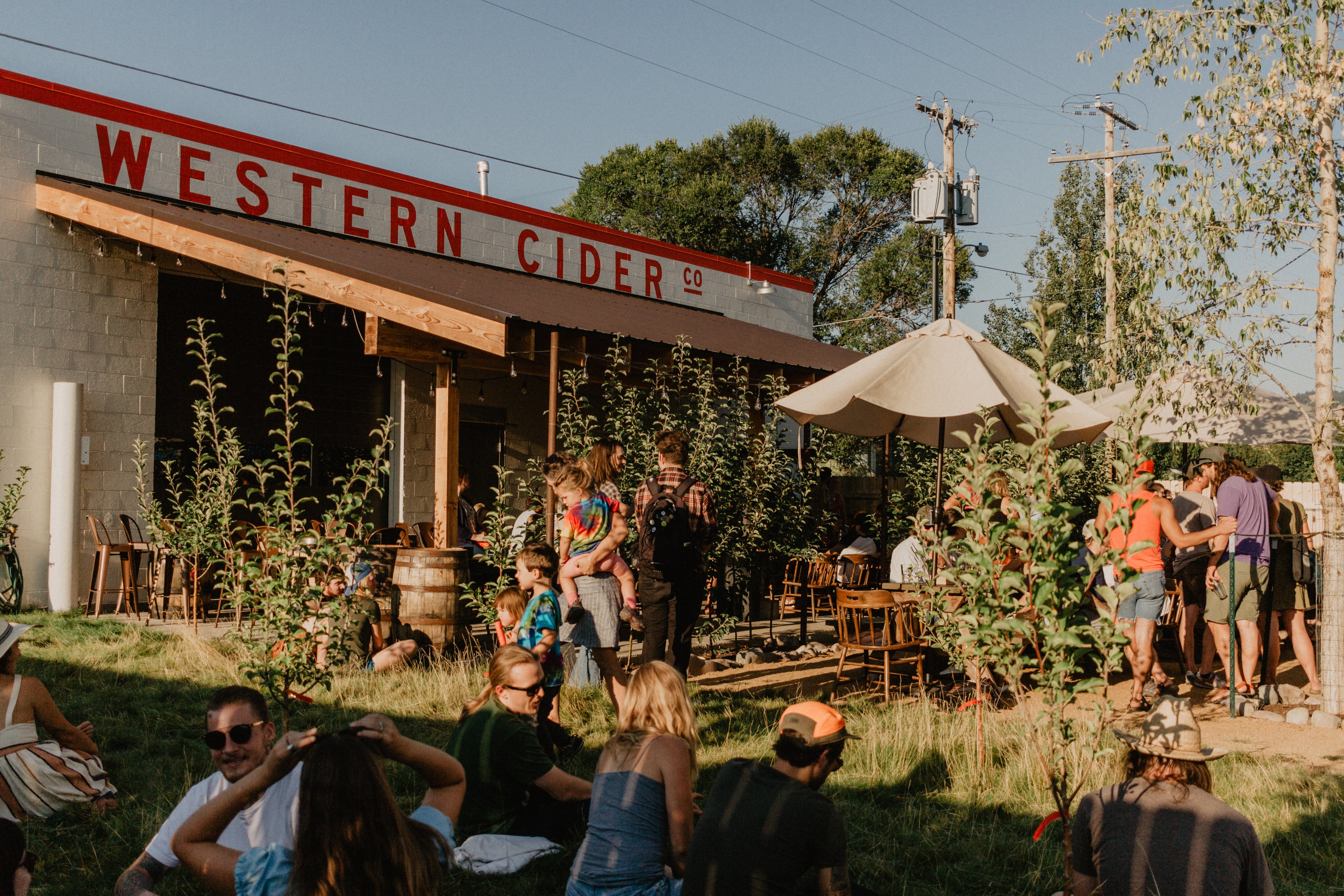 No, that's not a summer festival—it's Western Cider's outdoor section. Photo Courtesy of Western Cider.
Conflux is one of the newest additions to Missoula's craft beer scene, and their centrally located brewery has outdoor seating in a fun courtyard AND second-floor patio.
Draught Works has a large wraparound deck, and garage doors that open up to give the brewery an indoor/outdoor feel. If the sun is out, you can expect to find Draught Works full of people lounging outside.
If you need a break from beer, head on over to Western Cider. Their large outdoor section feels less like a restaurant patio and more like your best friend's backyard, with a lush lawn and plenty of seating for lounging, room to run for the kids, and twinkle lights and heaters for those cool evenings.
Highlander's outdoor section is much more than a patio—it's an entire backyard, stocked with everything you need to enjoy a summer brew. Grab tacos from their taco truck, play a game of cornhole, and then relax next to the flowing waters of Grant Creek.
Tamarack is conveniently located in downtown Missoula, less than 500ft from Caras Park and the Clark For River. You can enjoy your next pint in their lower-level outdoor section, or head upstairs to catch some river views from the upper-level patio.
Bayern Brewing is the only German brewery in the Rocky Mountains specializing in authentic Bavarian beer, which you can enjoy in the sun with their large outdoor seating area. Fun bonus: Bayern's patio has a giant chess set to play with!
Live music, fundraisers, and their signature "Taproom Dialogues" take place at Imagine Nation year-round. Lucky for us, many of these events make their way outside where people can gather on their large outdoor patio.
Gild has a lot to offer in terms of atmosphere—you can hangout on their main level, lounge on couches with a view on the upper level, play retro arcade games in their basement, or soak up the sun in their outdoor seating area out front.
Cranky Sam is a brewery, taphouse and wine bar all in one. Conveniently located in downtown Missoula, complete with a massive outdoor seating area.
Bonus! Grab a Cup of Coffee or a Sweet Treat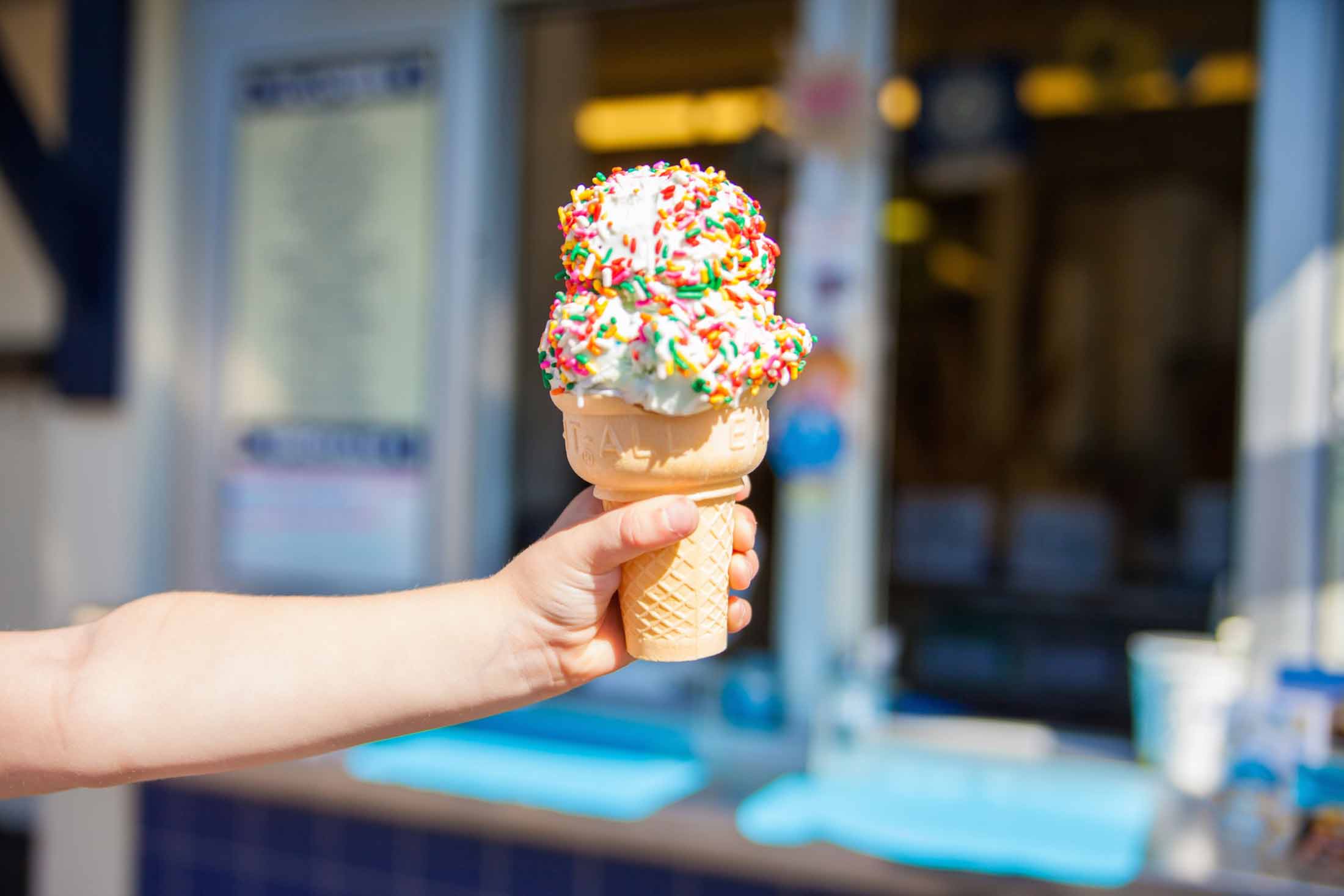 You're never too old for rainbow sprinkles. Photo courtesy of Big Dipper.
Bernice's is a hub on the Hip Strip, and you can find people sipping their coffee and enjoying a signature cupcake outside no matter the time of day.
A visit to Missoula always warrants a visit to Big Dipper, which has gained national attention after being recognized on Good Morning America for their unbelievably delicious ice cream. And we all know ice cream is meant to be enjoyed in the summer sun, so Big Dipper provides plenty of benches to accommodate their fan following.
Cover photo courtesy of Highlander Brewing.