Missoula struck the perfect balance between mountain escape and accessible city, and we have the Missoula International Airport to thank for that. Just 15 minutes from the heart of Missoula, our airport allows locals and visitors alike to come and go with ease. And with the growing number of visitors flocking to Missoula, as well as residents taking advantage of their new travel options, the airport has only grown—2019 was a record-setting year with over 907,700 passengers passing through. But why is that so exciting? Because it benefits us, the folks buying plane tickets! Missoula Current explained in a recent article, "The increase in routes has also led to an increase in competition, helping drive average fares out of Missoula to the lowest in the state." And with the lowest fares in the state and easy accessibility, we're somehow still lucky enough to enjoy short (and often nonexistent) lines and the friendliest service every time we fly.
The Missoula International Airport continues to expand to meet the needs of flyers by adding new direct flights and airport amenities. The most recent development is an exciting one for many: Alaska Airlines has transitioned from regional jet to mainline service on two of their daily departures to Seattle (SEA) starting May 21, 2020. In addition to our new flights to Seattle, Alaska also added a new non-stop to Los Angeles, starting March 19, 2020.
Is a flight to Missoula in your future? Here are some common questions you may have.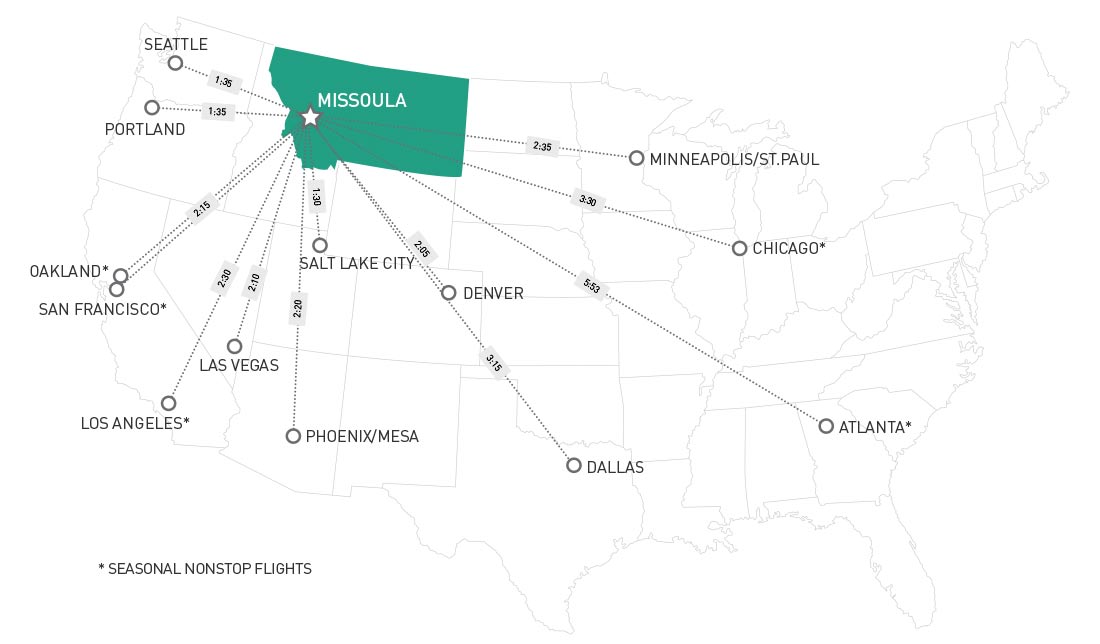 Q: What are my transportation options once I land in Missoula?
A: You have a few options when it comes to transportation out of the Missoula International Airport. Six rental car companies offer a variety of vehicles to fit the season, taxis and apps like Lyft and Uber are available to bring you anywhere in and around Missoula, and many of Missoula's popular hotels offer airport shuttles. Find a full list of taxis, independent shuttle services and hotel shuttles here.
Q: What's all this talk about a REAL ID?
A: Beginning October 1, 2020, American travelers will need a new form of identification to pass through security at U.S. airports—the REAL ID. Getting your new form of identification isn't hard, just head to your local DMV and they will help you out. If you don't have your REAL ID by October 1, 2020, other acceptable forms of identification include a U.S. passport, U.S. military ID, DHS trusted traveler cards (Global Entry, NEXUS, SENTRI, FAST), or "enhanced driver's license" (offered in MI, MN, NY, VT and WA.
Q: What direct flights does the airport offer?
A: The Missoula International Airport currently offers non-stop flights to 12 locations: Seattle, Portland, Oakland, San Francisco, Los Angeles, Las Vegas, Phoenix/Mesa, Salt Lake City, Denver, Dallas, Minneapolis/St. Paul, Chicago and Atlanta.
Q: Is there a place to eat and/or grab a drink in the airport?
A: Absolutely! The Missoula International Airport offers food and drinks both before and after you go through security. Cafe beverages and snacks can be purchased at the drive-thru Liquid Planet outside of the airport, as well as after you make it through security at the Liquid Planet located on the second floor of the terminal. If you're looking to sit down and savor some food and drinks before taking off, head to one of two Jedediah's Restaurant locations. One is located near baggage claim, while the other is on the main floor right after you get through security. Both locations offer food and drinks.
Q: What airlines service the airport?
A: If you're trying to use flyer points and love sticking to your go-to airline, we get it. The following airlines currently serve the Missoula International Airport:  Alaska Airlines, Allegiant Air, American Airlines, Delta Air Lines, Frontier Airlines and United Airlines.
Q: How far is the airport from Downtown Missoula?
A: Not far at all! It's a 12 minute drive from the airport to the center of Downtown Missoula, which means you can land, grab your bags, check-in to your hotel, and still be enjoying a craft beer at a local brewery in under an hour.
Q: How far is the airport from Glacier National Park?
A: You are a quick 2.5 hour drive from Glacier National Park when you land in Missoula. And the drive is beautiful—just wait until you see Flathead Lake and the Mission Mountains in the distance.
Q: Where can I get last-minute Montana souvenirs to bring home?
It's important to bring a little Montana home with you after every trip, and Missoula has enough huckleberry-everything to go around. If you didn't manage to pick something up before heading to the airport, run into High Country Gifts in the airport. Their flagship store is on the main level of the airport and open to the general public, while passengers who have already made their way through security can visit their other location on the second floor of the terminal. In addition to common travel necessities, High Country Gifts offers a selection of Montana clothing, souvenirs, regional books about Montana, children's' clothing and toys, jewelry including Montana sapphires, and a selection of gourmet huckleberry products.
Didn't get your questions answered here? Find more FAQs on the Missoula International Airport website here.