Missoula struck the perfect balance between mountain escape and accessible city, and we have the Missoula International Airport to thank for that. Just 15 minutes from the heart of Missoula, our airport allows locals and visitors alike to come and go with ease. And with the growing number of visitors flocking to Missoula, as well as residents taking advantage of their new travel options, the airport has only grown. But why is that so exciting? Because it benefits us, the folks buying plane tickets! Missoula Current explained in their article, "The increase in routes has also led to an increase in competition, helping drive average fares out of Missoula to the lowest in the state." And with the lowest fares in the state and easy accessibility, we're somehow still lucky enough to enjoy short (and often nonexistent) lines and the friendliest service every time we fly.
The Missoula International Airport continues to expand to meet the needs of flyers by adding new direct flights and airport amenities. The most recent development is Missoula Montana Airport's terminal expansion, which now provides 5 gates with service to cities in the US and Canada.
NON-STOP FLIGHTS TO MISSOULA 
UNITED:
DENVER

SAN FRANCISCO*

CHICAGO*
DELTA:
AMERICAN:
DALLAS

LOS ANGELES*

CHICAGO*
ALLEGIANT:
LAS VEGAS

PHOENIX/MESA

OAKLAND*

LOS ANGELES*
ALASKA:
SEATTLE

PORTLAND*

SAN DIEGO*

SAN FRANCISCO*
* SEASONAL NONSTOP FLIGHTS
Is a flight to Missoula in your future? Here are some common questions you may have.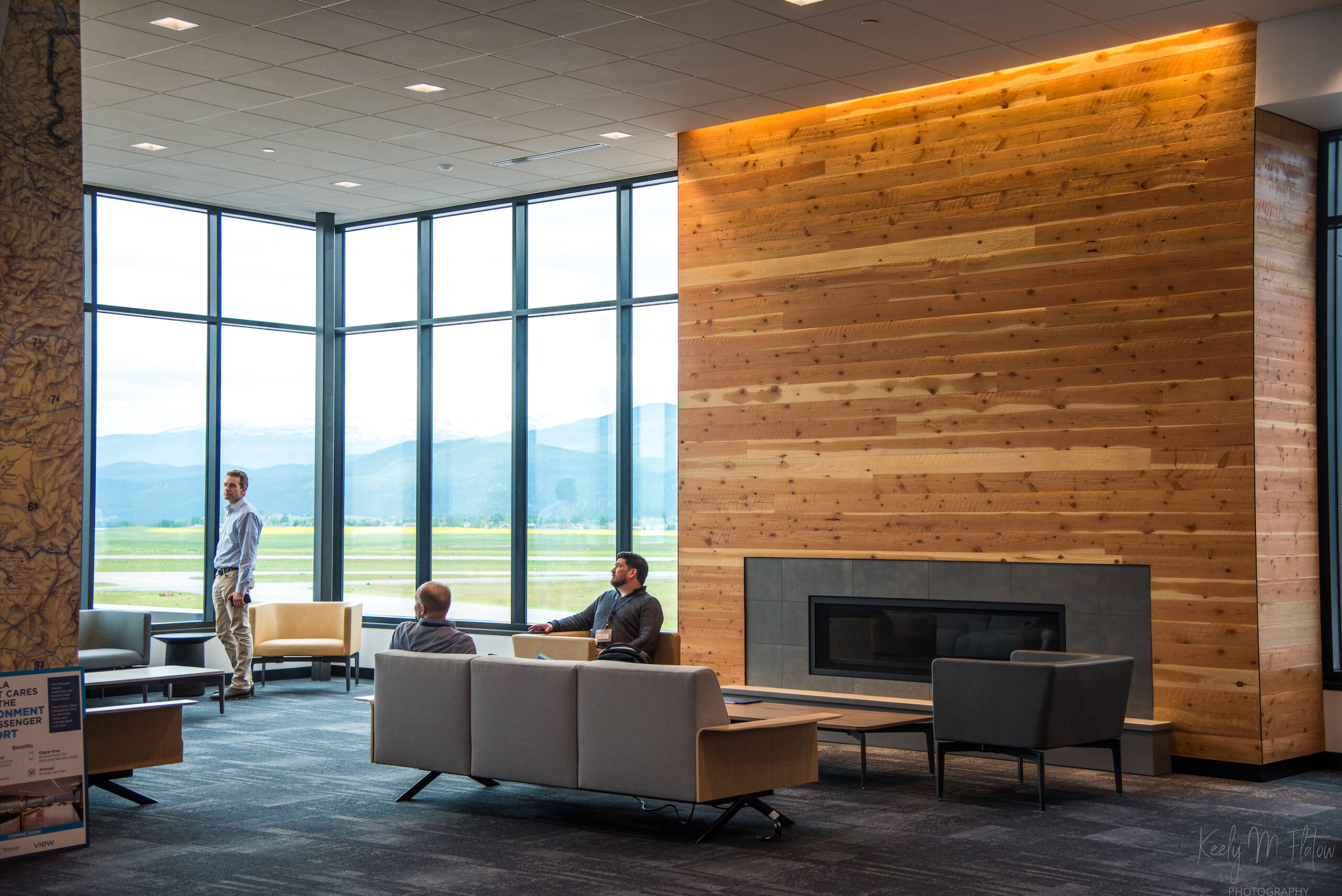 Photos courtesy of Keely Flatow
Q: What are my transportation options once I land in Missoula?
A: You have a few options when it comes to transportation out of the Missoula International Airport. Eight rental car companies offer a variety of vehicles to fit the season, taxis and apps like Lyft, Uber and Turo are available to bring you anywhere in and around Missoula, along with Missoula's free Mountain Line bus service. Many of Missoula's popular hotels offer airport shuttles as well. Find a full list of taxis, independent shuttle services and hotel shuttles here.
Q: What's all this talk about a REAL ID?
A: Beginning May 7, 2025, American travelers will need a new form of identification to pass through security at U.S. airports—the REAL ID. Getting your new form of identification isn't hard, just head to your local DMV and they will help you out. If you don't have your REAL ID by May 7, 2025, other acceptable forms of identification include a U.S. passport, U.S. military ID, DHS trusted traveler cards (Global Entry, NEXUS, SENTRI, FAST), or "enhanced driver's license" (offered in MI, MN, NY, VT and WA).
Q: Is there a place to eat and/or grab a drink in the airport?
A: Absolutely! The Missoula International Airport offers food and drinks both before and after you go through security. Cafe beverages and snacks can be purchased at the drive-thru Liquid Planet outside of the airport, as well as after you make it through security at the Black Coffee Roastinc Co. (located on the second floor before security and one inside, after going through security). If you're looking to sit down and savor some food and drinks before taking off, head to the Kettlehouse Bar & Grill and Cold Smoke Tavern, conveniently situated between all gates. Enjoy the charming indoor dining space, or take in the stunning mountain view on the outdoor patio.
Q: What airlines service the airport?
A: If you're trying to use flyer points and love sticking to your go-to airline, we get it. The following airlines currently serve the Missoula International Airport:  Alaska Airlines, Allegiant Air, American Airlines, Delta Air Lines and United Airlines.
Q: How far is the airport from Downtown Missoula?
A: Not far at all! It's a 12 minute drive from the airport to the center of Downtown Missoula, which means you can land, grab your bags, check-in to your hotel, and still be enjoying a craft beer at a local brewery in under an hour.
Q: How far is the airport from Glacier National Park?
A: You are a quick 2.5 hour drive from Glacier National Park when you land in Missoula. And the drive is beautiful—just wait until you see Flathead Lake and the Mission Mountains in the distance.
Q: Where can I get last-minute Montana souvenirs to bring home?
A: It's important to bring a little Montana home with you after every trip, and Missoula has enough huckleberry-everything to go around. If you didn't manage to pick something up before heading to the airport, run into the airport gift shop, located after the security checkpoint at Black Coffee Roasting Co., where you'll find common travel necessities, Montana clothing, souvenirs, regional books about Montana, children's clothing and toys, jewelry and more.
Q: Are there resources for accessibility needs within the airport?
A: There are only four airports in the nation that have received certification as a Sensory Inclusive Facility through KultureCity, and Missoula is one of them. The goal of this initiative is to create "sensory accessibility and inclusion for those with non-visible disabilities" and, according to a statement from MSO's Deputy Director Tom Damrow, is "a continuation of the airport's overall initiative to create a facility that is welcoming, intuitive and easy to navigate for individuals of all abilities." If you or a loved one traveling through Missoula experiences sensory overload due to a disability, download Kulture City's app to learn about the spaces in our airport that can provide a much-needed reprise from the hustle of a travel day.
Didn't get your questions answered here? Find more FAQs on the Missoula International Airport website here.