Camping out under the stars, and the big Montana sky can be a magical vacation.  Although for many people camping reminds them more of sleeping on the ground and fighting with a tent, than the relaxing vacation that most of us are looking for.  That is where Glamping comes in- the best of both worlds.
Glamping is glamorous or luxury camping.  No need to sleep on a floor or pitch a tent, these camp sites come with everything you could ever hope for.
From cabins and yurts to semi-permanent tents, glamping is taking your camping experience to a whole new level.  Imagine sitting around a camp fire on the banks of a river with your family on a warm summer evening just enjoying the time together.  Some glamping experiences even have a camp chef!  There is no worry about having to cook over an open fire unless you choose to.
Just a short drive from Missoula you will find several options for luxury camping.
The Resort at Paws Up
The Resort at Paws Up offers several unique glamping experiences.  From honeymoon tents, and creekside settings to full cabins with smaller glamping tents there are a variety of choices for every taste.  Most offer private ensuite amenities, as well as camping butler and camp chef.  The Resort at Paws Up brings glamping to a whole new level of luxury.
This year there is a new 2 room tent to try at Paws Up, and it has a Japanese soaking tub on the front deck.  You can relax and enjoy the Big Sky Country at the same time.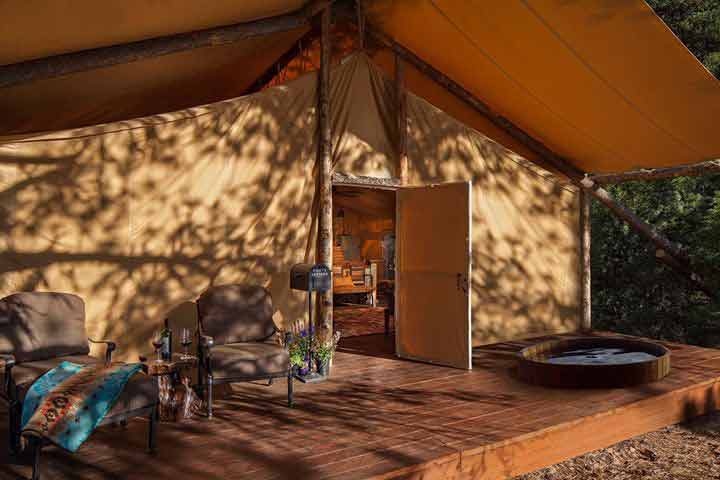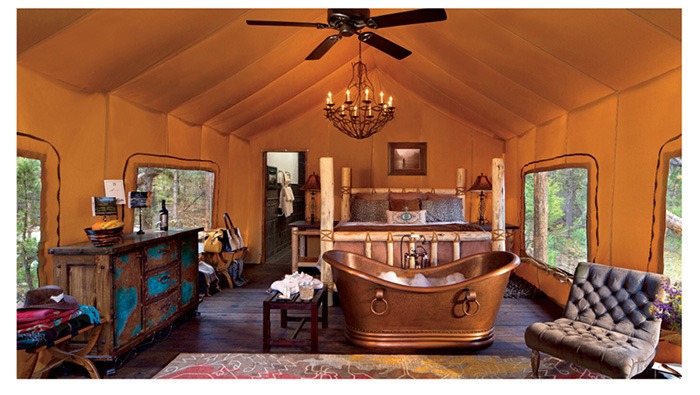 Montana Vacation Rentals
Montana Vacation Rentals has secluded cabins along creeks and rivers in western Montana, as well as in-town spots perfect for your home away from home.  There is a unique getaway waiting for you.
Triple Creek Ranch
Triple Creek Ranch, with options ranging from luxurious 3-bedroom cabins  for family reunions, to the perfect honeymoon retreat nestled in the trees.  A member of the prestigious Relais & Châteaux, at Triple Creek Ranch you can relax in world-class accommodations, dine on the freshest contemporary cuisine and sample the world's finest wines while being pampered by an incomparable staff.
The Ranch at Rock Creek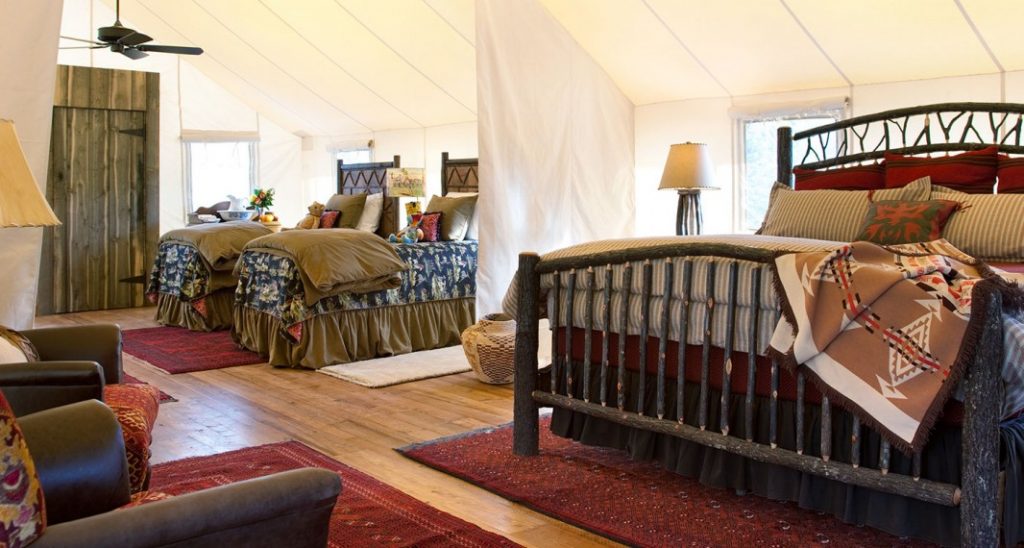 The Ranch at Rock Creek is an oasis for those looking for a luxury experience with maximum privacy, as well as family tent #glamping that includes a reading nook and nearby fishing.