Written by Kathleen Goodwin
When people think of Missoula, Montana, it is easy to think of the scenic mountains full of fly fishing and outdoor recreation, but Missoula is quickly becoming sought after for its food and music scene, as well. It is a town where you can come to enjoy a live show by a headlining artist and eat creative, delicious foods, but there aren't many places where you can experience both at the same time. The Top Hat lounge, however, is one of those places where the creative processes of food and music join together in perfect harmony. The Top Hat may be a household name to those who call Missoula home, but there is a face behind the food whose name you might not have ever heard of. A man who spends his time hanging out at the place where he works, a place where he is proud to be called "chef." Billy Metzger of the Top Hat has found his place in Missoula where creativity is found not only in the music performed, but also in the food served. "It's challenging," Metzger says, "but it is always great to find a job that you really love."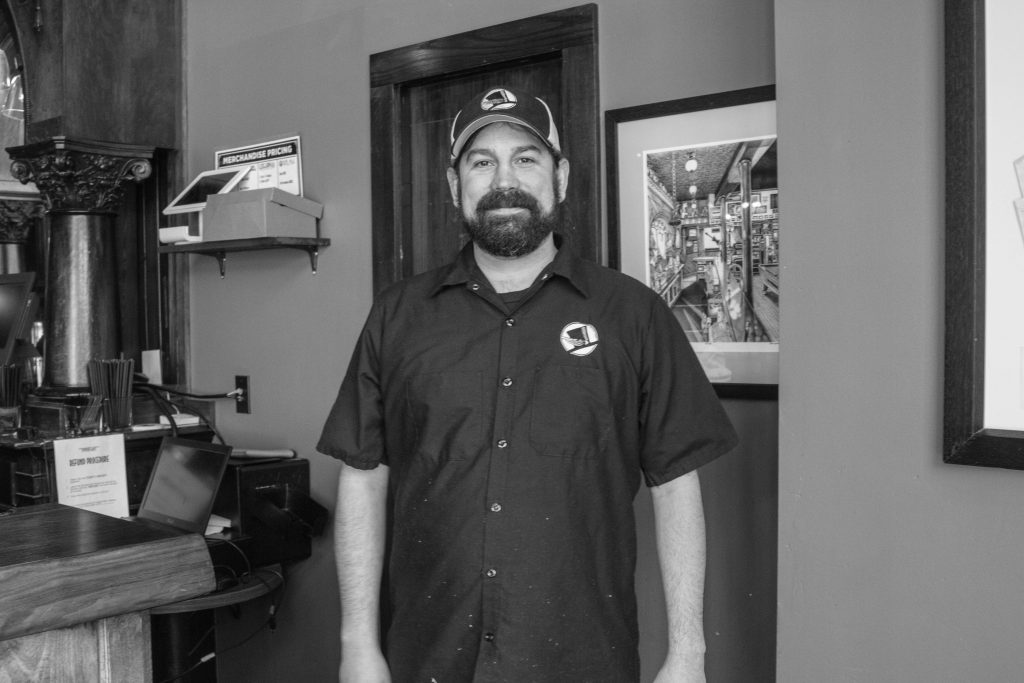 Chef Billy Metzger. Photo by Destination Missoula
Situated in the heart of downtown Missoula, The Top Hat attracts headlining musical artists and foodies alike, and chef Billy Metzger is at the center of this confluence. Metzger moved to Missoula in 2002. Originally from Mobile, Alabama, Metzger stopped over in many places before landing in Missoula, a place he now calls his home. He explained to me that cooking has always been a part of his life, a field he has been steadily drawn to, and a part of his personal narrative.
"My background in cooking comes from my mom and my grandmother. [I remember] always going to my grandmother's house for big family dinners, and I would always hang out with her in the kitchen," he reflects. When he was 16, he started working as a bus boy in Mobile, and in time he transitioned to a role in the back of the house. He spent a year in culinary and then started working in kitchens all over the south, from home in Alabama to North Carolina, before finding his way to Montana.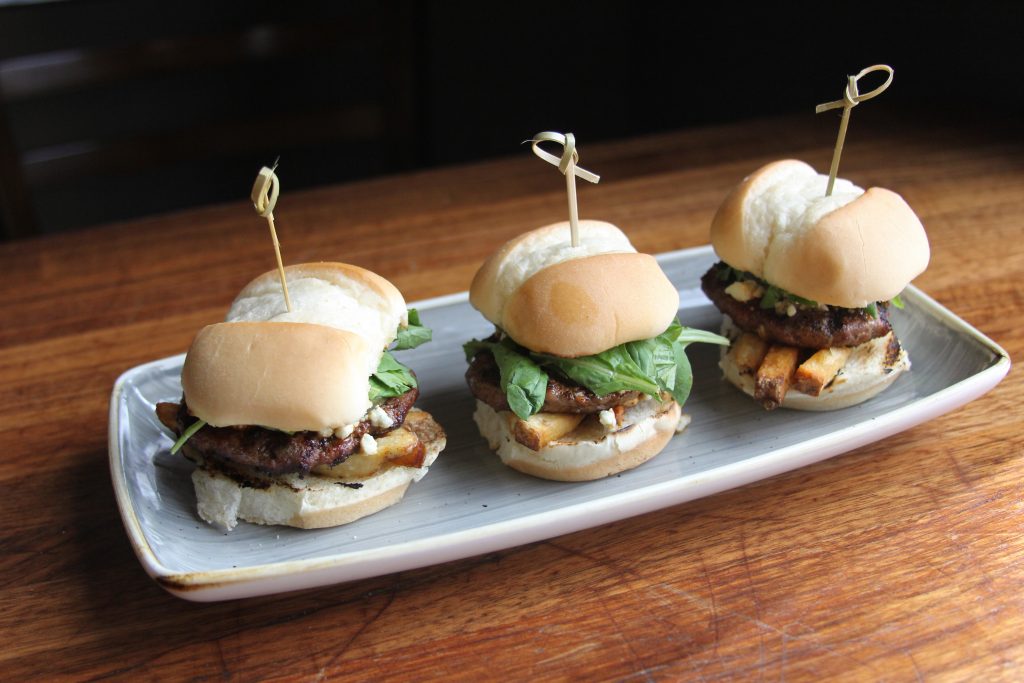 Lamb sliders, on the fall menu at The Top Hat, come from Metzger's home kitchen's recipe. Photo by Alicia Watkinson
"I first came out to Missoula to visit my sister. I got a job working at Jaker's, and I ended up staying," he explained one morning amongst the steady flow of the Top Hat's opening chores. The chairs were still stacked on the tables, and the radio (turned down for my benefit) hummed rock music in the background.
After Jaker's, Metzger spent several years working seasonal jobs in town before finding his place at the Top Hat in 2013.
"I stopped cooking for a while and I tried out some different jobs…landscaping and wildland firefighting… and they were great, but they were seasonal. My wife was pregnant, and I knew I needed to find a more stable job. I saw that they were redoing the Top Hat, and I thought it would be a good opportunity to start fresh in a new restaurant from the very beginning. It sounded like an exciting opportunity. I applied here and came in as a prep cook and a line cook and started from the bottom. I just worked my way up over time to lead line cook, to sous chef, to chef about 2 years ago."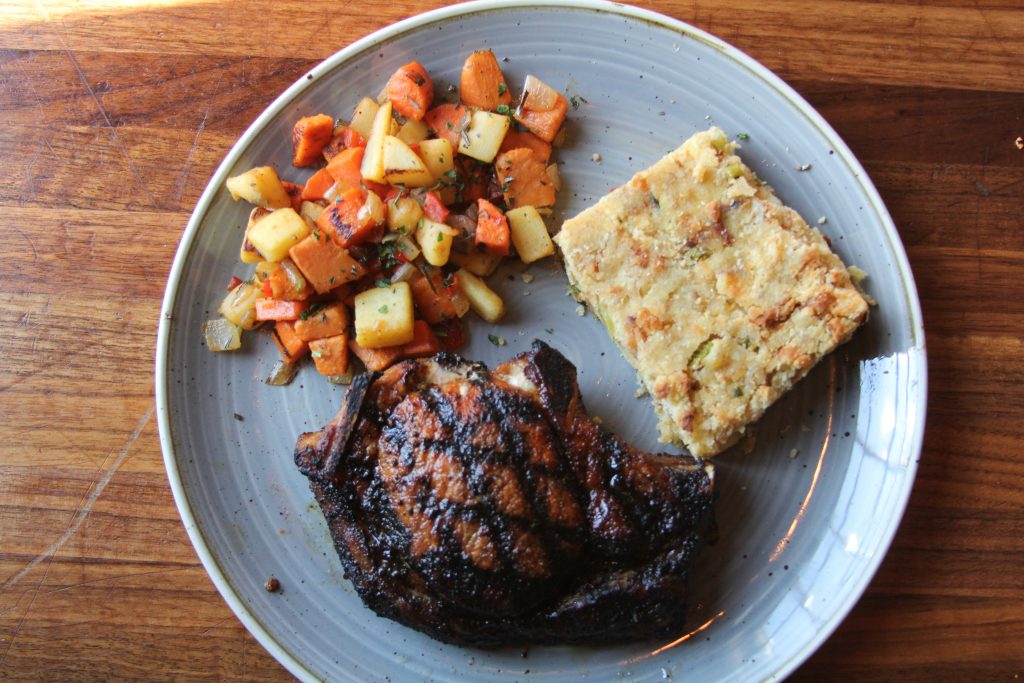 Montana raised Berkshire pork chop with sweet potato, yam carrot hash and house made corn bread dressing. Photo by Alicia Watkinson
The food served at the Top Hat stems from Metzger's own creativity. He takes great pride in his food, and for good reason. The menu is seasonal and changes twice a year (with some staples remaining, like their to-die-for maple rosemary chicken and waffles). From southern roots to spicy curries and everything in between, the Top Hat creates a new menu from scratch and is enjoyable for Metzer, but does not come without hard work.
"I am always thinking about new menu ideas and food concepts. I really love cooking, being creative, and thinking of new dishes. That's what I do in my free time when I'm at home. That's what I [love] to do. I frequently research food websites or menus at different restaurants in different cities… or read books [and magazines] about different styles of cooking and incorporating all that in to a dish. I have a notebook where I keep my ideas, sometimes even sketching concepts even, though by the time I start cooking and putting the creations on the plate, they often change. It's all part of the process"
The quality of the food at the Top Hat is paralleled only to the care taken to ensure the finest products are served. The Top Hat sources their food from local farmers, ranchers, and distributors, and this is an important part of the restaurant's philosophy.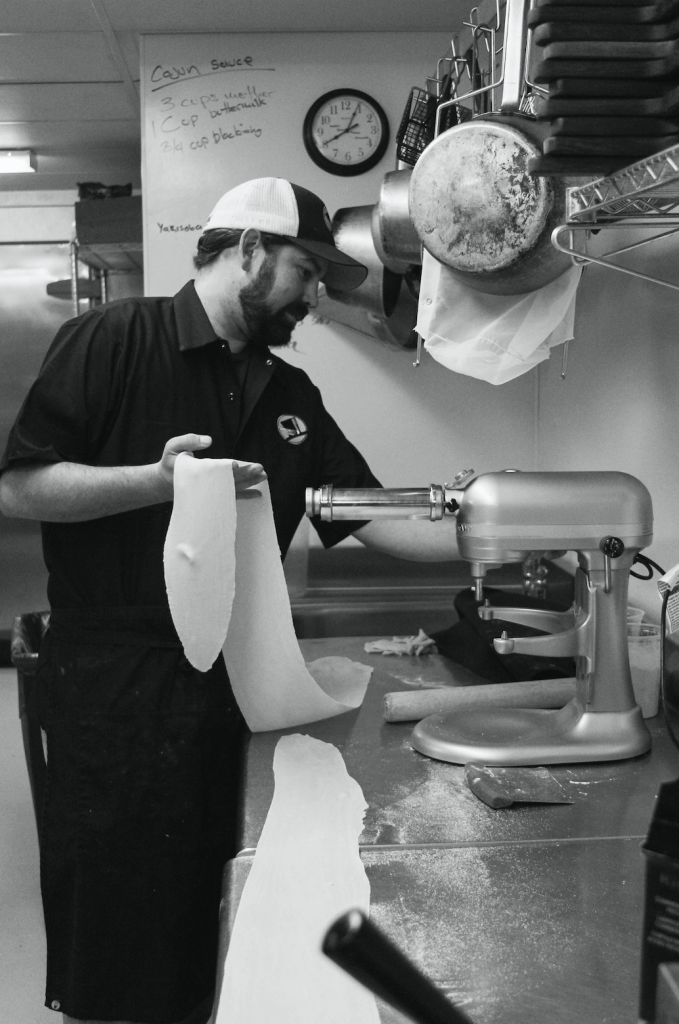 Metzger makes homemade pasta in house. Photo by Alicia Watkinson
"It is nice to be able to order food from people we know. I have met the Mannix family who we get our ground beef from. They come and eat here all the time. It is nice to know the ranchers. I know the people that we order our pork from at [Summit Valley]… We are not scared to go all in on a dish incorporating big flavors."
And that is another key philosophy for the Top Hat: making a wide variety of food and keeping that food accessible for all types of people. "We know where our food comes from which is important," Metzger explains, "but we still keep the prices affordable. We can offer higher end, local ingredients at a more affordable price."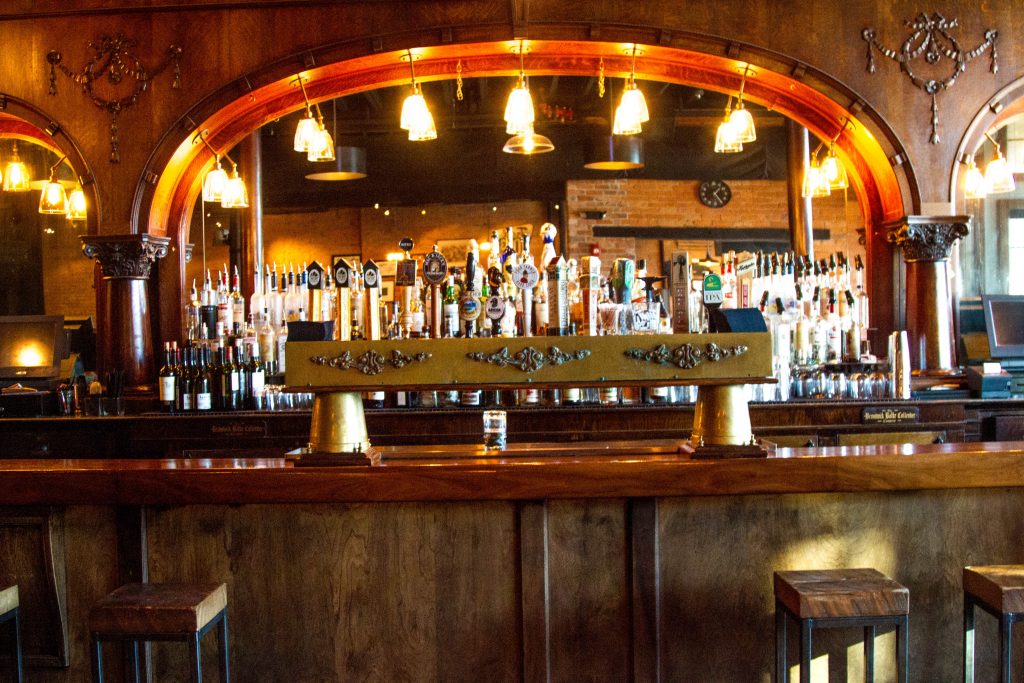 The Top Hat bar is a great place to grab a cocktail before a show or simply to spend time with friends out in Missoula. Photo by Destination Missoula
The Top Hat is a place for all Missoulians and visitors alike. The Top Hat wears many "hats," from Family Friendly Fridays, which Metzger says is a great way to introduce children to music to late night after shows at the Wilma to jazz nights around dinner time. As Metzger explains, "The Top Hat hosts a plethora of community events. It's a great place to see music and hang out late night, but at the same time it is family friendly and community centric. There is something for everybody here."
The future for the Top Hat holds innovation and continued creativity: "Here at the Top Hat we will continue to use more and more local ingredients, be able to tell people where their food comes from, of course [continue to change] out menu twice a year."
In addition to innovation in the kitchen, a new recycling and composting program was applied to the restaurant, making the Top Hat one of Missoula's most environmental conscious establishments to date.
"All the plastic we use is compostable now. We are using compostable to-go boxes and started composting food in the kitchen, all the leftover scraps such as lettuce heads and onion peels are composted now. So we are cutting down waste dramatically. All the cups that we use at the Wilma are now being taken to a compostable site instead of to a landfill. [This] is something the community really wanted us to do, and we knew we could do better. Minimizing waste and trying to give people the opportunity [to eat local foods] that I would want to feed to my family or eat myself is very important to us."
On any given night, you may just see Chef Billy Metzger hanging out in the crowd at the Top Hat. He pours his time and energy into this place, but that doesn't mean he wants to leave at the end of a work day. Quite the contrary, actually.
"I love working here. This is where I want to hang out when I'm not working. Usually if I go out, it is here to see music. And my family comes to eat here. It is nice to work in a place where you want to [spend time]."
To view the Top Hat's website including their menu, click here.