Written by Kathleen Goodwin and Lauren Hillestad
Destination Missoula sat down with Jimmy Edwards to discuss all things fishing, his upcoming fish-off and friendly competition in Spain, and the impact of fly-fishing in Montana. Jimmy has connected with world-class anglers from across the globe, including fly fishing world champion David Arcay from Coruña, Spain. What began as a friendly exchange turned into the opportunity of a lifetime when David Arcay, excited to connect with someone from the legendary place where "a river runs through it," invited Jimmy to visit Spain and compete in a fly-fishing competition with the best of the best. It didn't take long for Jimmy to chat with more fishermen and women in Spain, and he began to notice a pattern—everyone was familiar with the fly-fishing scene in Montana and eager to learn more. After months of tireless planning and preparing, Jimmy is ready to set off on his journey to Spain to compete, teach, and learn more about his craft with new friends.
Jimmy was born in Montana, and his life has been lived on the waters of this state. "Not everyone can say when they were born their address was cabin #7 West Yellowstone," he tells us. "I still get a kick out of that."
Growing up in the state, Montana has not only shaped him into the fisherman he is today, but also the man he is. "I was lucky enough to grow up with parents that got me into fishing, which was a blessing, and to have a dad who taught me to row and fly fish," he starts. "Poor guy , I put him into a lot of trees!" As he grew up with the sport, he had the chance to learn from professionals and guides who coached him in the sport and mentally to grow as a sportsman. "One of my mentors, Andre Carlson, who was one of the finest dry fly fisherman in the world, [taught me a lot]. We were very competitive. [I also learned a lot from] great hunters with a rod like Allen Ormesher. And then there's the world class fly fisherman Gerry Steinbrenner, self proclaimed world champion himself, who finds every way to compete from throwing the longest cast, quickest cast or hooking the biggest shark. Gerry touts himself as landing every game fish in the world with a fly rod, and I think he is close!"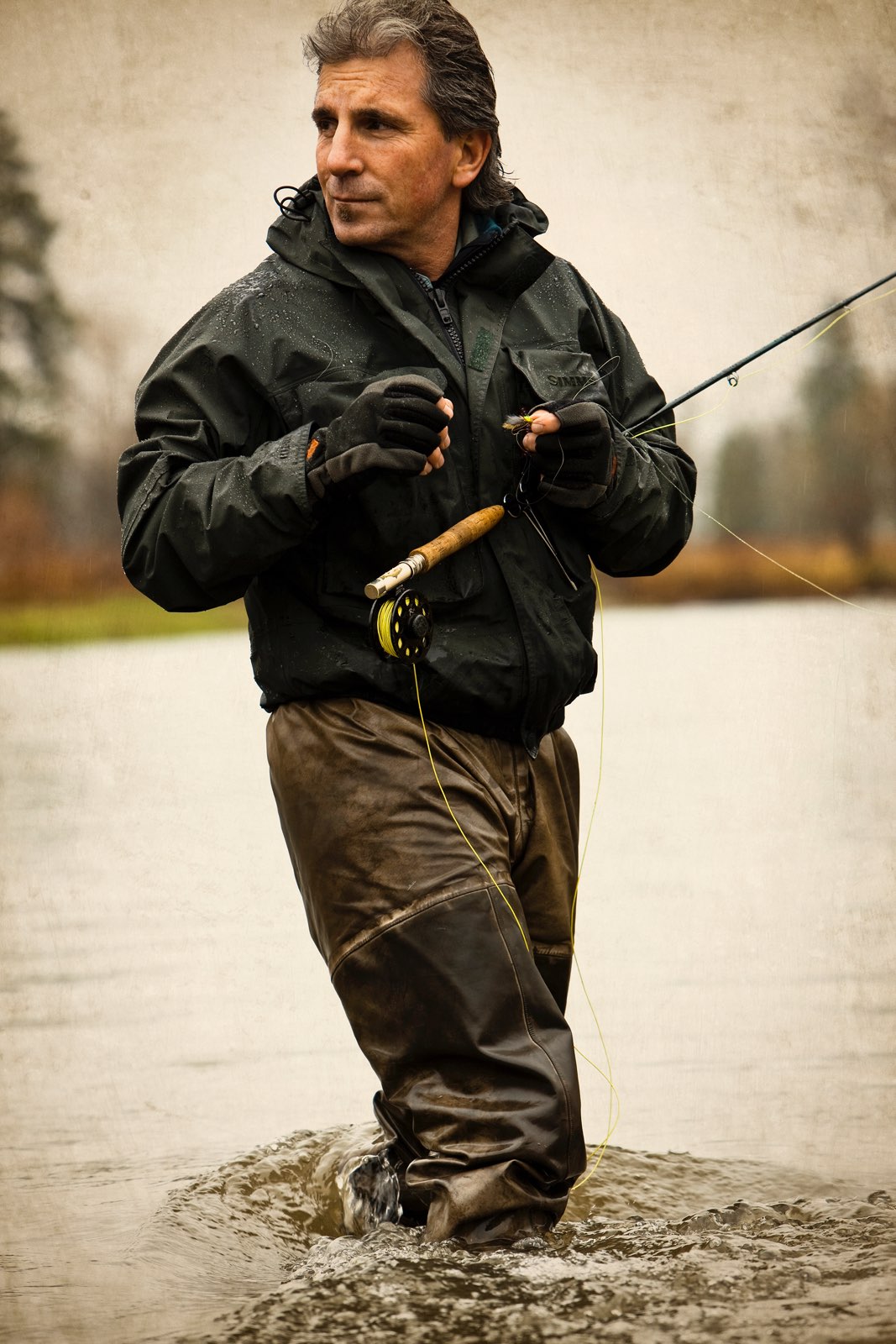 Photo of Jimmy Edwards by Mark Bryant
The fisherman community of Western Montana shares a passion for the sport as well as appreciation for the accomplishments of each other. Fly fishing is truly a way of life in Missoula, and Jimmy is a living, breathing representation of the passion, energy and dedication that goes into this sport. For him, it is hard to even choose a single memory that stands out as the most epic or enjoyable. From guiding to passing on the sport to the next generation, all days on the water are good days for Jimmy. "I've been fishing for close to 50 years in Western Montana. I have many fishing memories from my guiding days, taking out legends like Huey Lewis, Nick Faldo, or Dusty Baker—I could spend hours talking about those guys alone, especially when Huey Lewis would sing songs off one of his albums or Dusty Baker walking to a local cafe to visit Missoula's biggest Giants' fan, or the 100 dry jokes Nick told on our float. Or my best memory could be the first time I landed a 25 inch brown trout on the Bitterroot with a dry fly, or the day I became a member of the 20/20 club, twenty fish over 20 on a size 20. Every trip fly fishing is a good memory in Montana, whether the fishing that day was good or bad—from bird watching and wet waders to broken rods." With so many world-class rivers to choose from so close to Missoula, Jimmy says it is hard to pick a favorite fishing hole. "We are so lucky living in Western Montana with so many fresh wild streams like the Bitterroot River, the Blackfoot River, from Rock Creek to the coffee waters of the Big Hole to the south."
In June of 2019, Jimmy is traveling to Northern Spain for a friendly fly-fishing competition of Jimmy's own making. This serves as a chance to bring together the fishing communities of Western Montana and Northern Spain, areas with oddly similar water qualities and which serve as prime ground for the sport.
"This trip all started when I was on a fishing trip in Utah in November of 2018. I detoured a day to see my girlfriend Sonia in Salt Lake City. We went to a birthday party for one of her friends and, of course, fishing was a topic. I was was visiting with Leandro Miguel Salvador, who is from Spain, when he mentioned he was friends with the European fly-fishing champion and with the World Champion from Spain, David Arcay. I was so intrigued by this, and when I got back to Montana, I got all the info on David Arcay and emailed him challenging him to a fish-off. He accepted the challenge for the idea of bringing Montana and Spain together and for promoting fly fishing. Not only was he gracious and kind to accept, but so did the world couples champion Javier Alvarez Tejedor, and Spanish sharp shooters Oscar San Martin and Jose Maria Luengo," he explains. Joking, he continues, "They all pretty much said 'hold my beer and bring it!' Oscar's son, who is an avid fly tier and junior fly fishing competitor, also is looking forward to fishing with this 406 man. I figured since Spain whooped USA in the World Championship in South Africa in February, I should go over and find out how good they are!" Jimmy is appreciative of the local support from individuals, sponsors, and companies such as Sims and Fly Vines.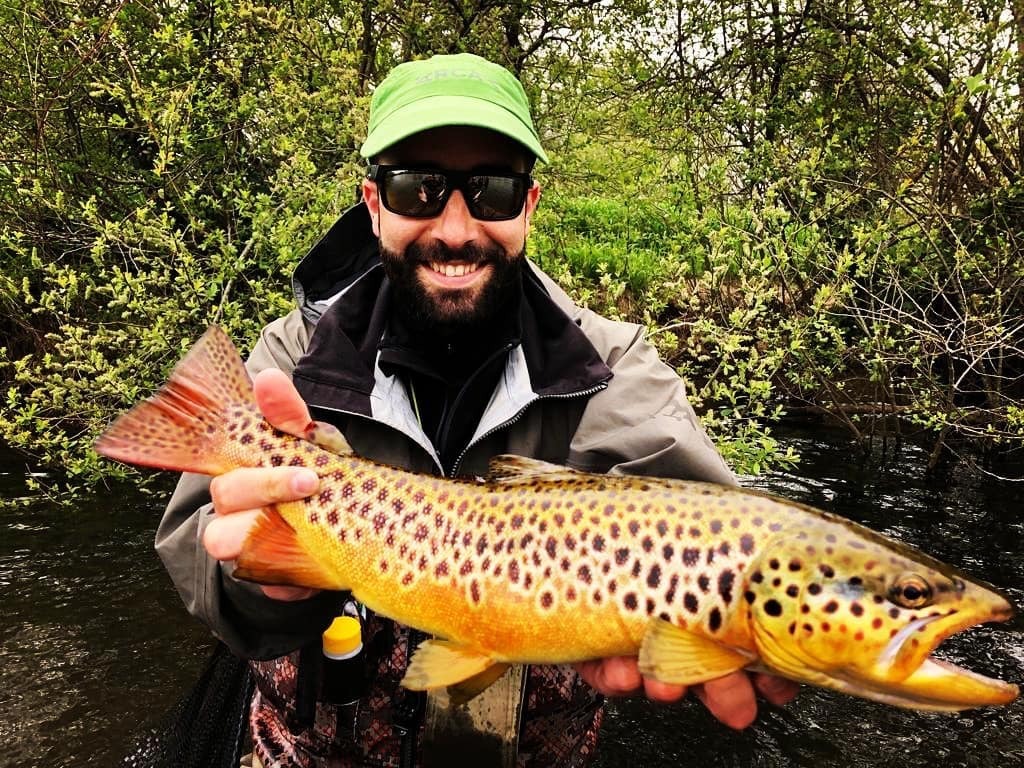 Fly fishing world champion David Arcay
This trip is just as much about fishing as it is about creating memories and bringing together fishing communities from very different parts of the world. As it often goes, sport brings people together. At the end of the day, what you catch and who comes out victorious is just icing on the rich cake that makes up a fishing trip, and Jimmy explains that the experience as a whole is what he is most looking forward to.
"I am anxious to the share the waters and cultures of Spain with my new fly-fishing friends. Being around fly fisherman who are as good as or maybe better than me is very exciting. You are never too old to learn a new trick. I am also excited to bring Montana and Spain together. I am so blown away how the weather in this region of Northern Spain is so close to that of the Bitterroot Valley and of the amount of good fly fishing there is in Northern Spain. I am also excited about my Napa friend Joey Franzia setting me up for a couple days of wine touring between fishing competitions. Bringing Western Montana and Northern Spain together on the stream is very cool!"
When he is not fishing, Jimmy enjoys the local breweries, or taking a hike (with his fly rod, of course!) around town. He works locally as the wine buyer for Pattee Creek & Burnt Fork Market as well a serves as president of the company. He also runs the nonprofit Brown Trout Lives Matter, located in Stevensville.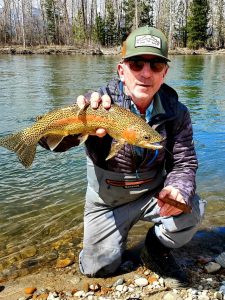 Jimmy Edwards holding a brown trout.
While prevalent in Western Montana, fly fishing can sometimes seem inaccessible to people. There is a learning curve that is hard to master, and the sheer "where to begin" can seen overwhelming to some. Jimmy's advice is to make like a fly and plunge on in! "There is so much to fly fishing: casting, water safety, tying knots, knowing the hatch, reading water, mending, proper equipment and so much more. There are so many opportunities in Missoula, especially for women, [to learn]. Plenty of fly shops provide work shops, or you could visit a fly-fishing festival. Even watching beginning fly fishing on YouTube are helpful. You can always hire a guide, visit a fly shop, or if you are lucky enough to know someone that knows the sport and has the patience, [ask them to help you learn]."
At the end of the day—win, lose or draw—Jimmy's love of fishing remains as steady as the waters he regularly visits. "Fishing is a lifestyle, and it calms my soul. The old saying goes that catching is a bonus. There is nothing like a fly rod, a local brew and a cigar to bring people and stories together."
In July 2020, World Champion David Arcay from Spain will make his way to Missoula to host a fly-fishing clinic for local and visiting anglers.