"Making New History"
Written by Kathleen Goodwin
We are posting recent crew photos and a live map of Miss Montana's flight journey, located at the bottom of this blog page! To follow her journey, be sure to check back periodically.
Once in a while, a story comes around that unites us. It makes us pause and makes us reflect. And when a destiny 75 years in the making comes full circle, that is something worth celebrating. Miss Montana is an airplane, but she is so much more than that. She was built in 1944 as a war bird, destined to fight in WWII, but she never saw combat. Her life, though, was rich and full of interesting twists and turns along the way. After years of flying, she was retired and left dormant in the Museum of Mountain Flying in Missoula, and it was likely that she would never spread her wings in flight again. But now, despite all odds, Miss Montana is airborne once again, on her way to Europe to fulfill her original mission. On June 6, 2019, Miss Montana will join dozens of other historic war planes to commemorate the 75th Anniversary of the Battle of Normandy. Bryan Douglass, co-pilot and project coordinator for the Miss Montana to Normandy mission, sat down with Destination Missoula to discuss the storied history of the plane and the inspiration to fly her halfway around the world for the anniversary of Normandy.
The idea to fly this plane from Missoula, Montana, to Normandy, France, was dreamed up in March of 2018 when Eric Komberec asked Bryan Douglass to join him to Georgia to fly an old plane back to Montana. "The night before we left [Georgia], we were in a little restaurant in a little town south of Atlanta, and we ran into Connie Bowlin who is a legendary female aviator. She is head of the War Birds Association and an incredible flyer. She told us about these C-47s and DC-3s that were going to Normandy for the 75th anniversary. Eric's father founded the Museum of Mountain Flying and was instrumental in getting the Miss Montana plane [to Missoula], and Eric commented that the museum had a DC-3 that should go with the other planes to Normandy. And that was how the idea was born."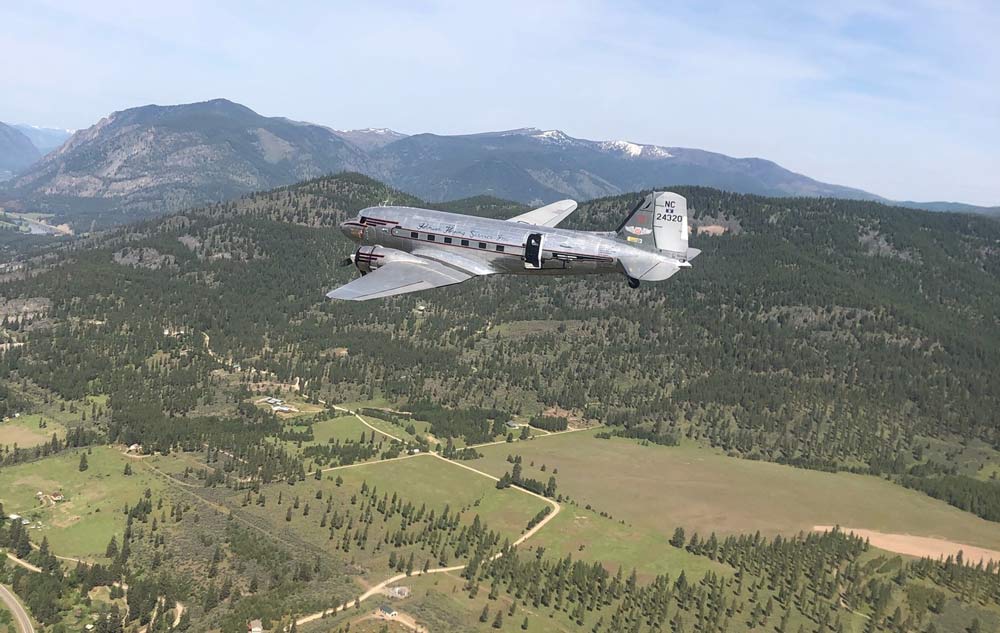 Miss Montana in flight. Photo courtesy of Miss Montana to Normandy.
On their way back to Montana, the idea kept bouncing around in their heads. The plane, historically used as a cargo plane, a civilian transport, and as a smokejumper plane, had been landlocked in Missoula for 18 years. There was something about this mission, however, that seemed important. "We thought about it for two days coming home and started mentioning it to people, and the project just caught fire. People wanted to help: they wanted to jump in, they wanted to give money. It has been remarkable to me how it has inspired people on so many levels. The story just grabs people for some reason. It is an old plane. It's a historic plane. It's 75 years old, and we are going to take it halfway around the world and back. This plane never fought in the war. The sentimental ones among us think of this as her destiny. She was born as a war bird as an army C-47, and she never went overseas. She is finishing her fight and her mission. No, we aren't going to paint her in green and put invasion stripes on because we are proud of her history here in Montana, but we are going to go over and participate. The foundation is to honor the veterans, including the smokejumpers who jumped out, and some who died jumping out of, this plane. It's just the right thing to do."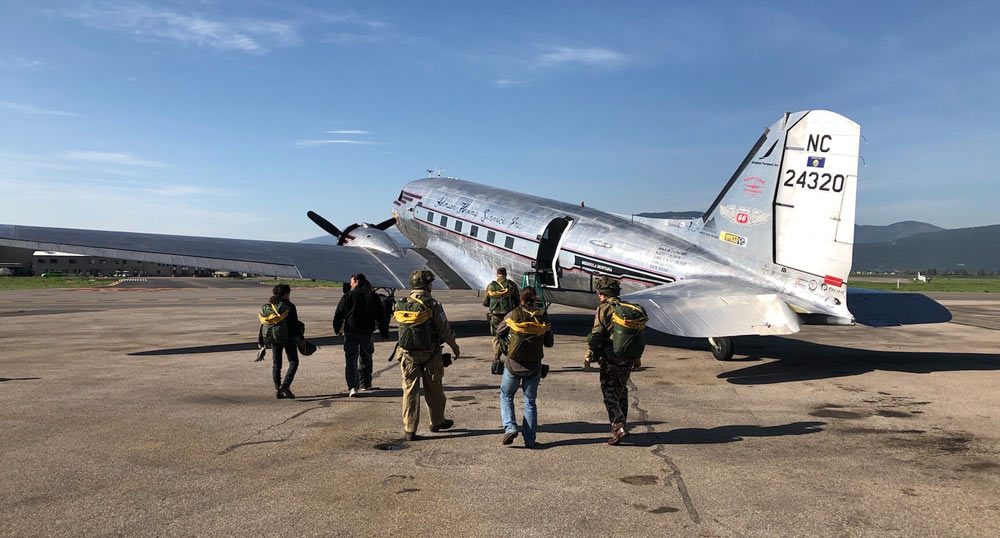 Smokejumpers walk towards Miss Montana to prepare for their test run over Missoula's valley prior to departure. Photo courtesy of Miss Montana to Normandy.
Miss Montana was built in May of 1944 in Long Beach, California. Missoula's Bob Johnson purchased the plane 1944, and for 30 years it was used all around the country, mostly the Northwest. The plane holds a special meaning to Montanans. On August 5, 1949, a large wildfire broke out near Helena, Montana, in the Gates of the Mountains Wilderness. The fire spread quickly, over 3,000 acres in a matter of minutes. 15 smokejumpers jumped out of the plane to the fire, and of those only three survived. The fire claimed the lives of 13 firefighters and 12 smokejumpers. It still sits heavy on the hearts of those who live in Montana. And the plane that those jumpers exited from on that fateful day was the plane we now know as Miss Montana. On June 6, 2019, 15 Montana smokejumpers will depart the aircraft in formation over the beaches of Normandy. This haunting and special tribute not only to those who lost their lives in WWII, but also to the history of Montana's smokejumpers, is something incredibly unique and special.
While she never flew as a war bird, Miss Montana did serve as a transport vessel for military for years. On December 22, 1954, on a military charter bringing servicemen back home for Christmas break, the plane ran out of gas and was ditched in the Monongahela River at night just short of the runway. Captain Harold Poe, after safely getting many of the passengers to shore, drowned along with 9 G.I.'s. The airplane was pulled from the river, repaired, and was flown for another 20 years before retiring to the Museum of Mountain Flying in Missoula.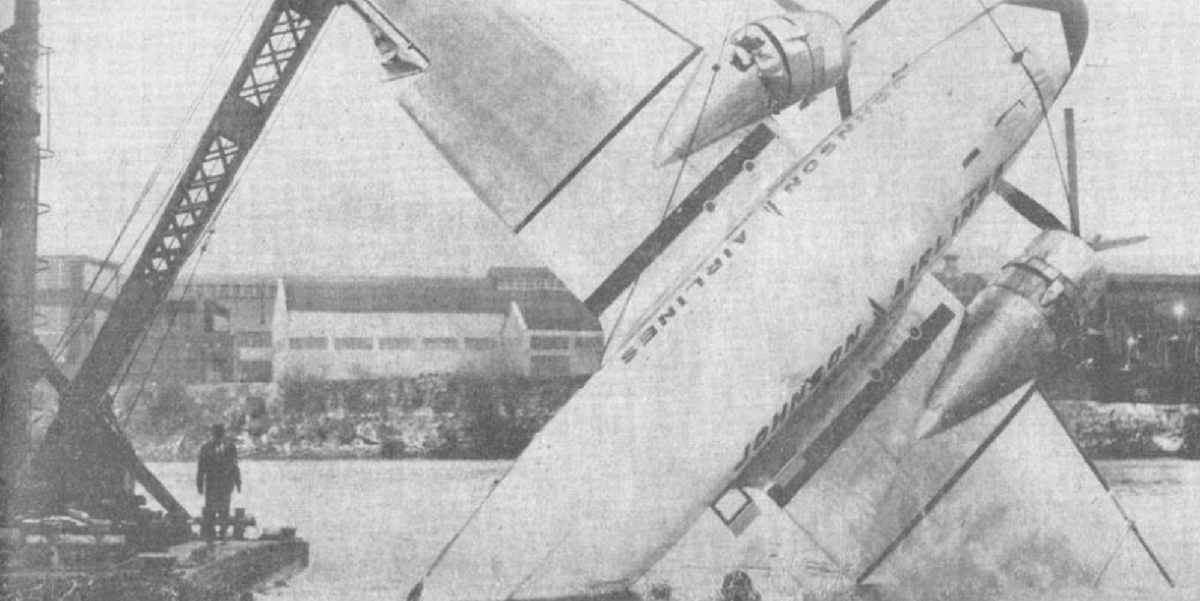 Archival footage of Miss Montana being pulled from the Monongahela River after crashing in 1954.
Johnson purchased three planes in the same year that Miss Montana was purchased, but it was her history in Mann Gulch that has kept her safe at the museum in Missoula. However, restoring a 75-year-old plane is not an easy task.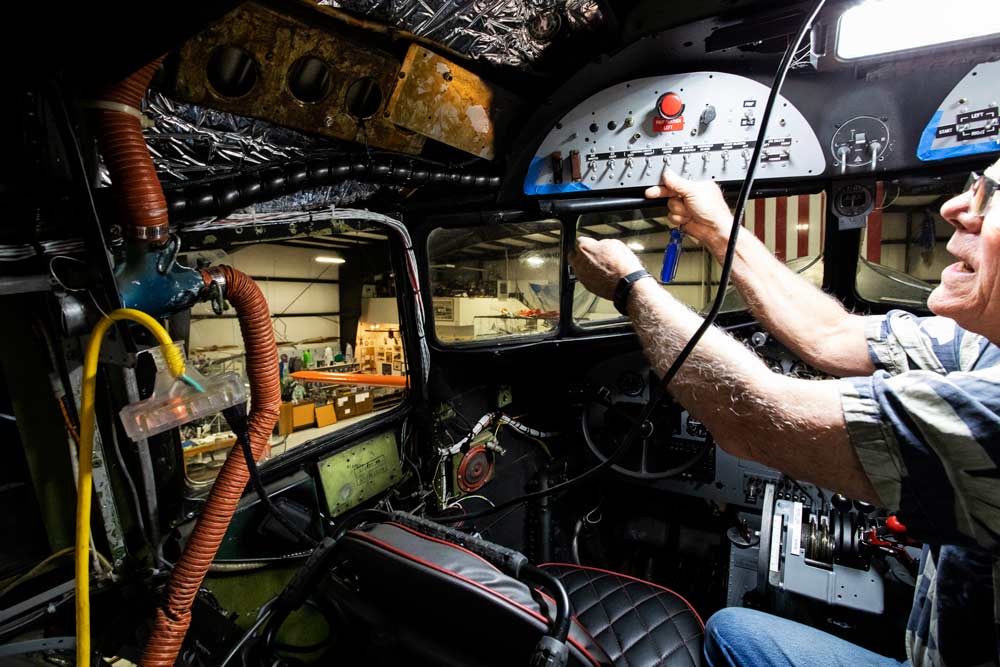 The plane being prepped for departure.
"Since we knew the plane was going so far and to such remote places, we pulled the engines off and had them overhauled. We pulled the props off and had them overhauled. And just went from there, top to bottom, front to back, side to side," Douglass explains. "You look at everything and for everything. You look for corrosion. We tore out a ton of 50-year old wires and electronics and put in modern avionics and instruments."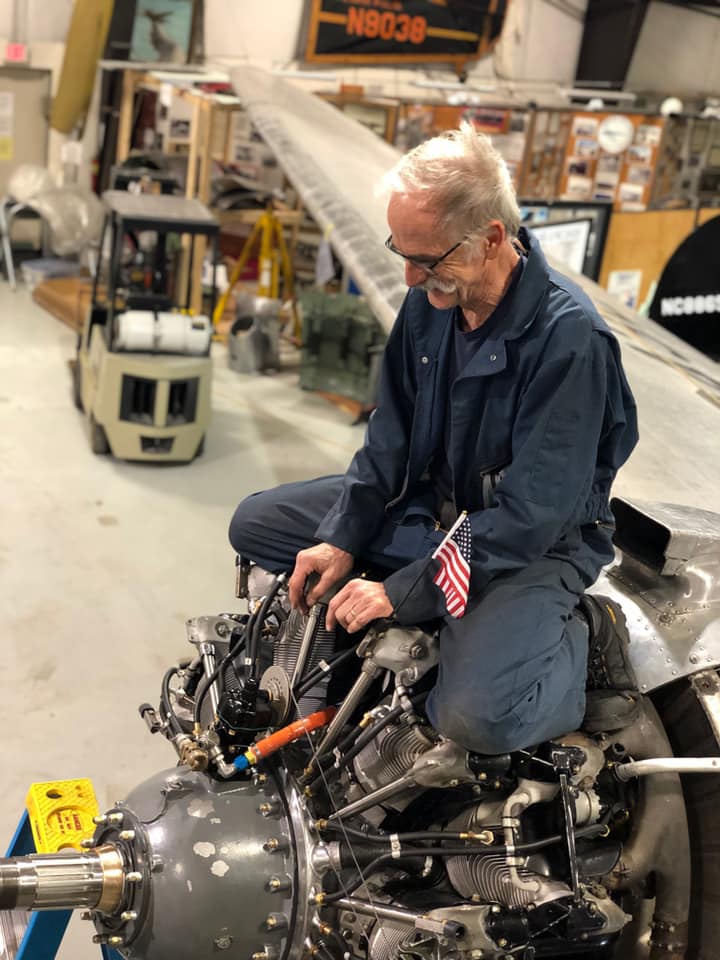 Over 10,000 volunteer hours were logged to restore Miss Montana into flying condition. Photo courtesy of Miss Montana to Normandy.
There are risks involved in taking a 75-year-old airplane overseas and halfway around the world when it has been landlocked for close to two decades. The short answer: Douglass isn't worried. "If you took your '56 Chevy apart every year and fixed everything that was wrong with it and monitored and checked and investigated like we do on an annual inspection, it would still be driving, and it would be perfectly safe," he says. "These planes are solid. They are built really well. They are really sturdy."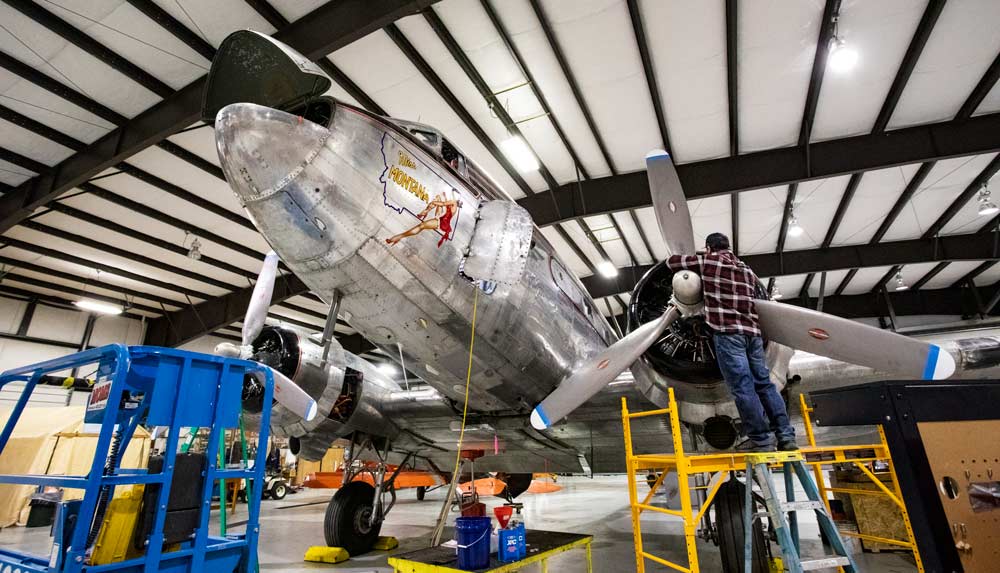 Crews worked tirelessly in the weeks leading up to Miss Montana's departure to get her ready for the journey.
The Miss Montana crew consists of Jeff Whitsell, Eric Komberec, Bryan Douglass, Randy and Crystal Schonemann, Art Dykstra, Nico Von Pronay, Mark Bretz, and Giuseppe Caltabiano. Of this crew, some will be on the plane from its departure in Missoula to its landing back home in Missoula, while others are joining for particular legs of the journey. The smokejumpers will fly commercial to England and meet up for the crossing of the channel then. As Bryan Douglass explains, weight is a consideration when making long pulls across the Atlantic, so it is safer to travel with a smaller crew to accommodate as much fuel as possible.
"The Atlantic crossing is the risky part. You have to take as much fuel as you can, so you have to take as few people with their gear. We also have spare parts, tools, supplies and personal gear to account for. You have to have an immersion suit for everyone on board and a life raft if you go down. There are risks involved, and if there is a disaster, you are only endangering six people instead of fifteen." The risk, though, is worth it he says. "We're all comfortable with the risk. We've all worked on this plane. One of the great things is that every single person on board has had extensive hands-on experience with the airplane."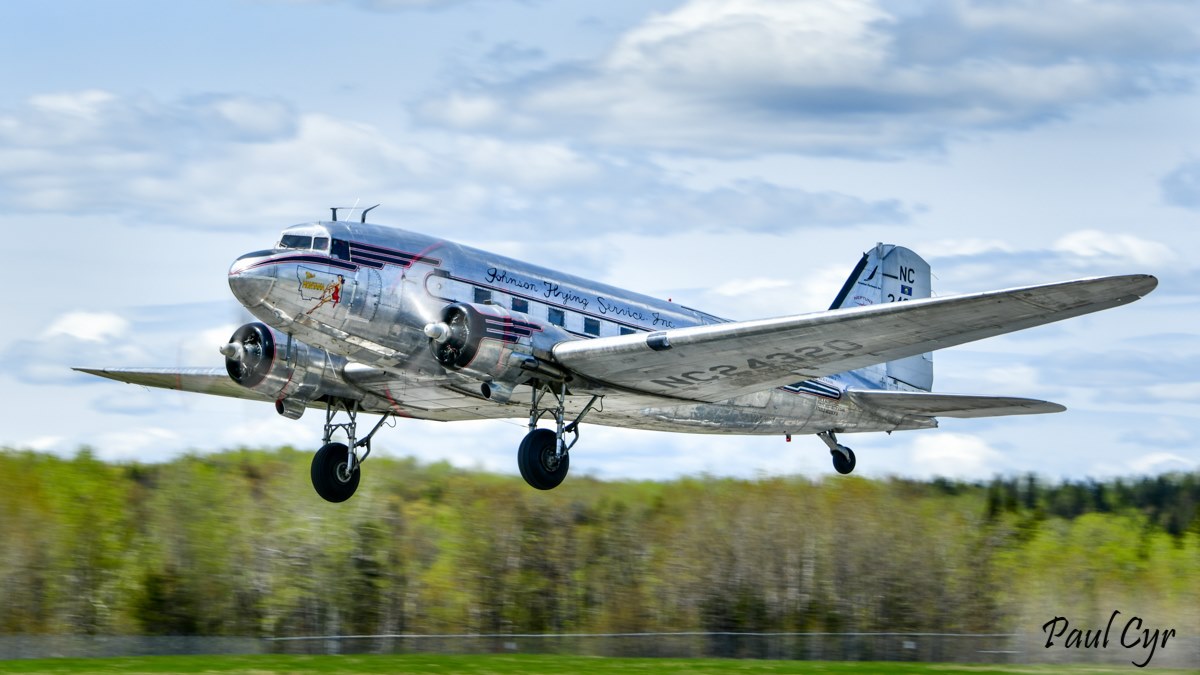 Miss Montana take flight. Photo by Paul Cyr Photography.
Turning this dream into a reality was a community effort that began nearly a year before the plan departure from Missoula. Since June 2018, Douglass estimates that 10,000 volunteer hours were logged on the Miss Montana project. "Mostly the aviation community [jumped in to help restore the plane], but also the veteran community. The smokejumpers got involved, too. They wanted to be able to jump out of a historic plane in formation over the drop zones of Normandy. It's incredibly cool experience to be able to do it. The Norman people really appreciate Americans still. They haven't forgotten, and I doubt they ever will."
The 75th Anniversary of Normandy is an international event, and the planes that will be participating are coming from all over the world. Between 35 to 38 planes will fly in formation over the beaches of Normandy and approximately 300 jumpers will jump in formation over the drop zones while the world watches. Planes from Australia, Russian, Finland, Holland, England, France and Germany are anticipated to participate, as well as 15 planes from the United States. Miss Montana, says Douglass, is the biggest underdog of them all. "Most of these planes were already flying a year ago, and we flew [for the first time about a week before leaving]. They are all rooting for us." The plane is unique also for its storied history. "She is a bare bone, utility-type airplane. It's not military painted, but it's not a commercial plane. There is no other plane in the squadron that I know of that has any firefighting or smoke jumping experience. It is really a unique plane in lots of ways."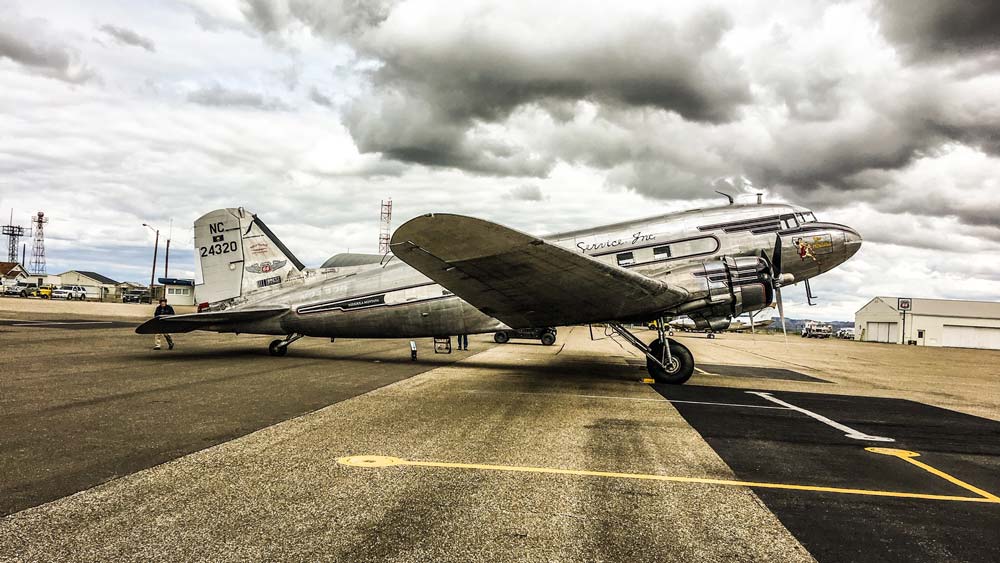 Miss Montana en route to fulfilling her destiny. Photo by Brad and Jaynee Parsons.
The name Miss Montana was created for this project, and according to Douglass, the design of the plane's logo and the name holds a series of special significances. "We wanted to make it a Montana project because it is a Montana plane. It is historic. If we weren't [flying to Normandy], we never would have put anything on her. But we are going to make some new history, and so we wanted her to be instantly recognizable to people as being a Montana plane." Douglass says that it was important for Montana's history as well as the history of the plane to be incorporated in the design, and the inspiration for the nose art came from a photo Eric Komberec discovered only weeks after they returned from Georgia with the dream to fly the Mann Gulch plane to Normandy.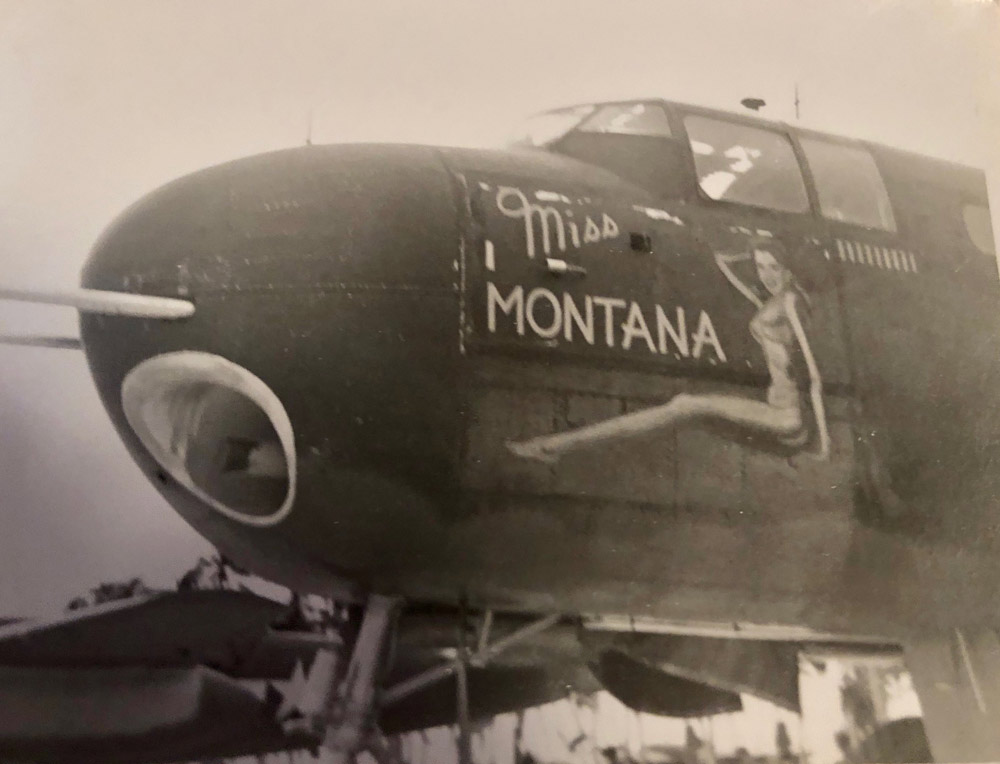 The inspiration for the Miss Montana nose art came from Eric Komberec's grandfather's B-25 plane.
"Eric sent me a picture of his grandfather's B-25 that was flown for 35 missions in the Pacific. So what we did was we took the name and the font and left it exactly the same. We changed up the girl a bit and added the outline of the state, because from farther away where you can't read the letters, you can see the outline of the state. One of my favorite touches is that in the right hand, she is carrying a pair of Forest Service smoke jumper wings as a tribute to the Mann Gulch jumpers."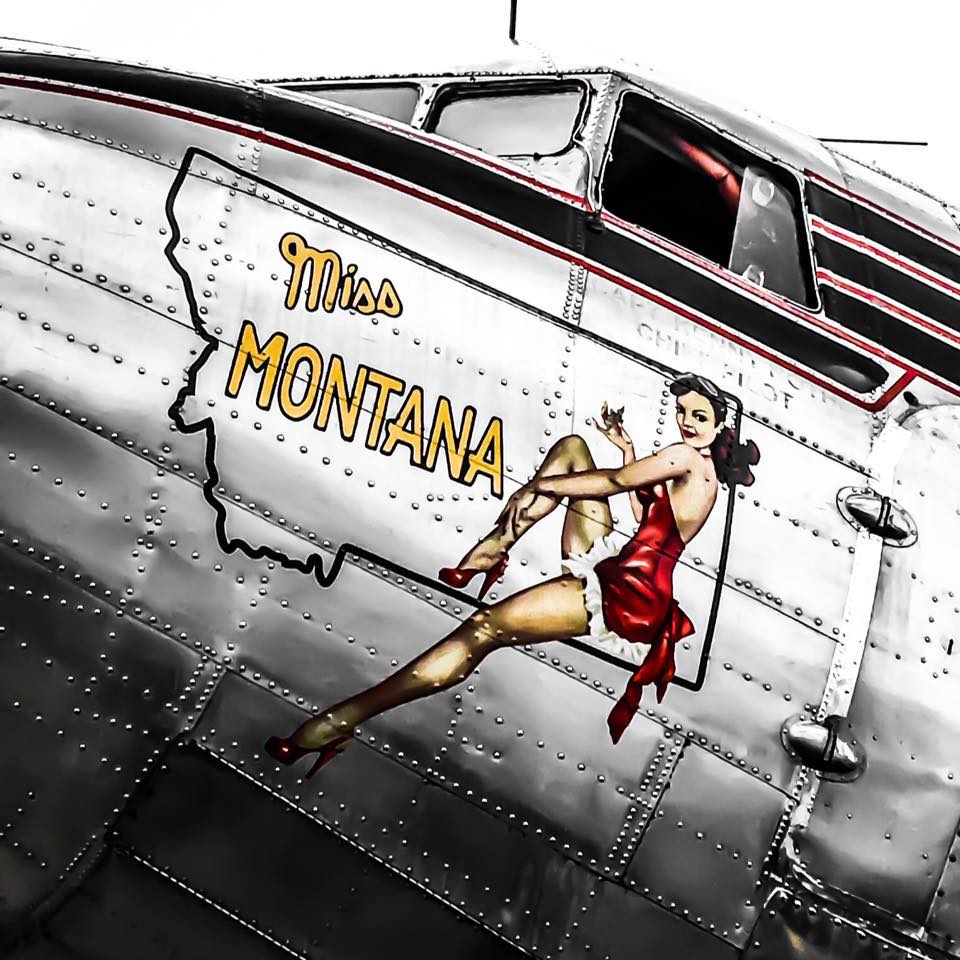 Miss Montana nose art. Photo by Martin Parsons.
Miss Montana's future is bright, and it is certainly not over after she flies home from Normandy. She has already brought more attention to the Museum of Mountain flying than has ever been seen before, and Douglass and the rest of the staff are excited to see what the future holds for the museum, and the plane, moving forward.
"This museum has never seen this much activity or had this many people in it. It's a sleepy little, rusty little place that most people in Missoula didn't even really know was here. But it's on the map now. We are going to bring this plane back and we are going to keep flying her around Missoula. There is a torpedo bomber here that we are going to renovate next. Now that we have this pool of volunteers who like doing this, then we might just keep doing this."
Where in the world is Miss Montana?
Keep up with Miss Montana on her journey to Normandy with our interactive map below.
The most recent points on the journey are featured on the map below, so be sure to check back to keep up with her flight path.
What's up with the crew?
Here are a few updates from the crew in route from Missoula to Normandy.
[gallery ids="5874,5877,5875,5873,5913,5914,5915,5919,5920,5921,5925,5930,5931"]
More on this story:
Miss Montana made the cover story on CBS News. Watch their in-depth interviews and coverage on this historic mission.
Follow the journey on Facebook with the Miss Montana to Normandy page, and check back here for updates from the air.
Read more about the presidential flyover Miss Montana will join at the Normandy American Cemetery above Omaha Beach on D-Day in the Missoulian's recent article.
Cover photo credit: Paul Cyr Photography