Redefining Home
Written by Kathleen Goodwin
"What type of music do you guys make?" I asked. That is an easy question to ask, but a hard one to answer, Andy Dunnigan from The Lil Smokies said. In fact, he says the answer is up to the listener—not the musicians—to determine. He took a stab at it though: "It is sort of a fusion of lyrical driven folk music, pop medley, and bluegrass instruments." Newgrass, bluegrass, or whatever you want to call it, people can expect a high energy show from The Lil Smokies. "It's a rock and roll vibe with bluegrass instruments," Andy explains. "It's not a traditional bluegrass show. Whatever we are feeling [that night], we will do." Andy Dunnigan, lead singer of Missoula's own Lil Smokies, sat down with Destination Missoula to discuss the band's origins, their rise from the streets of Missoula to a 150+ show touring schedule, their new album and all the things they love about the Last Best Place.
Formed in 2009, the Smokies met at a college house party on Daly Avenue. The original members were all living and working in Missoula, and Andy was a college student studying Creative Writing in the English program at the time. "I met The Lil Smokies at a college keg party. They were playing an open bluegrass jam, so I brought my dobro, and the first amalgamation of the band was formed there."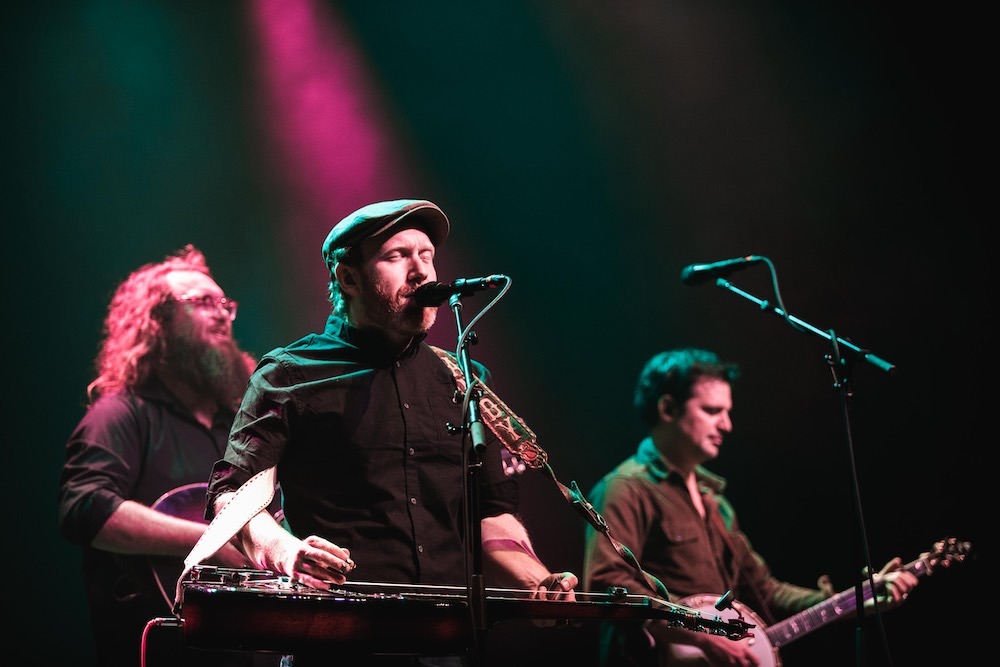 The band plays their hometown theatre, Missoula's own Wilma. Photo credit: Neubauer Media
In the beginning, The Lil Smokies started busking around town in front of local bars like Charlie B's, occasionally getting gigs at places like the Top Hat Lounge. 
"I remember my first time at the Top Hat...I was 20. They were hosting a bluegrass pick and I was really scared because [the older bluegrass players] were playing traditional bluegrass music, and I really had no idea what I was doing. I felt like I didn't belong there. It was my first time in a bar, but I remember thinking it was the coolest thing ever." Years later, Andy found himself on stage of the Top Hat with The Lil Smokies. "It was a Tuesday night or something. We of course told all of our friends. [The 20 people who were there] were only our friends," he laughs. 
From a 20-person, friends-only crowd at the Top Hat to regularly selling out the Wilma and playing KettleHouse Amphitheater, The Lil Smokies have come a long way; but the support from their friends and the local Missoula community have remained a constant. The memories of this progress—and how Missoula has evolved and supported the band through it all—are what Andy calls "beautiful moments."
"We started out as a garage band. It's a whole Disney story, so to speak. From the alley between Taco del Sol and Charlie B's to Red Rocks, [it's been] pretty nuts," Andy laughs.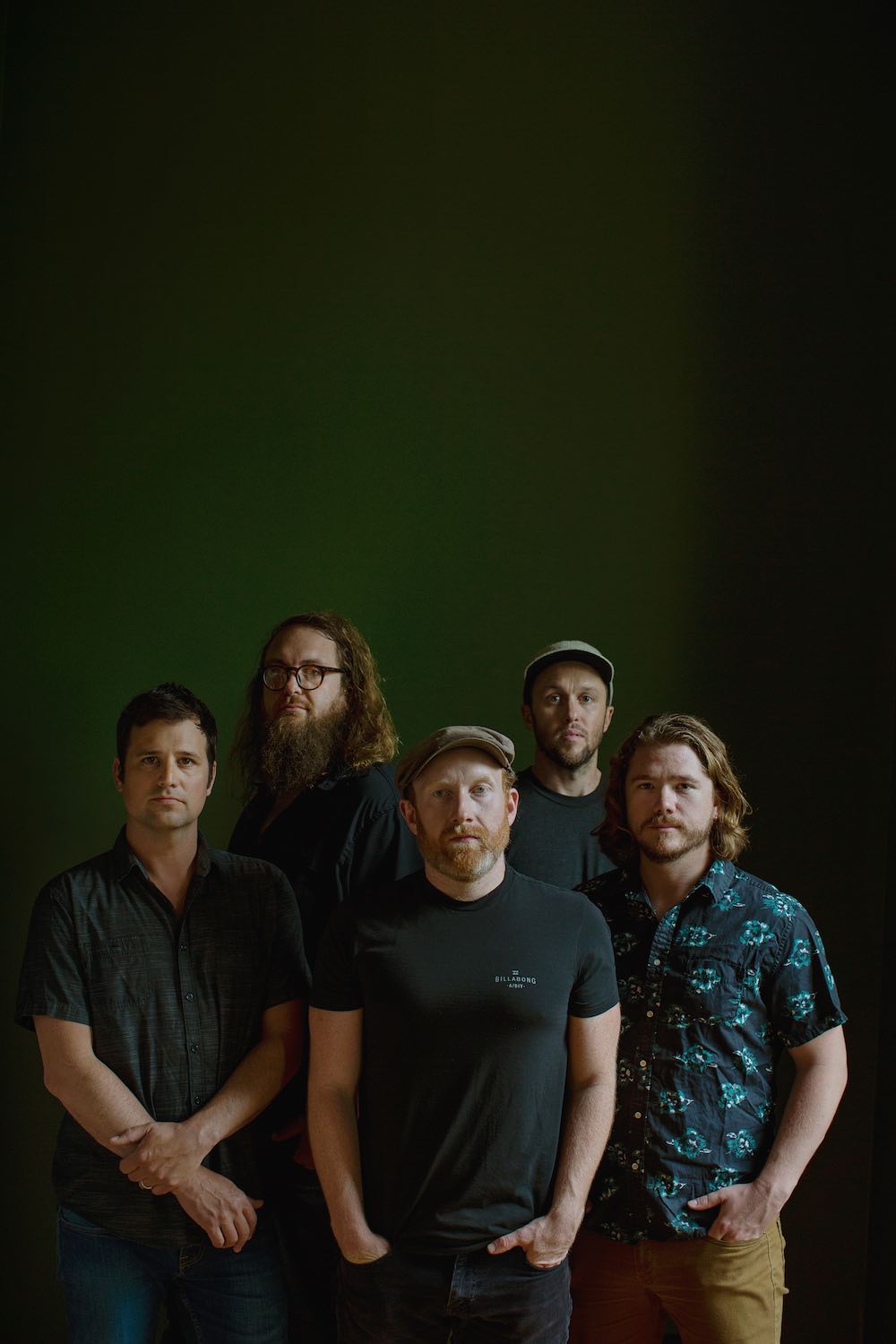 The decision to start touring, first regionally and then nationally, came organically but unexpectedly to the band. In 2013, they won the Northwest String Summit outside of Portland, Oregon, and shortly after in 2014 they won the Telluride Bluegrass Festival in Telluride, Colorado. "It was self affirming," Andy explains. "It made us think that maybe we weren't delusional after all. Maybe some people outside of our friends and the local Missoula music scene could actually be into [the music we were making]. That was a good moment, and that was when we first got the impetus to get a van and see if we could actually [make it work full time]. We went all in."
The band saw a remodeling once they started touring: original members left and new members were brought on. "I don't think originally anyone anticipated doing this full time," Andy says. "From the streets of Missoula to a grueling 150+ shows a year, it was more than anticipated." The current amalgamation of the Smokies is made up of Andy Dunnigan on vocals and dobro, Matt Cornette on banjo, Scott Parker on bass, Matt "The Rev" Rieger on guitar, and Jake Simpson on fiddle. Matt and Scott call Missoula home full time, while Andy, Rev and Jake live elsewhere. The band still considers themselves a Missoula band because, according to Andy, that is a flag worth toting proudly.
"I think that Missoula is in itself such a unique place. Missoula gets the crown for being really beautiful aesthetically with the mountains and all that, but there is something really special about the friendliness and the community and the farmers market and the music and people looking you in the eye when you walk down the street. I am really proud to have dwelled there for so long, and it makes us proud to tote the Montana flag. That is where the band originated and we spent a lot of time playing on those streets, and I will always be very proud of that."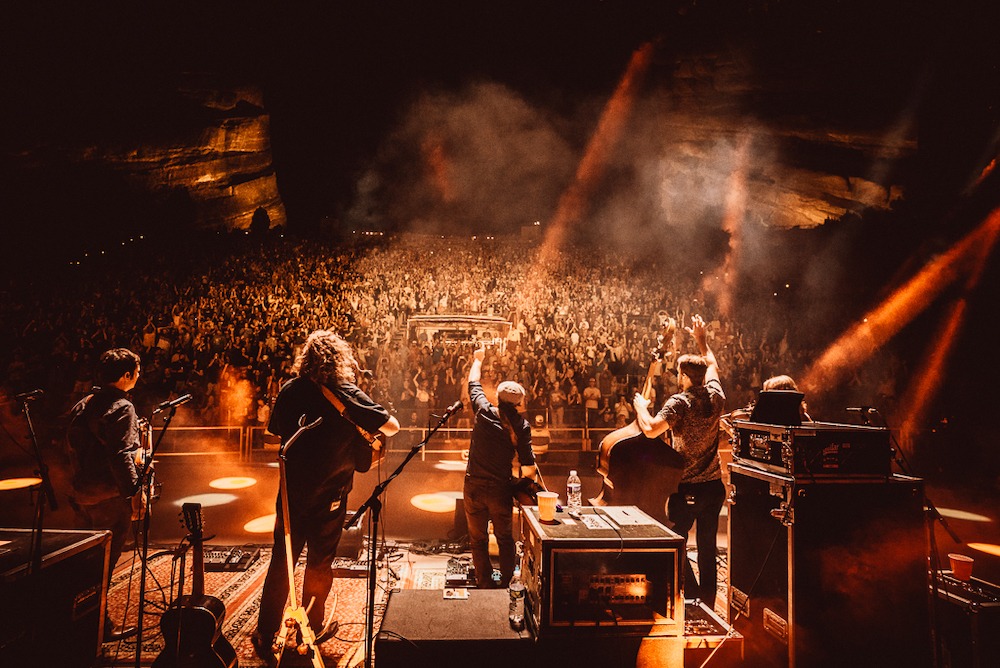 The Lil Smokies play Red Rocks in Golden, Colorado in September 2019. Photo credit: Glenn Ross.
2019 was a big year for The Lil Smokies—they played 150+ shows and opened for Greensky Bluegrass for numerous shows, including at Missoula's own KettleHouse Amphitheater. They also had the opportunity to play Red Rocks Amphitheatre in Golden, Colorado, an experience Andy called "stressful" in the best way.
"Red Rocks is a sight to behold, and when everyone fills in there, it is hard to even articulate that experience," he shares. "We had a good show, and it felt great to perform under those circumstances. It was nerve-wracking to wake up and think 'I play Red Rocks today.' We don't really get nervous about gigs anymore, but we definitely had some butterflies on steroids that day."
In addition to touring, the band recorded their third studio album, fourth total, in August. The album was recorded outside of El Paso, Texas at Sonic Ranch in Tornillo, a 1,700 acre pecan orchard and residential recording studio. The new album, titled Tornillo, was produced by Bill Reynolds, bassist from Band of Horses and is set to release in January 2020.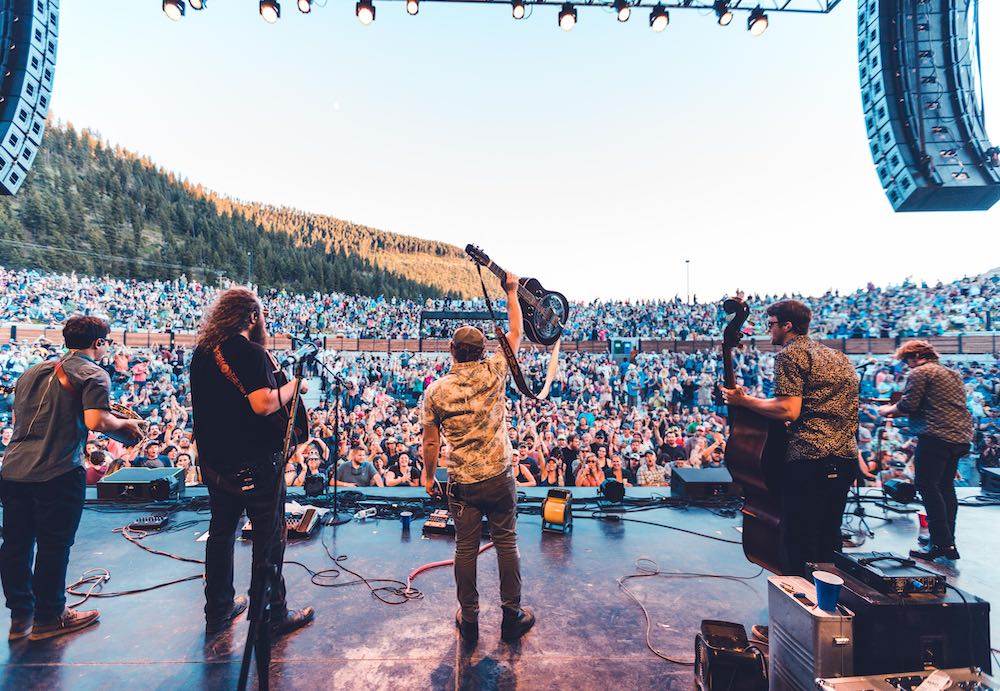 Overlooking the mountains outside of Missoula at KettleHouse Amphitheater. Photo credit: Neubauer Media.
Between a busy touring schedule and recording, the Smokies don't get back to play (both on stage and off) in Missoula as often as they would like. Where they once played in Missoula constantly, the band now visits their hometown two times: for a summer show and to play the Wilma on New Year's Eve. Their reception is always warm, and they look forward to their Missoula shows and the time spent while they are here. Rafting the river, taking a hike in Greenough Park with a cup of joe from Black Coffee, climbing up Stewart Peak, grabbing a slice from the Bridge Pizza, and revisiting his old stomping grounds at Charlie B's are some of Andy's favorite activities when he is back. The band has redefined home over the years, but there is always something very "home" about Missoula.
"Missoula people are very passionate about everything. The local scene is very supportive—whether it is pottery or hiking or music or whatever—people are very passionate and accepting. I think it was a huge thing for us to start out in Missoula. I think about that a lot, if [the band] could have happened if they started somewhere else. And I don't think so," Andy says. "We were in good hands when it came to Missoula."
Featured photo credit: Neubauer Media