Where Sounds and Ideas Converge
Written by Kathleen Goodwin
Shakewell is a big band in Missoula—quite literally. With six members, Shakewell fills a stage, making them hard to ignore both physically and musically. Shakewell concerts are sure to get you up and dancing, and the band, who calls Missoula home, has grown from playing restaurant floors in Missoula to traveling the northwest, performing and recording from Denver to Seattle. Their sound is hard to pinpoint — it is fun and poppy yet soulful, all at the same time. The members of Shakewell all hail from western Montana and, at various points in time, attended the University of Montana. While Shakewell has been making music in Missoula since 2013, the band has fluctuated and shifted band members throughout the years. The most recent incarnation features Emmet Ore (guitar) from Three Forks, Jordan Smith (vocals and bass) and Cove Jasmin (vocals and keyboard) from Hamilton, Aaron Johnson (drums) from Butte, and Tanner Fruit (saxophone) and Nathan Crawford (trumpet) from Missoula,. These six friends come from a variety of musical backgrounds, each with his own distinct inspiration, and it's that broad range of interests that makes their sound so uniquely Missoula. Cove Jasmin, lead singer and keyboardist for Shakewell, sat down over coffee at Le Petit Outre with Destination Missoula to chat about the band and the Missoula music scene.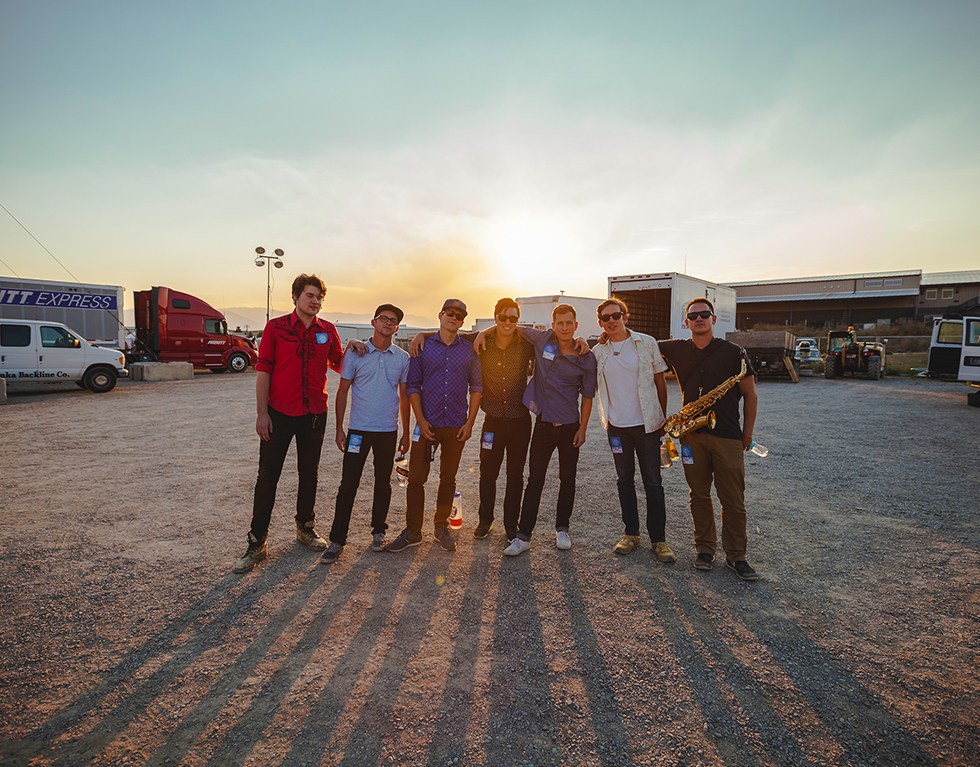 From left to right: Nathan Crawford, Jordan Smith, Sam Ore (former bass player), Cove Jasmin, Emmet Ore, Aaron Johnson, Tanner Fruit. Photo by Brian Rapaport
"We all met and started playing while we were in college at UM. We all went our own ways for a while — for example, our drummer does a lot of translation, so he spent a lot of time in South America;I lived in New York and Portland for a while, and so on— but we all made our way back to Montana. Our families live here. It's a really vibrant, supportive music scene, too, which is cool. It's relatively easy living. You have a lot of time to work on your craft, and people want to support it, which is not the case everywhere in small town America."
When asked to describe what type of music they play, he sort of shrugged and said, "Good music?" Then he broke into a laugh. He explained why that was a hard question for him to answer: "I think at our core, we are a dance band. We like to throw a party and get everyone dancing. Montana is kind of a weird and special place to be a funk dance band." Their style is a blend of various influences from different backgrounds. The members of the band simply love music and surround themselves with music as much as possible. "We all listen to tons of different music. My dad was a folk musician. Some of our parents played in rock bands. Some of our parents listened to soul music on the radio in the 70s. So we've got all these different aspects feeding into our sound. We try to meld as many stylistic elements as we can. And I think that just comes from being a Montana band, too. You play weddings where the couple wants their first dance to be a country tune, so it's like 'Sure, we'll play a country tune.' You adapt to your crowd. I think doing that over the years is what's helped us develop this original style. We write all our own music, and we are definitely primarily influenced by hip hop and jazz and funk. But we also have a little bit of twang in our sound, because we live in a place where there is a lot of country music, so we also listen to a lot of country music."
And this blending of sounds and ideas and opinions is very indicative of Missoula as a whole. This is a meeting place, after all. Five valleys, three rivers, and people of all walks of life converge here in this amazing place. So it makes sense that a band from western Montana who have chosen Missoula as their home would create a sound as diverse as the place where they reside — where different people, opinions, and personalities meld together to form something singular and beautiful.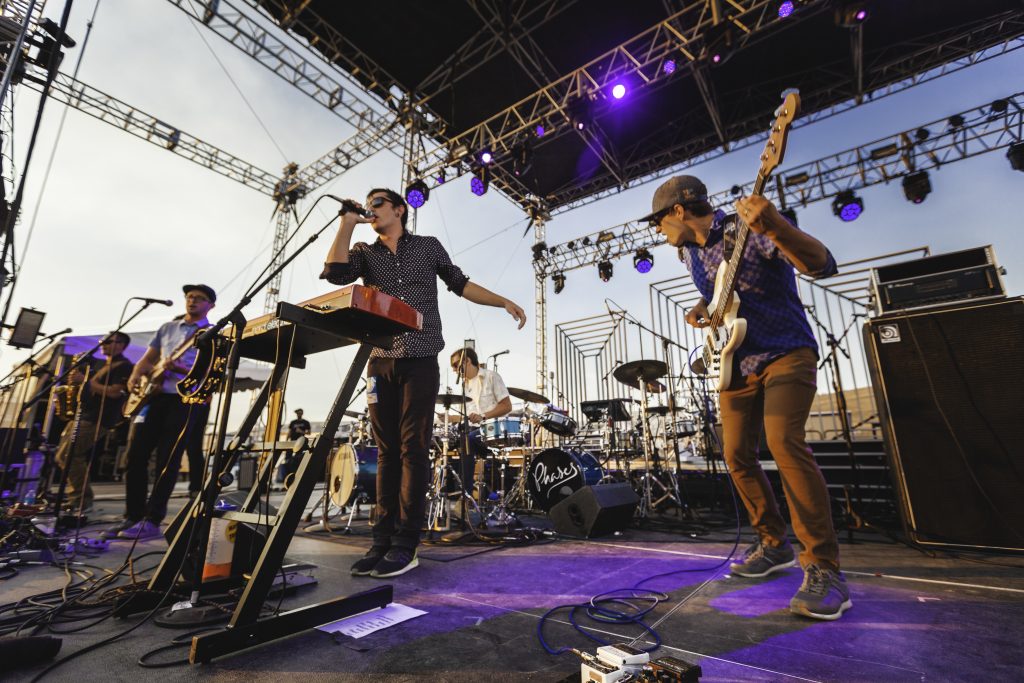 Shakewell at Big Sky Brewing. Photo by Brian Rapaport
These days, Shakewell has released a full-length album, travels across the northwest from Seattle to Colorado to play shows, and plays venues like the Top Hat here in town, even playing a packed New Years show multiple years in a row. When they first started, however, their Missoula shows were significantly smaller.
"When we started playing, there was this restaurant that was in Stockman's Bar that's not around anymore called the Blue Bison. We just straight up asked, 'Hey, can we play here?' and they let us. There was no sound system. There was no stage. We would just set up in the restaurant and play." Jasmin explained that from there, other venues extended the same support to the group, and that support grew. "People were very supportive. [They would say], 'Sure, you can play here, it's cool. We would love to have your band take over this cafe or bar or hole-in-the-wall that is not usually a venue. Everyone loves music here, so go for it.'"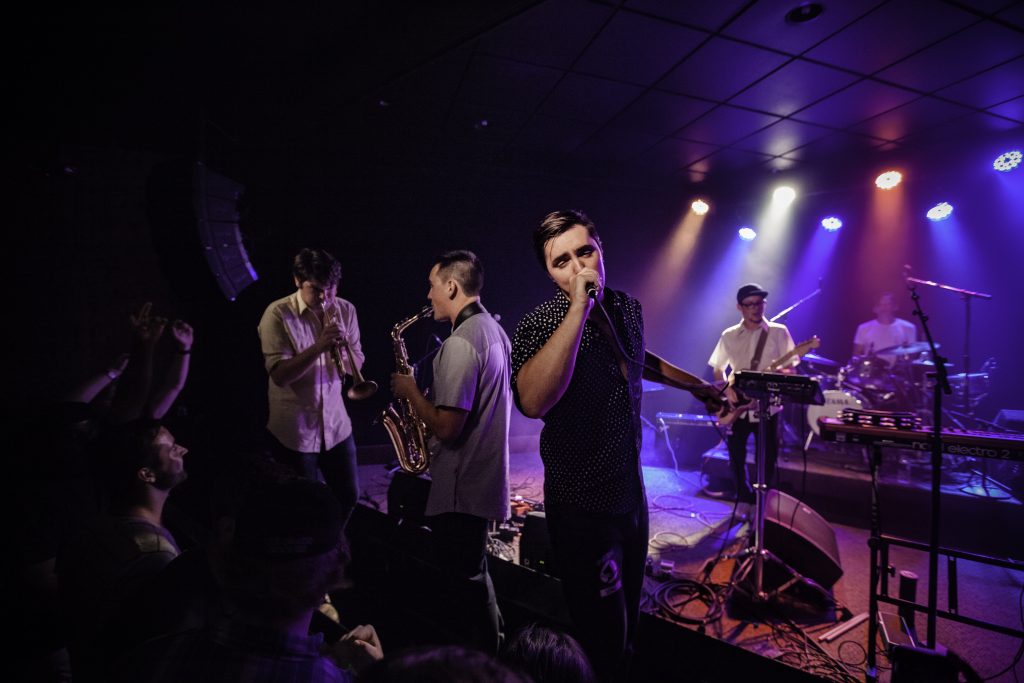 Shakewell at the Top Hat Lounge. Photo by Brian Rapaport
Shakewell members also play all over Missoula in various configurations and side projects. They have played as a group and as solo artists at almost any brewery you could name . The support they have received from the Missoula community, Jasmin says, is amazing.
"We can try new stuff and people are really honest about it. We feel really connected with our fans. We play a show and I'll look out in the audience and [think] 'I know you, I know you, I know you.' People will come to six Shakewell shows in six months. And that's awesome! I don't know if I'd do that [for a band I loved]. We get ultimate support from everybody. All the venues have been super supportive. Our families are so supportive. Our friends, too. I think everyone really feels that in Missoula. People just want to support local people and businesses. They want you to succeed. And that is the beauty of living in Missoula. The competition between other musicians is very friendly. Other bands [ask you to open for them, and then you extend that to other bands], and then you are all on stage and just playing together. Everyone is in it together, which is definitely a luxury for us living in a small place. We've got enough venues to support a lot of local music with the people who are here."
The band reached a turning point in 2016 when they decided it was time to record an album. They went to a studio in Evergreen, Colorado, called Evergroove, and set off to work, surrounded by the beauty of the Rocky Mountains. "We got in contact with Brad Smalling at the studio and one of our idols, a guy named Al Evans who plays in a band called Soulive, had done some recording there. So we just asked [if Brad knew Al], and Brad was told us, 'Yeah, just email him! I'm sure he'd love to work with you guys.'" Al Evans agreed to produce their first record, titled Marzoula. Recording, he says, helped the group focus on what kind of a band Shakewell is — what their sound really is.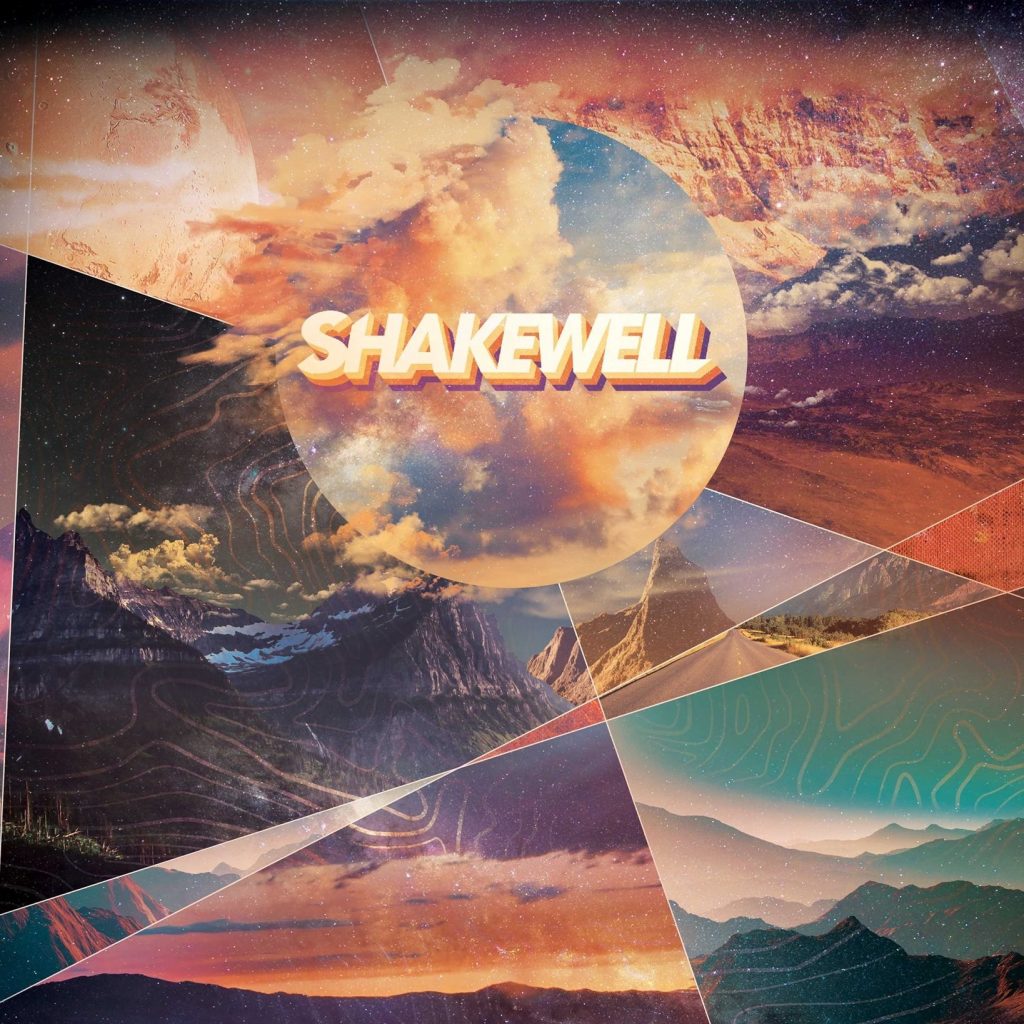 Shakewell released their album Marzoula in 2016.
According to Jasmin, the album also served as a catalyst for their impressive regional touring schedule. "Having a professional record helped get us into the surrounding areas. And now it's just grinding — going out and playing shows — even the ones that are only to a few people the first time, because hopefully more will show up that next time. The northwest is a really good place to be a band. People just love music and support it and enjoy what you are doing and want you to come back. People will even let us stay in their homes, which helps a lot at this stage, when the cost of a hotel room can really eat into our earnings for the night. It also takes a lot of work and commitment from all the guys to be available. We're gone on the weekends — that's our M.O. — and that's been the expectation. We travel a lot. We just want to play as much as we can," he laughs. "That's the deal."
For the members of the band, music is their full-time job. But, according to Jasmin, as with any profession, they need to diversify in order to make their dreams a reality. "A lot of us teach lessons. We do a summer camp down in Hamilton (we had 15 kids last year, complete with a finale show at the end). We all have day jobs, too. But ultimately, we play music because we love to play music, and that is what we try to keep at the forefront of our minds when it comes to booking shows. It does get stressful, just like anything else. There are times when you have money, there are times when you don't have money, there are times when you're having fun, there are times when you are not having fun. We got a great piece of advice from Al Evans [when we were recording our record]. He said, 'Just don't quit and something will happen for you.' So that is the mentality we have. And it's cool because we all know how to work hard while having a good time."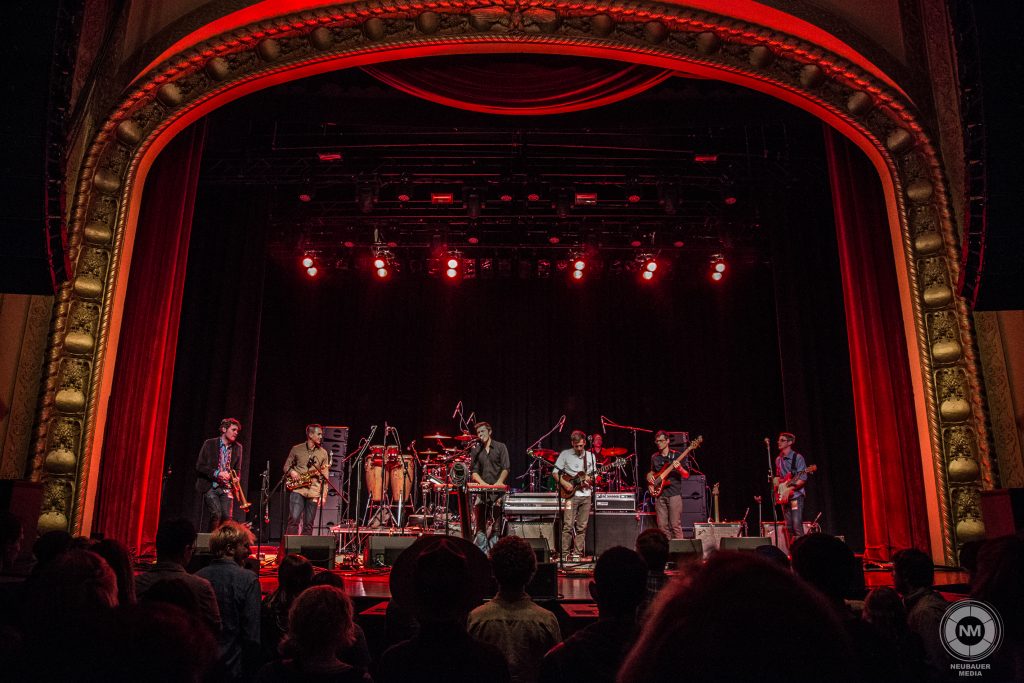 Shakewell performs at the Wilma Theatre.
Jasmin went on to talk about Missoula as a whole and gave his thoughts on the booming music scene in Missoula, including the quality, out-of-town artists who choose to play our small town. "In Missoula, people are willing to spend a lot of their disposable income on music, which is really cool. In other places [people spend that money on other things], but here it happens to be art, which is awesome. It's amazing the caliber of music we get in such an isolated area. I think it's inspiring to musicians from Missoula when a world-famous musician comes in and says, 'This is a cool place. You guys have a good thing going on.' And we think, 'Oh, okay. Maybe we're not crazy!' People go see Paul McCartney, and they are stoked, and then people go to see a local band, and they are just as stoked. That's what is so cool about it—it doesn't matter who you are and what you are playing: people love it. It's a guy with a guitar in a brewery? People love it. It's a huge production of a show? People love it. It's very nonjudgmental, and it's a very nurturing environment. All the way down to the kids. I think that's where it starts. If you can get the three kids in the front row dancing, it's a win."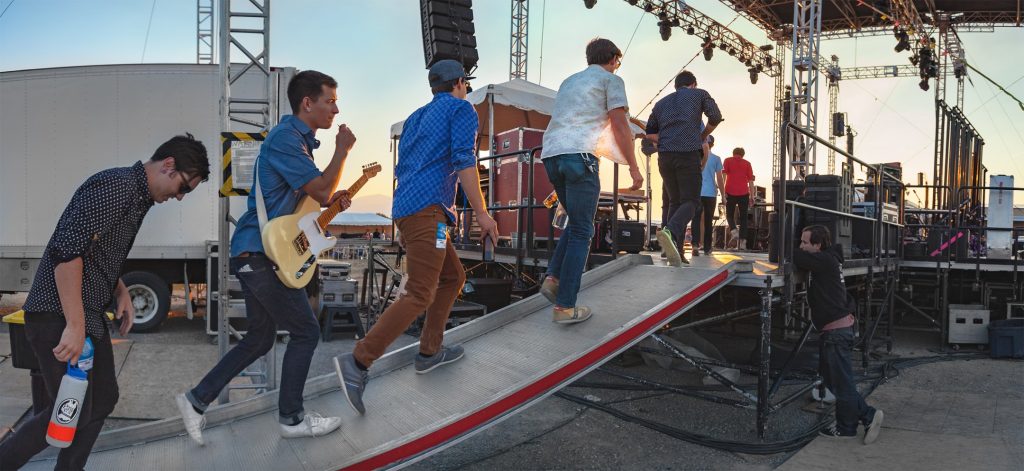 The group walks onto the stage at Big Sky Brewing. Photo by Brian Rapaport
"I think one thing that I've always found, even being from Montana, is that when you go to see a show, [it's an experience for both the band and the crowd]. Bands are out of their element when they come to Montana, especially if they are playing at [one of the amphitheaters] or at a festival. This weird, raw energy happens when [bands] are from out of town and they are playing in Missoula. It's cool."
My final question to Jasmin was this: why do you think people should come visit Missoula. He took a beat before answering, and then said, "It's a good place to be. I'm pretty biased, but I think that it's not why would you come here, it's why wouldn't you come here? There is so much cool outdoor stuff to do. You can go fish or hike—there are so many [trails and rivers] that are so close. The breweries in Montana are awesome. Checking out the new local businesses and or cool coffee roasting companies around town is fun. And just hanging out in Missoula is always a good time—hanging out with people who will come up to you with no pretense and just talk to you. It's a very relaxing and welcoming place. Also, being able to do the things you would normally do but just doing them outside. Like go see a show, but see it outside next to a river that you just fished on all day. That's pretty cool. Just hanging out in a beautiful place with clean air and clean water and happy people. It's hard to beat."
We couldn't agree more.
For updates on the band, including upcoming shows, find them on social media or visit their website:
Facebook
Instagram
Website