I love all things vintage, old, and repurposed.  Walking into our home is like taking a trip through the decades, which just seems to work in our space.  You could find yourself sitting at our 1950's dinner table, which is canary yellow while drinking from a depression era cup and talking about the very modern new piece of art on the dining room wall.  In another home this would be chaos, but in our home it is perfect.  This love of vintage lead me on an interesting trip this past weekend, to the Prairie Sisters Vintage Market at the fairgrounds in Missoula, Montana.
First off, this was my very first time going to the fairgrounds in town.  I should have done more research on parking areas and how to get there.  I figured it could not be too hard since I only live a short distance away but I did manage to get a bit turned around.  Luckily I just asked someone at the nearby coffee shop, and they pointed me in the right direction!  I just love how friendly people can be in Missoula.  I ended up parking just off of South Street, and headed in the direction of where all the other people were going.  I was not exactly sure where to go, but there was one big sign welcoming everyone to the party with the vintage style lettering and bunting, it was perfect.  I rounded the corner and saw a huge white barn with the flag bunting and signs up.  I felt like I was home, between the building style and the vintage campers sitting around I felt like this is exactly where I should be spending my Saturday.

There were people everywhere, kids playing outside and dancing to a bluegrass group, a few ladies sitting at picnic tables enjoying a cool morning with a hot cup of Lighthouse Espresso coffee and a super cute cupcake!  But I was here for the things hiding inside the two big white barns, and I was not disappointed at all.  Inside each little nook and cranny was filled with items.  Some new, some old, some repurposed and all were unique!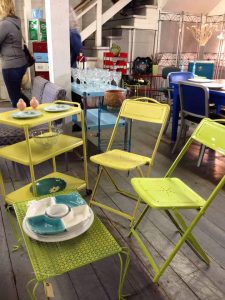 I found beds turned into benches, license plates turned into wall art, and refinished antiques within 10 feet of the front door.  Thats when I looked up and noticed that there were two floors of vendors just in this one building!  I was going to need some coffee to make it through, and the kiosk outside did the trick thanks to Lighthouse Espresso.  With my coffee in hand, I wondered through each and every vendor.  Upstairs I traveled around to find new aprons with a vintage feel, and adorable baby onesies with a Montana theme.
I ventured over to the second building and discovered that this too had two floors of items.  Plus the culinary building is where the delicious smells of BBQ were coming from.  I was in a junk/vintage/repurposed daze.  There was so much to look at and take in, I just slowly wondered from one area to another and then it happened.  I fell I fell in love with a few things I could not live without, or several things.  I had a great time discovering new treasures!
If you are looking for something fun to do this weekend, check out our Events Page!