Wintertime in Missoula is nothing short of a wonderland, especially in December. Why this month? Well, it's perfectly positioned between late fall and late winter. So, one moment the sun could be shining against a robin-egg blue sky, and the next moment, that sky could be transformed into a whirlwind of soft, fluffy snowflakes. Because of this enchanting behavior, some of the best hiking (or strolling) around Missoula actually takes place in December—making it the perfect time for holiday pop-up markets, horse-drawn carriage rides, and tons of downtown activities for the whole family to enjoy. And for those of you looking for warm indoor gatherings, there are plenty of musical and theatrical performances to keep you happy (and toasty!) all month long. Check out our hand-picked list of exciting December events below, and don't forget to view the rest of our jam-packed events calendar.
What's Up in December
1-24: Santa Claus Visits @ Southgate Mall
1-11: MRT Musical: Hearst, a Yuletide Tale @ UM Masquer Theatre, PARTV Center 32 Campus Drive
2: Annual Holiday Open House @ The ZACC 
2-4: Missoula Symphony - Holiday Pops! @ UM Dennison Theatre PARTV
2: Little Red Truck's European Christmas Market @ Missoula Fairgrounds 
2: First Friday: Holiday Gift Pop-up and Open House @ Montana Natural History Center
2: Planetarium Show @ UM Payne Family Native American Center, Room 013 Basement
2-4: Hello Winter! Performance @ West Side Theater
2-18: Harry Connick Jr.'s The Happy Elf @ MCT Center for the Performing Arts
3: Kids Activities Throughout Downtown @ Downtown Missoula
3: Photos with Santa Claus @ The Missoula Public Library
3: Parade of Lights Events & Holiday Village @ Downtown Missoula
3: Tree Lighting Event @ the XXXX's Downtown
3-4, 10-11, & 17-18: Free Horse-Drawn Carriage Rides @ Missoula Art Park
7: DIY Holiday Wreaths @ Highlander Brewing
11: Missoula Holiday MADE Fair @ The Adams Center
15: Tell Us Something: Live Storytelling @ The Wilma
17: Revival Comedy Benefit @ The ZACC
31: Missoula On Main @ Downtown Missoula 
31: The Lil Smokies @ The Wilma
31: Shakewell & Desperate Electric @ Top Hat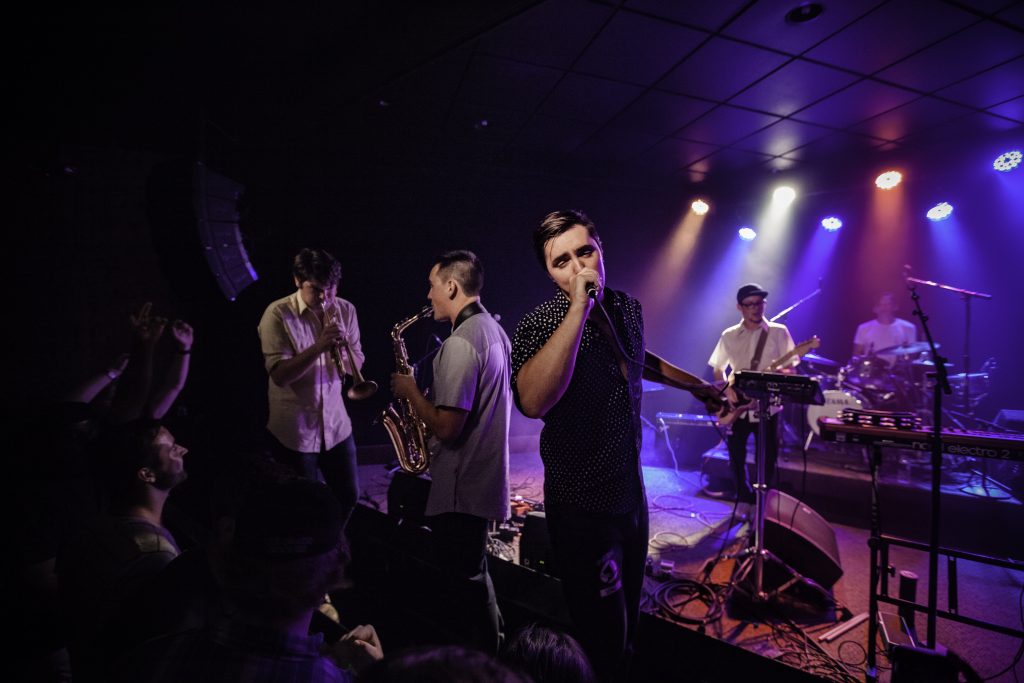 Local Missoula band "Shakewell" performing at the Top Hat. Photo by Brian Rapaport.
Recurring Events
Tuesdays: Open Mic Night @ Cranky Sam Public House
Wednesdays: Karaoke @ The Badlander, Trivia and Karaoke @ The Eagles Lodge #32
Thursdays: Jazz Night @ The Old Post
Fridays & Saturdays: Live Music @ The Jack Saloon
First Friday of Every Month: First Friday @ Downtown Missoula
Second Friday of the Month: Missoula Makers Market @ Oi! Yoi! Studio 308