Winter is an especially great time to get outside and explore all Missoula has to offer. The trails are less crowded, the forests and mountain landscapes are frosted and dreamy, and the snow allows for a slower journey, meaning more time to take it all in. Winter also brings a certain amount of trail closures for dogs, from groomed cross-country ski trails to elk migration corridors, but don't let that stop you from experiencing winter on the trails with your loyal companion in tow! Strap on your cross-country skis, snowshoes or Yaktrax and explore some of our favorite dog-friendly winter trails in Missoula. Be sure to heed all posted signs and mind groomed trails as your pup plows through the snow!
Pattee Canyon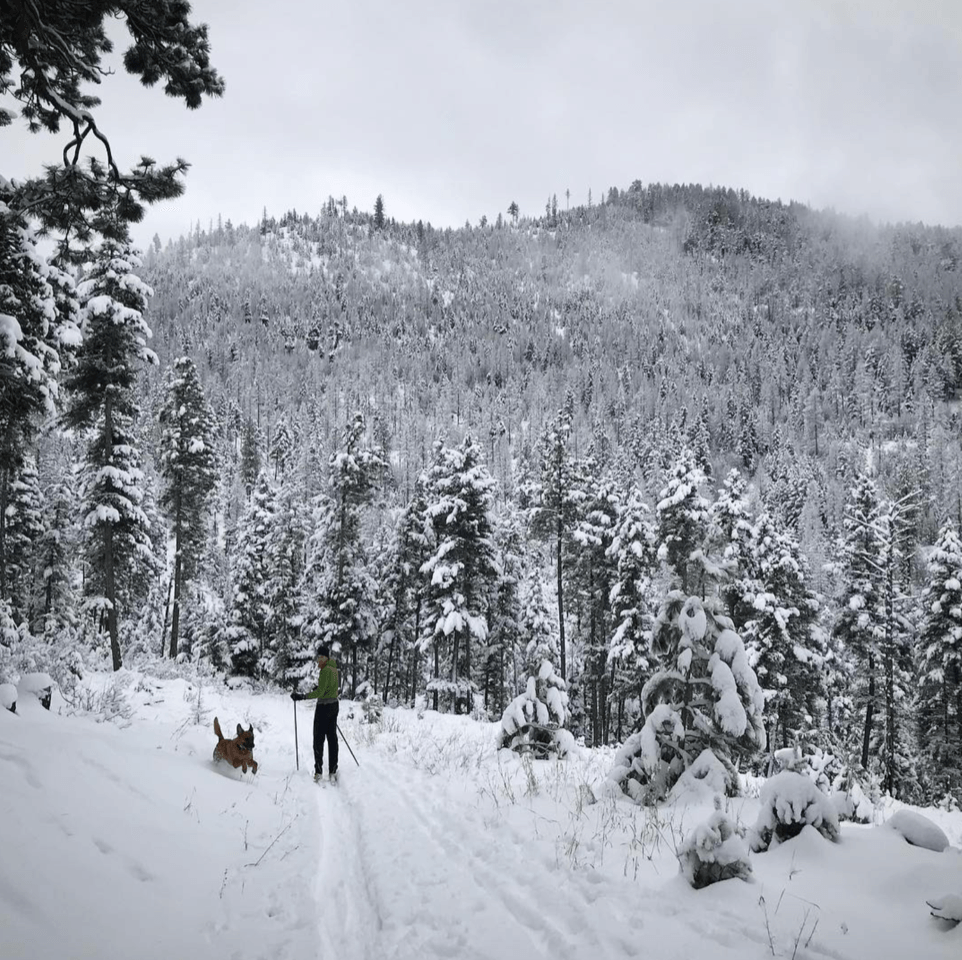 Your dog will love the forested trails at Pattee Canyon. Photo by @bri_lui via Instagram
The snow-covered forests of Pattee Canyon will have you walking in a real life winter wonderland. With a large system of interlocking trails, this must-do Missoula recreation area is a great choice for humans and their canine friends to explore. The Crazy Canyon access provides dog-friendly trails all winter. Be sure to heed cross-country ski trails and posted signs.
Blue Mountain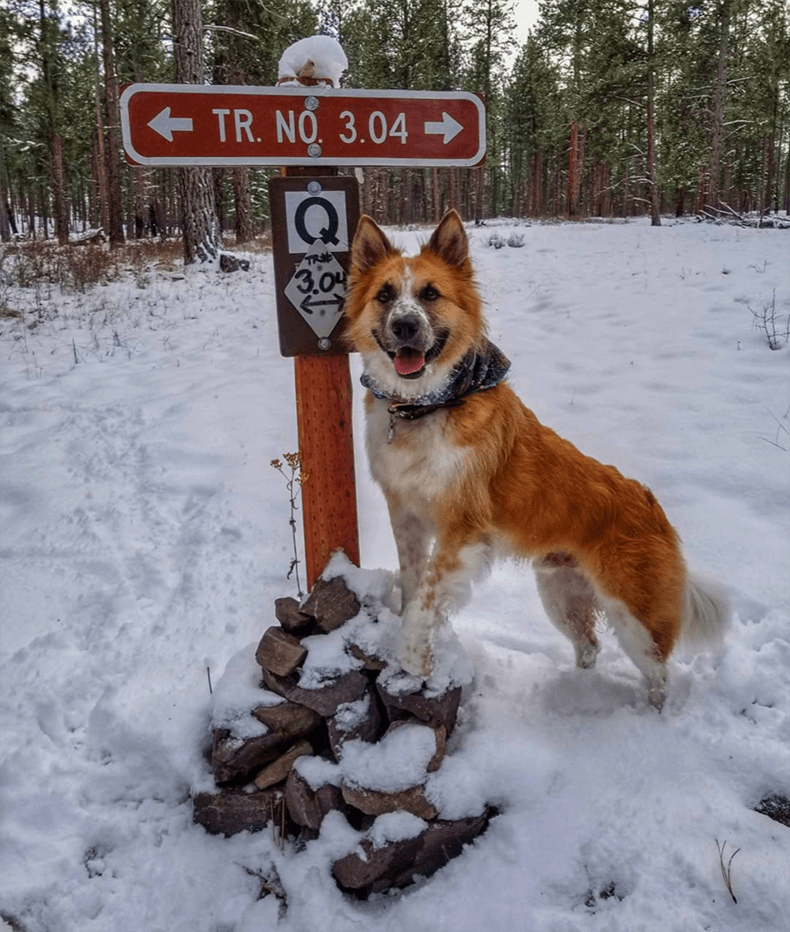 Be sure to grab a map of Blue Mountains well-marked trail system! Photo by @huck.the.duck via Instagram
Blue Mountain provides an intricate trail system that criss-crosses far and wide, making it a perfect spot for winter adventures. Whether you have 30 minutes or hours to explore, the intersecting trails in this beautiful spot allow for an afternoon walk in the woods.
Mount Sentinel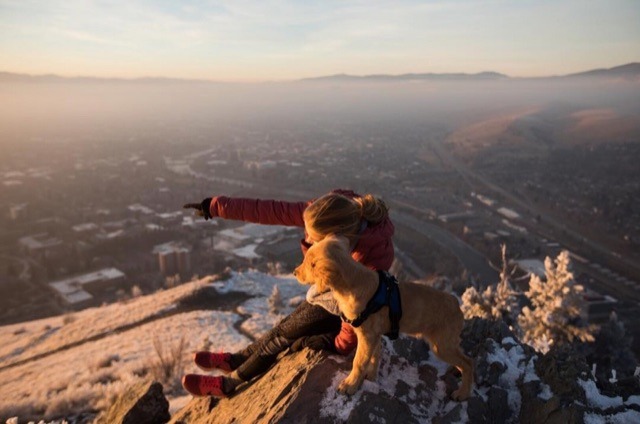 Take in panoramic views of Missoula Valley from the top of Mount Sentinel, or from the iconic M. Photo by @kulastdog via Instagram
The iconic "M Trail" is open all winter long to hikers and their dogs, as are other trails in the Mount Sentinel Trail system. The trail climbs fast, so enjoy gorgeous views of the city at every switchback.
Waterworks Hill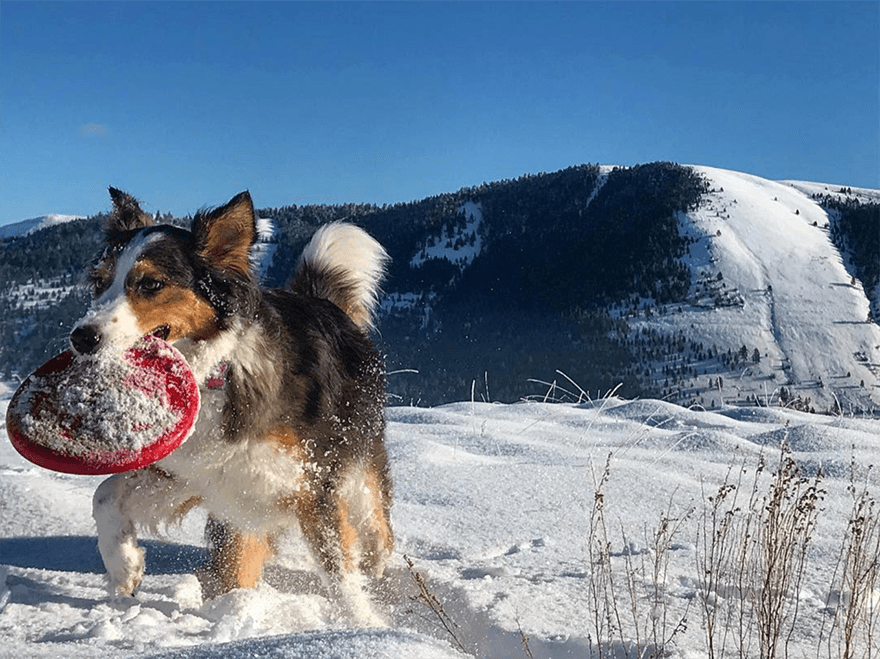 Waterworks Hill is a dog's paradise. Photo by @caiters3 via Instagram
Waterworks Hill is a four-season Missoula classic! Access the hill from downtown Missoula or the PEAS Farm parking area, and take in the beautiful views of snowy Missoula. On a clear winter's day, you will be able to see the mountains of the Rattlesnake Recreation Area to the north, including Stuart Peak, as well as Lolo Peak to the south and the rolling Bitterroot range. This quick hike is great for dogs, who can be off leash in designated zones on the trail.
Featured photo credit to @kishenehn via Instagram