For many, winter does not immediately bring to mind the words "outdoor recreation"-- when there is fresh snow on the ground and a nip in the air, it is very tempting to stay indoors where it is cozy with friends, food and local brew. But in Missoula, it is too beautiful outside to not go explore, so townies and visitors alike take to the great outdoors to take in a whole lot of "wow" in our winter wonderland. Winter recreation is often synonymous with skiing, and for good reason. Skiing, both downhill and cross country, brings big wintertime thrills despite the chill, but it can also come with a learning curve that is intimidating for some or limiting for others. Luckily for you, skiing is not the only way to get outside during the winter months. Here is a fun list of our favorite outdoor winter recreations that do not involve skiis. Remember to recreate responsibly as you explore all of the winter activities available in and around Missoula.
Snowshoeing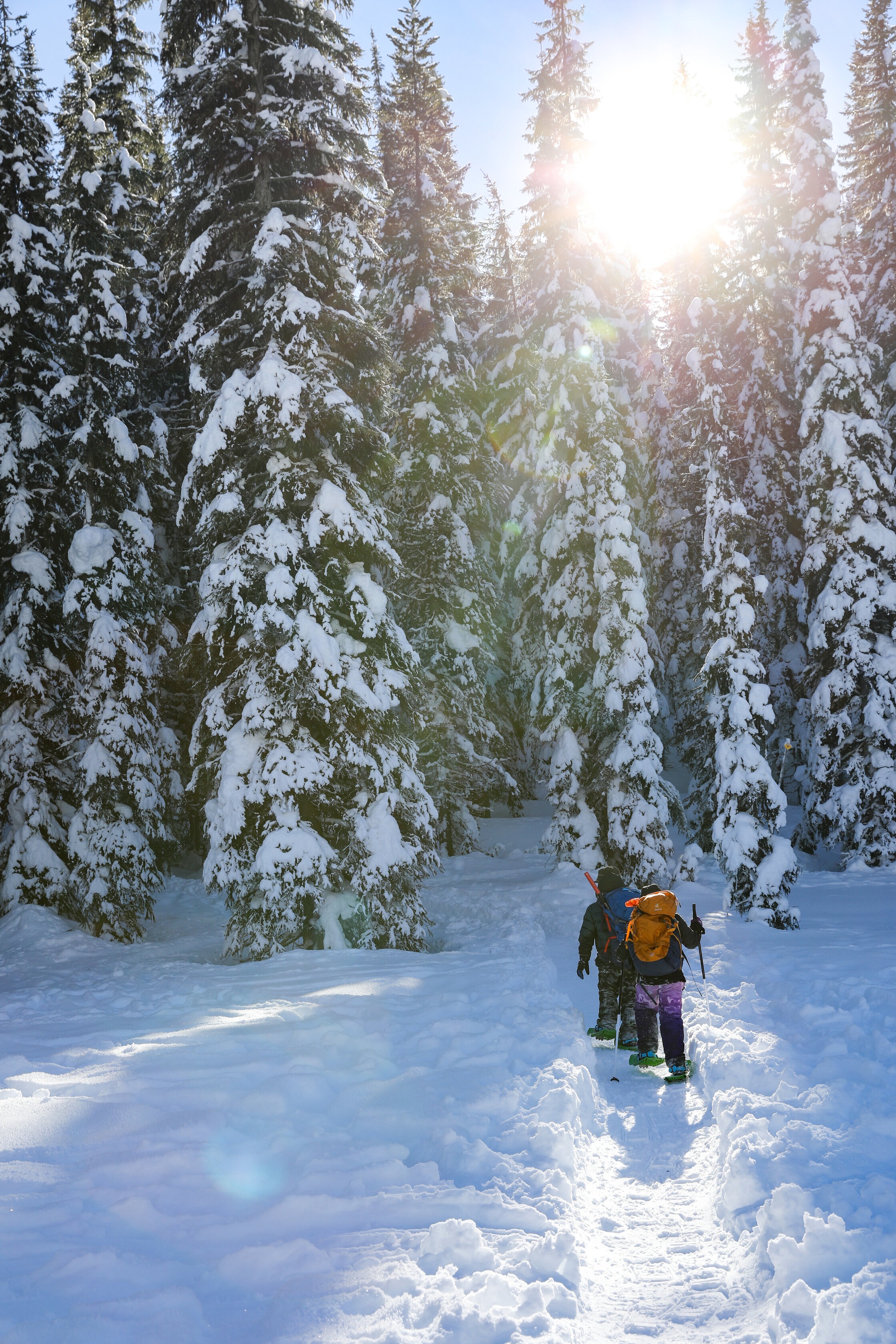 Photo credit: Leslie Beckman
Missoula is surrounded by hiking trails, and just because they are covered in snow is no reason to adventure outside in the winter months! Many trails are great for cross-country skiing, but that activity does involve some equipment and a learning curve. If you are more comfortable exploring on your two feet, snowshoeing is the winter activity for you! The ability to set out in any direction and find unbelievable views in our winter wonderland is what makes snowshoeing here great. Snowshoes are inexpensive, can easily be rented, and require little to no skill outside of walking with high steps. Some of our favorite snowshoe trails around town are Waterworks Hill, Pattee Canyon, Blue Mountain, and Rattlesnake Recreation Area.
Ice Fishing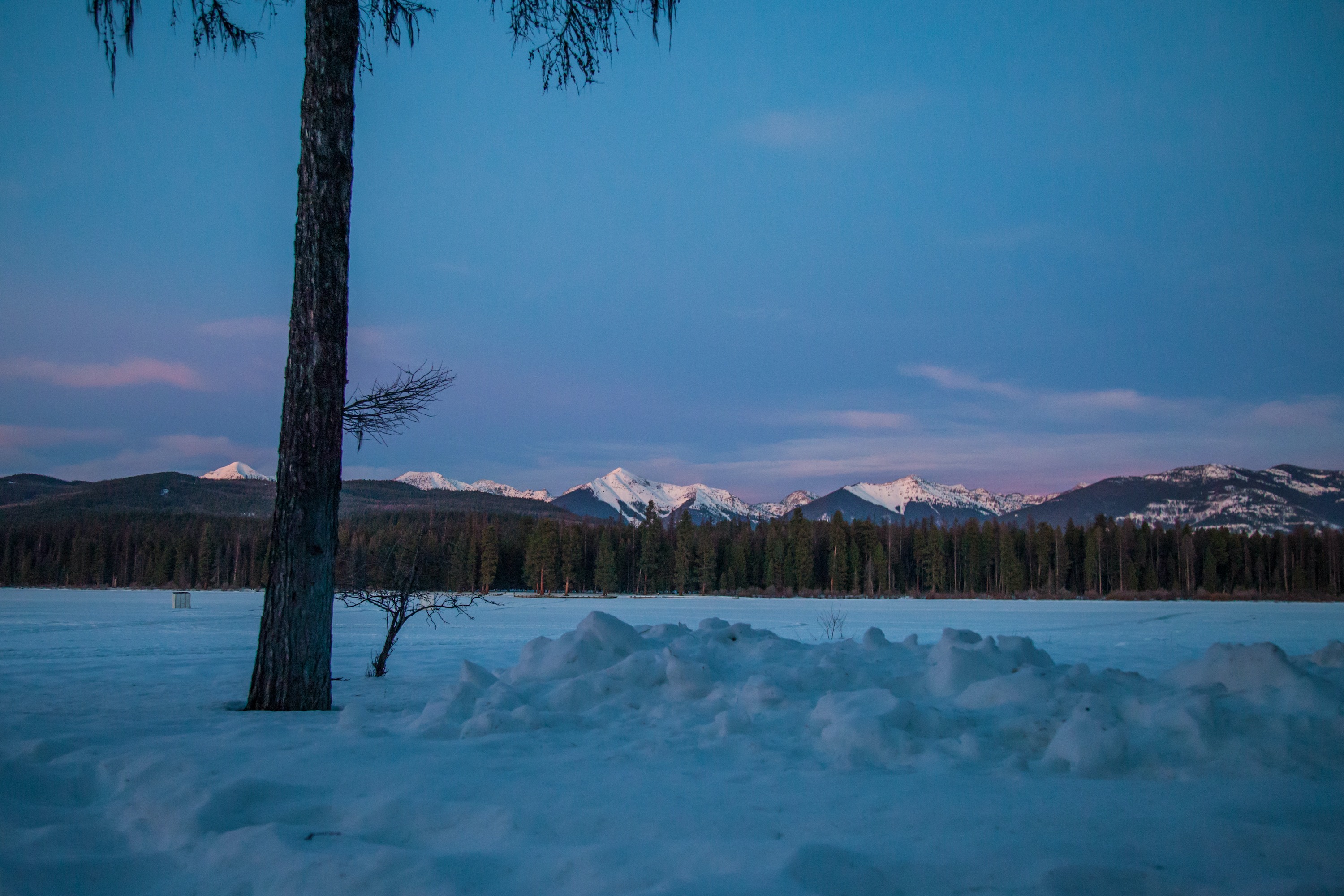 Ice fishing is a great way to get outside during the cold winter months and enjoy the gorgeous scenery around Missoula. Just make sure to bundle up to keep yourself warm while you're out on the ice. If you are new to ice fishing, it is highly recommended that you go with a guide or an experienced ice fisher as ice conditions can become dangerous if not navigated properly. For those who are up for it, ice fishing provides a fun and relaxing outdoor experience to be had in the Missoula area this winter. The lakes around Missoula (Seeley Lake, Georgetown Lake, and Flathead Lake) are the best places to ice fish in the area, and each requires a short and scenic drive to access. Be sure to get the proper permits and follow all posted and state rules and regulations. As always, practice safety on the water.
Snowmobiling
Snowmobiling in Missoula is fast, fun and addictive, and it is a great way to see the gorgeous forests, mountains and valleys surrounding Missoula. For those who are looking for a bit of a thrill with a big payoff in terms of accessing the landscape, this is the activity for you. Perhaps the most popular place for snowmobiling around Missoula is Lolo Pass, though there is also great snowmobiling options at Seeley Lake, Garnet, Haugan, and north towards the Mission Mountains. Always practice safety while recreating in the wintertime and wear recommended gear and safety equipment.
Ice Skating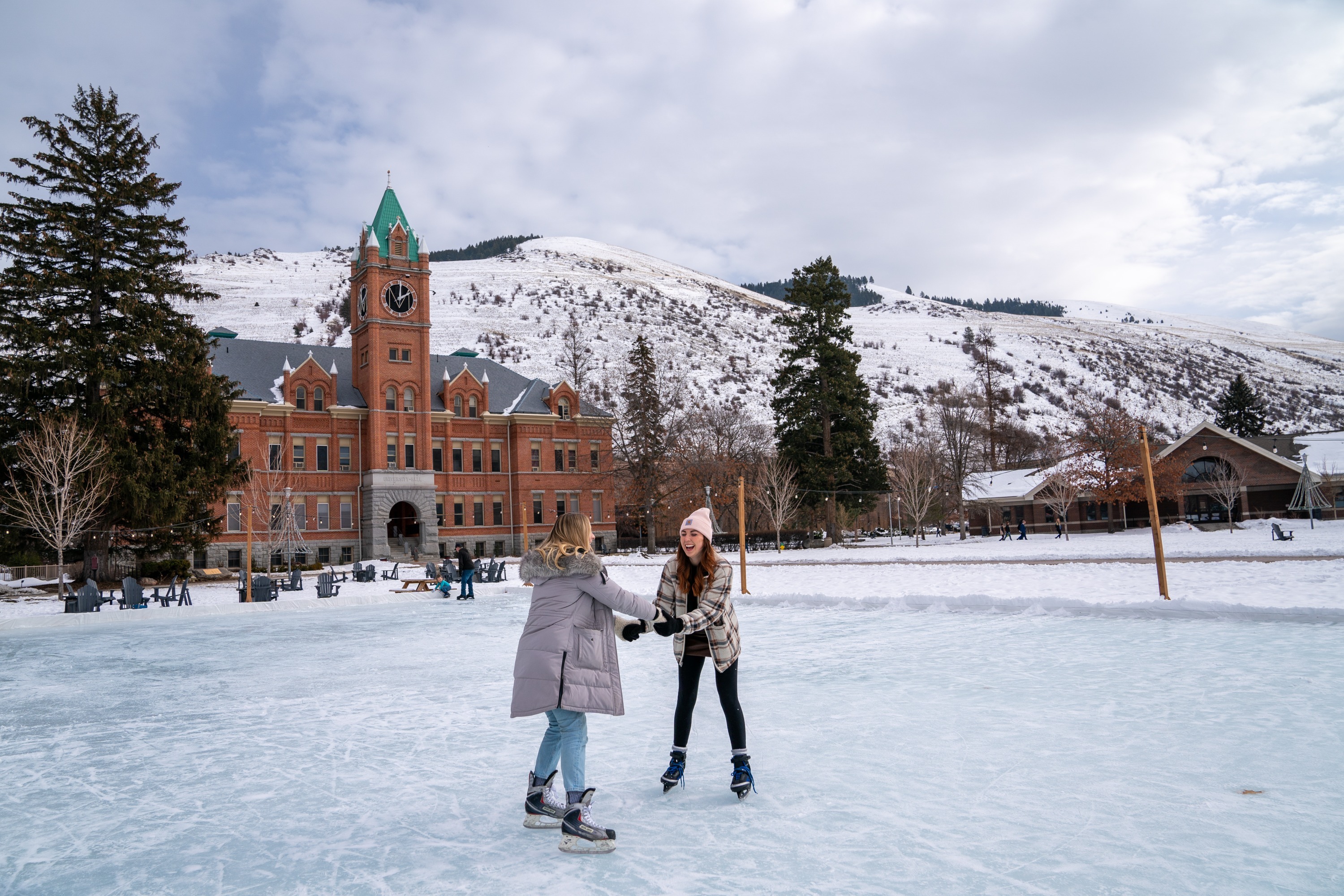 There is nothing quite like ice skating to bring out the child in you, and Missoula has several options to experience this quintessential winter recreation activity. Located at the fairgrounds, Glacier Ice Rink has both an indoor and outdoor rink. With reasonable rates on rentals and public skating available daily from September through May, the whole family will have fun gliding around the large arena. Another option for ice skating is in the Rattlesnake Area, at Pineview Park. UM also opens an outdoor skating rink during select times over the winter. No matter the route you go, fun for all is sure to be had!