Mother's Day is just around the corner, and we want to make sure that the mom in your life is spoiled as thoroughly as she deserves. Whether you are looking for your own mom, grandmother or mother figure, the mother or stepmother of your own kids, or a treat for your mom friends, we have put together a list of Missoula inspired gifts and experiences that would make any hard-working mama smile. Some of these items are for Missoulians or folks who live near town, while others on this list (notated with an asterisk) can be purchased and shipped no matter where you live! 
A Thoughtful Card from Noteworthy*
First things first, whether you live near or far, whether you have visited before or not, you need to get the mom in your life a Mother's Day card from Noteworthy. We think they make and curate the best cards around: take a look and see for yourself. The best part is that most of their cards are blank inside so you can personalize with your own message. Your words are the best gift you can give, so be sure to share! You can order online or browse their cute storefront on Hip Strip. 
Chocolates from Posh Chocolat*
Momming is hard. Chocolate makes it easier. Give the mom in your life a sweet treat from Missoula's Posh Chocolat. You can order online or stop by their storefront to purchase your selection from a variety of options. The Montana Adventure Packages offer a wide variety of selections in a fun theme; the sipping chocolates and coffees are always a good choice; and the truffles and bars are to die for. 
Give the Gift of Self Care
Your mom works hard, and she deserves a day of pampering. Consider booking her a massage at Cedar Creek Salon and Spa, or check out the offerings at Float Missoula including infrared sauna treatments, massages, and float therapy. A day at Lolo Hot Springs just outside of town will do wonders for the mind and soul (not to mention the beautiful scenery). If you are looking for a high end spa treatment for the true luxury mom, consider Paws Up, located outside of Missoula, for a day of the ultimate relaxation.
Grab a Drink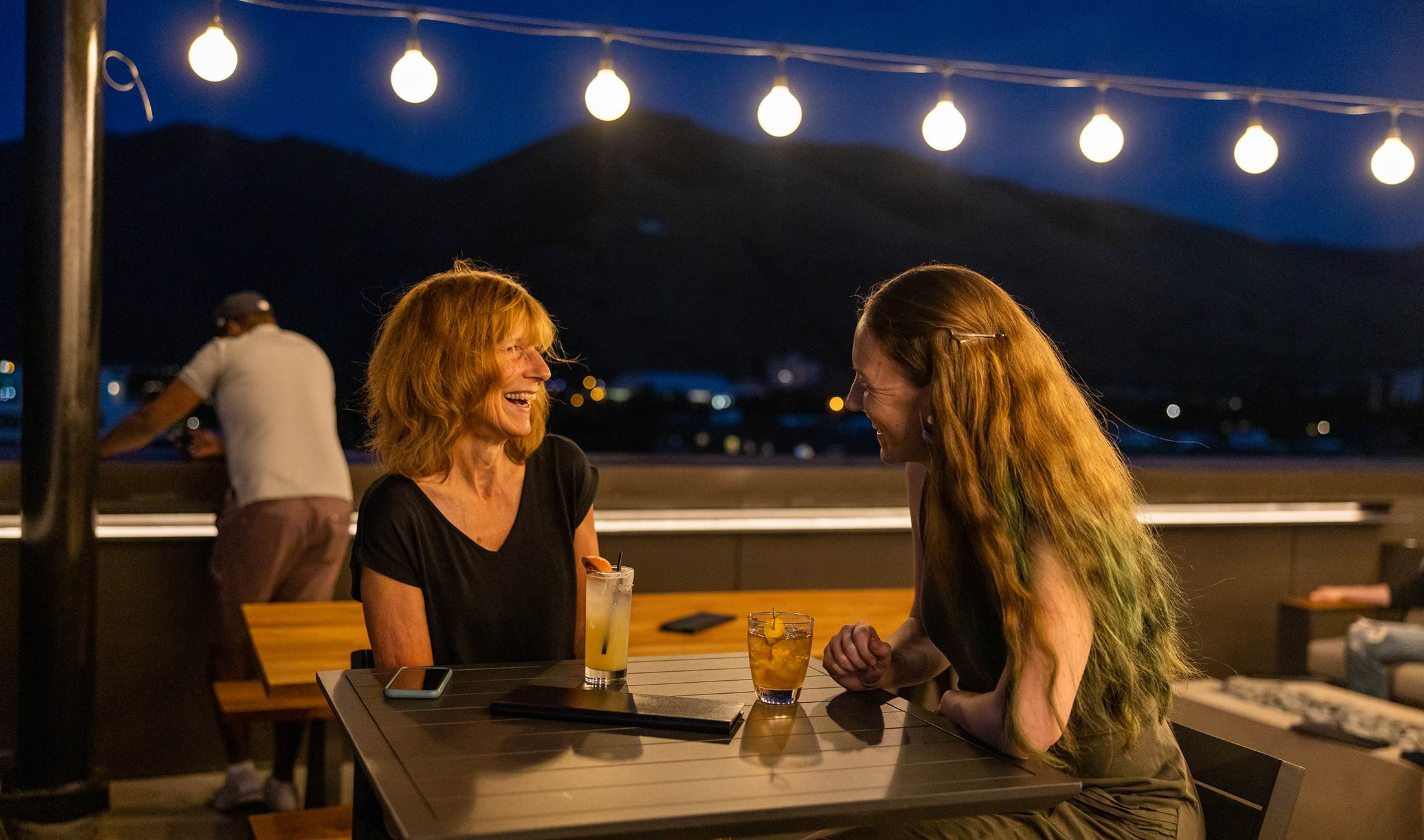 Missoula in May is perfect for patio drinking and toasting to how awesome moms are. Grab your mom, your mom friends, or any mother who you want to celebrate and head out to one of Missoula's many bars and craft drink establishments. From breweries to distilleries, from cocktail lounges to dive bars, there is a perfect place for everyone in Missoula. Take a trip up the Rattlesnake to enjoy a wine tasting at the gorgeous Ten Spoon Winery, or head to Montgomery Distillery for a locally crafted cocktail. If beer is her drink of choice, then you are in luck with Missoula's many breweries. Cheers to you, moms!
Dinner and a Movie 
Make your way to Missoula's Hip Strip and take in a movie at the Roxy Theater. Missoula's Hip Strip is home to many fantastic restaurants and breweries as well, making this location the perfect spot for a dinner and a movie date with the mom in your life. Perfect for a date night or family time, this laid back and fun day is sure to be memorable this Mother's Day weekend.
Plan Staycation or Getaway to Missoula**
Give the gift of quality time this Mothers Day! Whether you are local or looking for a getaway, Missoula is the perfect spot for some R&R, some adventure, some delicious food–the list goes on and on. Book a few nights at a downtown Missoula hotel so you are steps away from all the great dining, shopping, and cultural experiences that our city has to offer. 
Brunch Together
Start Mother's Day off right with a delicious brunch at one of Missoula's many dining establishments. Whether she likes strong coffee or a dash of something bubbly, farm-fresh fare or old breakfast classics, there is a brunch spot for her in Missoula. Some of our top choices include Old Post, Catalyst, Paul's Pancake Parlor, FINN, Montana Club, and Burns St. Bistro.
Go on a Hike or Picnic
Sometimes the best gift is the gift of time together in the great outdoors, and Missoula has opportunities for outdoor exploration in spades. Consider packing a picnic with your favorite goodies like sandwiches from Tagliare Delicatessen or Market on Front, beverages from her favorite local brewery or cidery, desserts from Mary's Mountain Cookies or Veera Donuts, or snacks and local goods from The Good Food Store and hitting the trails around town. Waterworks is always a crowd favorite for those who are pressed for time. You can find seclusion by the babbling Rattlesnake Creek either at Greenough Park or the Rattlesnake Recreation Area, or you can find great views at Blue Mountain. For the more adventurous mom who is looking for a full day hike, the Mt. Sentinel loop is always a good choice, or check out the many trails located in the Bitterroot. 
Take a Day Trip
Get out of town and take in the scenery and activities located just outside of Missoula! A drive up towards Flathead Lake is always an adventure: stop over at Ewam Garden of One Thousand Buddhas before checking out the CKST Bison Range, ending the day at Flathead Lake. Or head south towards the Bitterroot for a day of exploring the small towns of Lolo, Stevensville, and Hamilton. Driving west, you can see the gorgeous Alberton Gorge, and heading east along the Blackfoot makes for a scenic drive as well– consider heading up towards Seeley Lake for an all-day getaway. No matter where you wander, being together is what matters the most. She is sure to love it.
A Gift from Missoula Wine Merchants**
Wine or no wine? We are thinking, probably wine! And Missoula Wine Merchants is a great place to find that perfect bottle to say thank you to any connoisseur. For the gift that keeps on giving, consider signing her up for the Wine Club for a duration of 3, 6, or 12 months. You can also select from a number of gift baskets. If you are local, a stop in the shop will be well worth it considering the wine selection as well as the gifts and cheese options.