Missoula River Guide & Map
Clark Fork River Milltown State Park to Downtown Missoula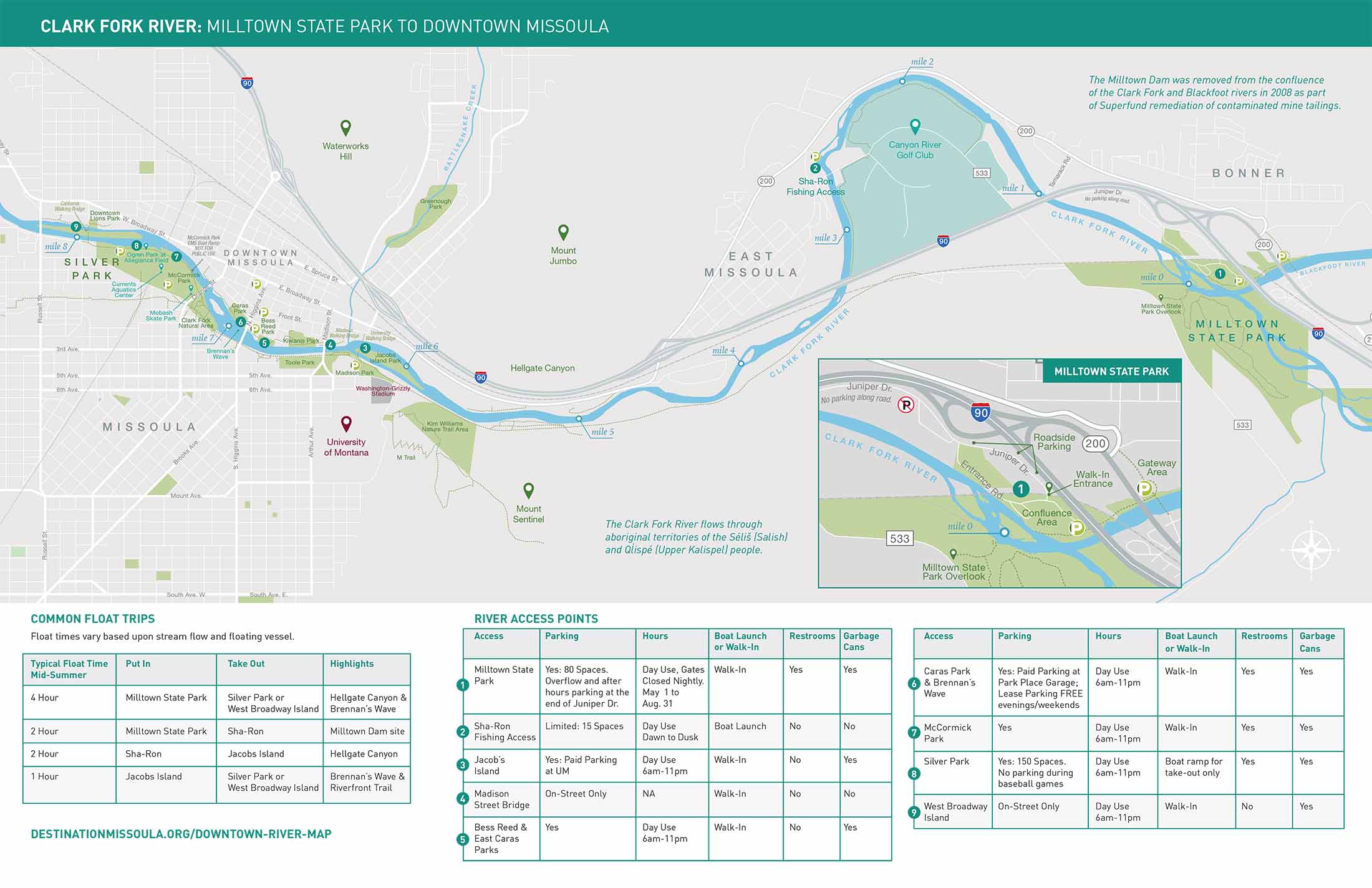 Keep the River Clean & Healthy
Pack out all trash: grab a free mesh river bag at a grocery or hardware store to collect your trash
Use designated restrooms and porta-potties
Observe wildlife from a distance
Be Friendly
Remember, you?re sharing the river with others.
Put in and take out at designated locations
Do not block roads or access to the launch area and be thoughtful of others
Prepare outside the boat launch area and clear the launch area as soon as possible
Be prepared to encounter and yield to other river users
Profanity and obnoxious behavior are inappropriate and offensive
Respect private property and neighboring landowners. Do not trespass
Outside of public access areas, stay below the ordinary high-water mark
Be Safe
Rivers are powerful natural systems that should be respected.
Life jackets improve safety and are your best friend on the water
Do not bring glass to river access areas or on your float trip
Boating under the influence of alcohol or drugs is dangerous?be responsible when drinking alcohol on and around the river
Transportation
Because parking is limited at all sites, consider
Carpool: Missoula In Motion's Carpool Finder
Bike It: www.tiny.cc/MissoulaBikeMap
Zero-Fare Mountain Line: Route 4 to the river (Tamarack Road or Milltown State Park)
Rideshare: Uber, Lyft, Green Cab, Yellow Taxi
Parking
Parking congestion creates challenges for neighbors, land managers, and public safety. Consider carpooling, transit or shuttle services, and/or rideshare options. Park only in designated areas. Do not park on Tamarack Road/Juniper Drive from the junction of Highway 200 to the entrance of the Confluence Area of Milltown State Park.
River Access at Milltown State Park
The Confluence Area of Milltown State Park offers floaters handcarry access to the river. There?s no parking along the interior park road but room for 80 vehicles at the parking area. Please be aware that out-of-state vehicles are subject to an $8 nonresident entry fee. The gate is closed and locked nightly and reopened at 9 am. No overnight parking allowed. Outside the park, there is additional parking along the road at the end of Juniper Drive. The gated railroad underpass leads pedestrians to the parking area and river. The park?s walk-in hours are sunrise to sunset.
Learn More
Download your copy of the Downtown River Map by clicking here.