Our vibrant mountain town has slowly and safely reopened its doors, and we're excited to welcome visitors once again. Safety remains our top priority, so let's be kind, respect others, and work together for a safer Missoula.
We did an incredible job working together to flatten the curve at the beginning of the COVID-19 outbreak, and we don't want that hard work to go to waste. Our goal is to make sure Missoula remains open responsibly, and that we continue to help our local businesses thrive while also protecting the health of our residents and visitors.
That's where Smart. Safe. Ready. comes in—our ongoing campaign to spread best practices and safety guidelines throughout Missoula, and encourage local businesses, organizations and individuals to join us. How can you help? Just follow these simple, yet effective guidelines: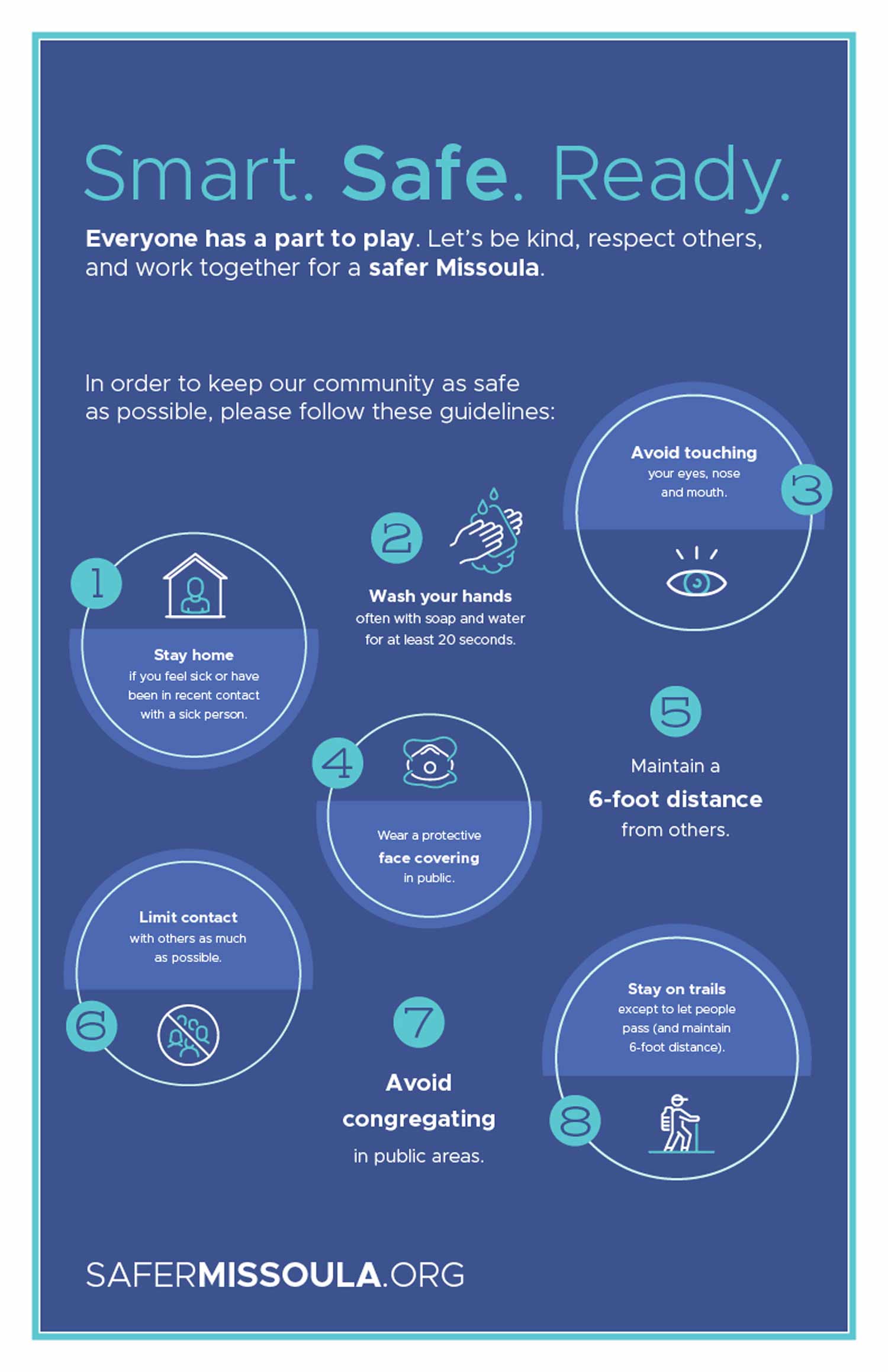 Missoula is ready. So pitch in, be smart, and stay kind. We got this, Missoula.
GUIDELINES AND RESTRICTIONS
The mask mandate has been lifted in Missoula County, though some businesses are still requiring masks for the safety of their employees and customers. While fully vaccinated people are now free to explore Missoula without a mask, we recommend keeping one handy and watching out for any signage on mask requirements as you enter public spaces.
Missoula City-County COVID-19 Information
Missoula City-County COVID-19 Mitigation and Requirements
Mask Mandate Moved To Strong Recommendation - May 10, 2021
Directive on Implementing Executive Order 2-2021
Be aware that guidelines and restrictions for visiting different communities throughout Montana may differ from state guidelines. Find more information and safety guidelines for visiting Missoula here.
People at higher risk of getting sick should follow Montana Department of Public Health recommendations to protect themselves.
Some group gatherings have been postponed, and some communities may have more specific health guidelines. Travelers planning a visit should call their hotel and local visitors bureau for information specific to their locations.
Healthcare Resources
Here in Missoula, we want to ensure our visitors arrive healthy, and leave healthy. If you are feeling sick, please press pause on your travel plans and visit Missoula when you are feeling better. We aren't going anywhere.
If you begin to feel sick while in Missoula or believe you have been directly exposed to COVID-19, get tested by making an appointment or locating a drive-up testing site.
Missoula Public Health Testing Center & Mobile Testing
If you need medical care, visit one of Missoula's many walk-in clinics.
People at higher risk of getting sick should follow Montana Department of Public Health recommendations to protect themselves.
For information on COVID-19 vaccinations in Missoula, visit the Missoula Public Health website.
5 Reasons Remote Students And Workers Should Visit Missoula
Folks around the world have adjusted to online learning and working in order to combat the spread of COVID-19. We attend meetings and lectures via Zoom calls, share ideas by sharing our screen, and send more emails than we ever thought possible pre-pandemic. While some people have already returned to their offices and classrooms, others are prepared to stay remote for the foreseeable future. Students, employees and entire families are taking advantage of their new remote lifestyle by packing up their laptops and searching for a home office away from home.
Additional Resources
Missoula County Health Department
Centers for Disease Control and Prevention (CDC)
Planning A Safe Stay in Missoula
Visiting Missoula While Working and Learning Remotely
Plan the Perfect Staycation in Missoula
Meet in Missoula Virtually With Custom Zoom Backgrounds
Business Resources
Utilize the resources available to maintain a business that is safe, clean and welcoming to the residents and visitors of Missoula.
Safer For Missoula Business Toolkit
Help us create a Safer Missoula for all by using the tools on our Safer for Businesses page, including posters, social media kits and more.
Request these items from the "Safer for Missoula Toolkit."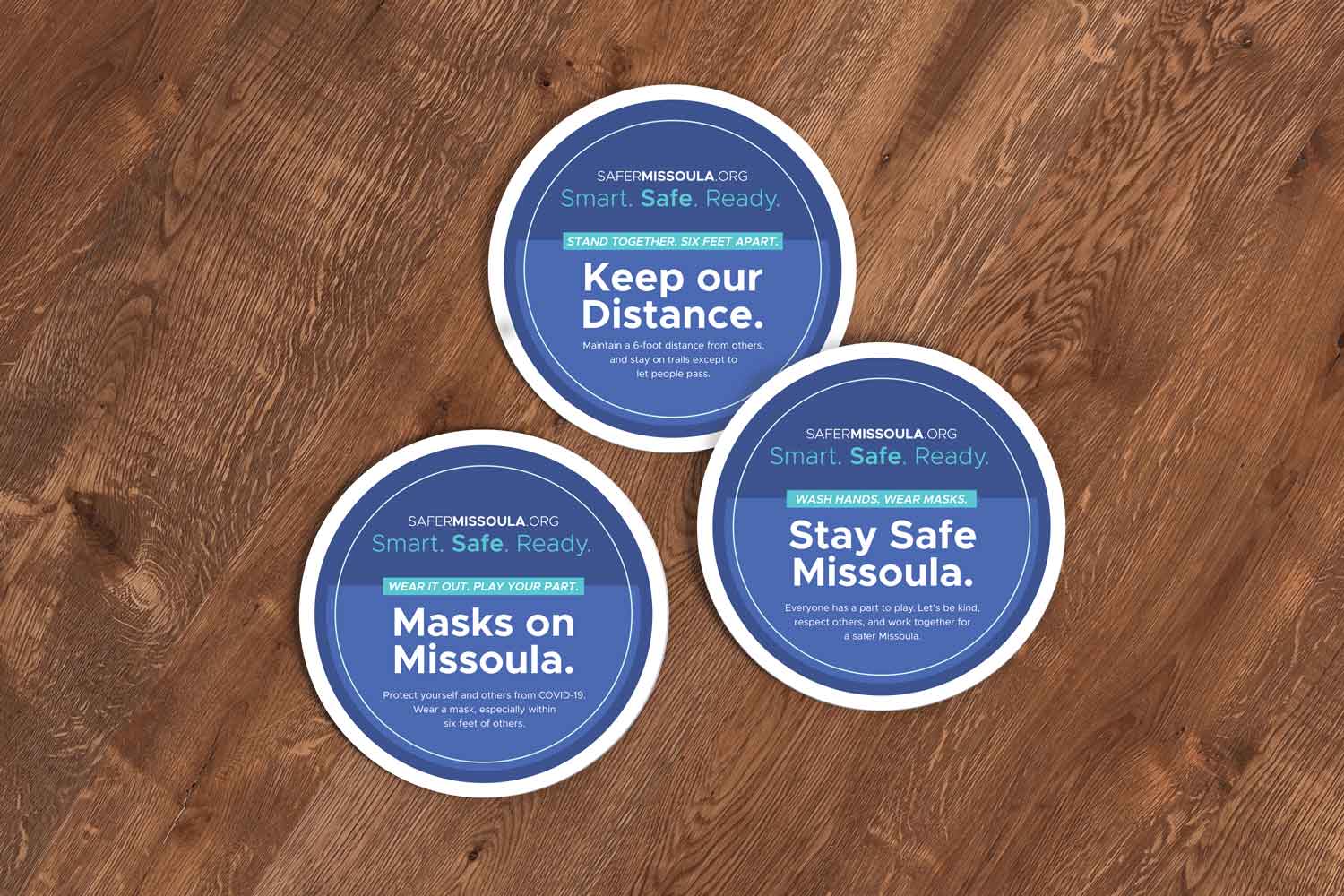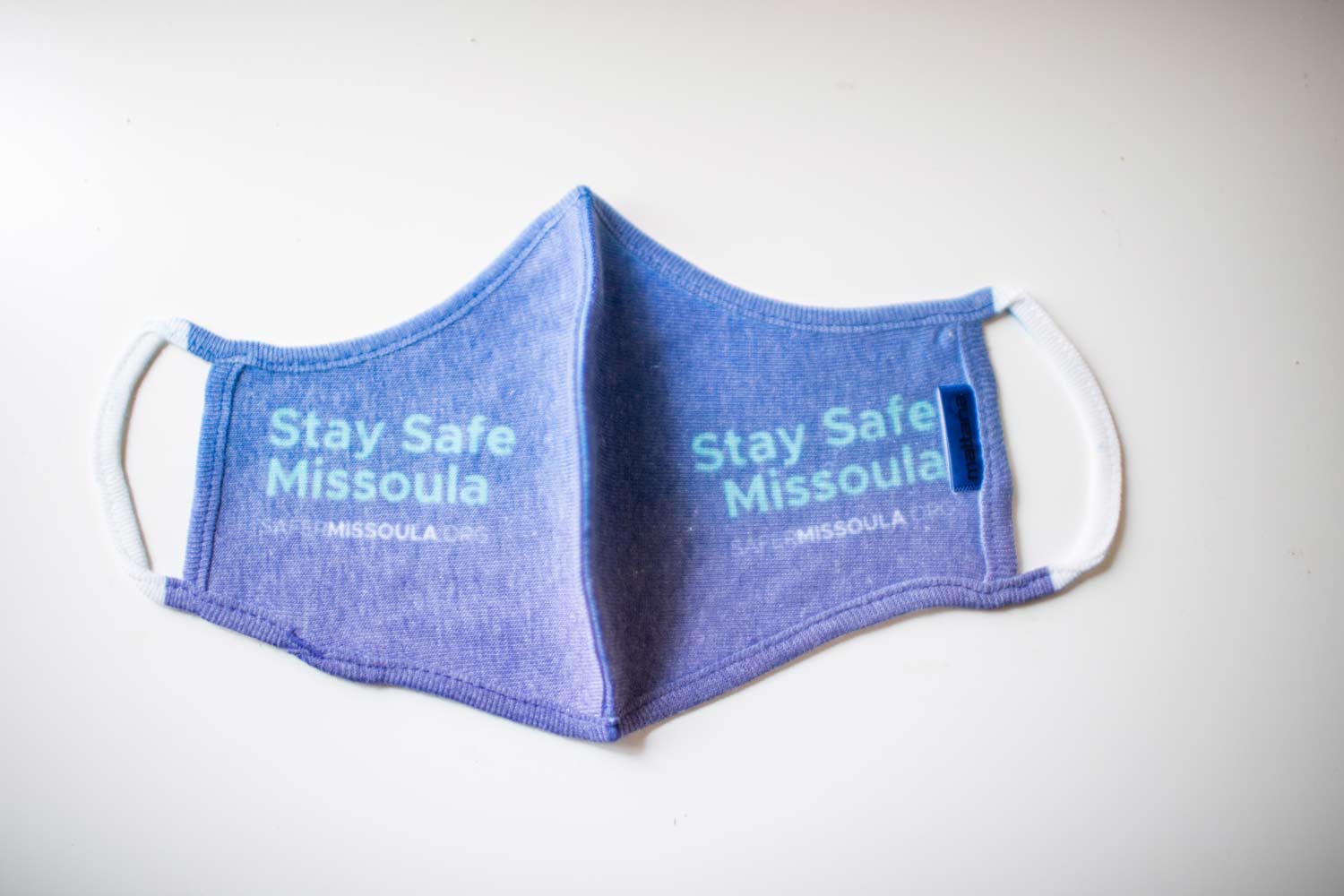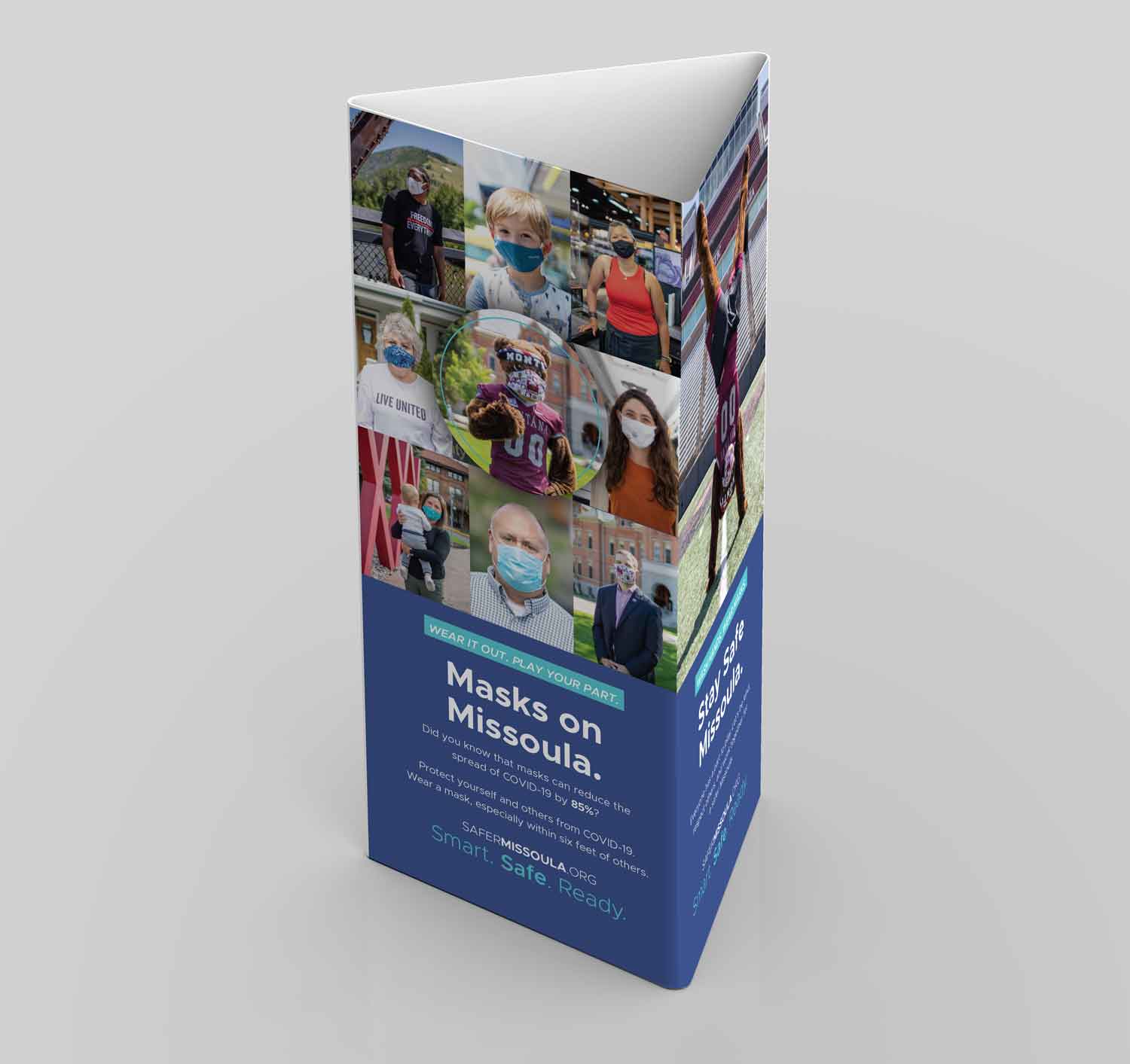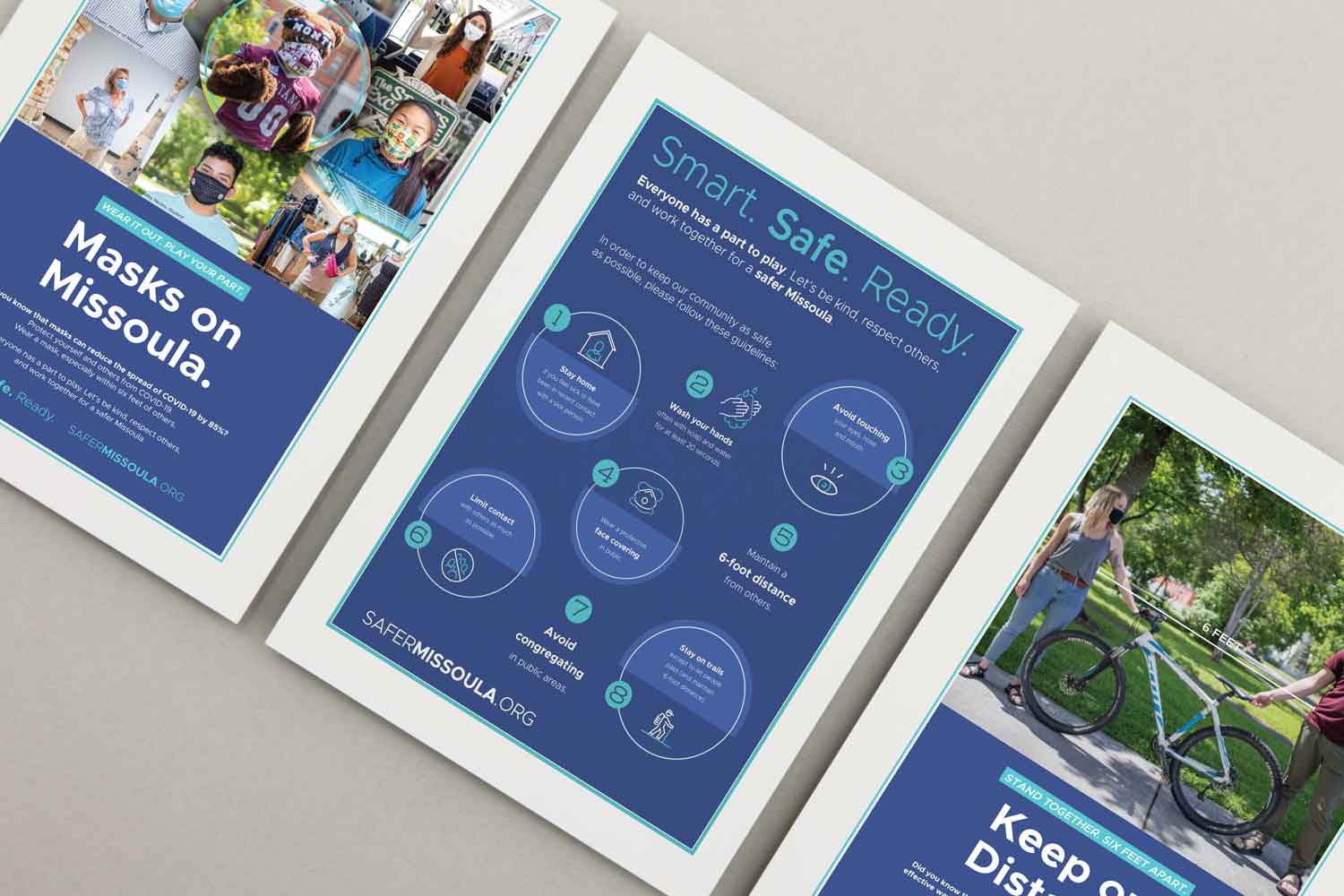 In addition to checking the status of COVID-19 and public safety guidelines before visiting, we also encourage folks to stay up to date on fire and smoke conditions in Montana. Check current conditions and learn about precautions you can take to prevent wildfires on Montana's Official State Website.
Leave No Trace
Part of keeping out community clean is keeping our trails clean. If you pack it in, pack it out. Always stay on designated trails except to let people pass while maintaining 6 feet of distance.
Learn more about all the ways you can recreate responsibly while exploring Missoula.
---